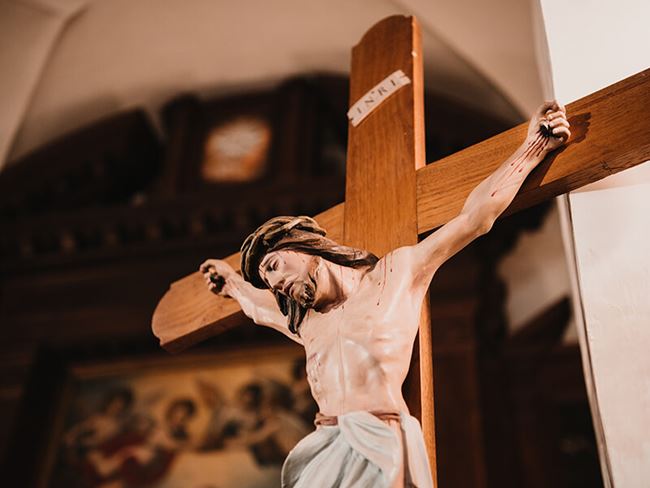 Shutterstock.com
Holy Week has nearly arrived. For many of us, this comes as a welcome relief. Sacrifice, mortification, and suffering do not come easily. We'd instead carry on in our comfortable lives than stretch ourselves until it hurts for the love of Him who was stretched on a Cross for us. As we prepare our souls to accept and surrender to the weight of His love before entering into the lighthearted celebration of the Easter season, it behooves us to pause each day with some degree of solemn appreciation for Him who was glorified by way of surrender and death.
Why is Holy Week a time of reflection?
Lent is a time of spiritual renewal and a time to prepare ourselves for Easter Sunday. Our Lord is with us, always forgiving and loving all with no exceptions. John 3:16 says, "For God so loved the world that He gave His only Son so that everyone who believes in Him might not perish but might have eternal life."
The Easter season, especially Holy Week, gives us the opportunity for serious reflection. We know that Jesus died for us, only to give each of us new life. Easter can be a time of renewed commitment to our Heavenly Father. May our Risen Lord continue to inspire each of us.
Holy Week is also a time of forgiveness as we are preparing for the celebration of the coming of our Lord Jesus Christ to the Father. It is a time to embrace our mistakes and shortcomings and forgive all who have offended us. Colossians 3:12 tells us, "We are the people of God; He loved us and chose us for His own. So then, we must clothe ourselves with compassion, kindness, humility, gentleness, and patience."
Matthew 6:14-15 reminds us, "Let us not forget that "if we forgive others the wrongs they have done to us, our Father in heaven will also forgive us. But if we do not forgive others, then the Father will not forgive the wrongs we have done."
We must also take this as an opportunity to reflect with God about ourselves. We can talk and reconcile with God through sacrament and prayers and reflect on what we have done. In such a way, we will be prepared for our Lord Jesus Christ's coming as He is seated at the Father's right hand.
Through reflection, we are also offering ourselves to God. But "if we are about to offer our gift to God at the altar and there we remember that our brother has something against us, leave our gift there in front of the altar, go at once and make peace with our brother, and then come back and offer our gift to God," as seen in Matthew 5:23-24. We should take this season to put the value of forgiveness and reflection in our hearts and our souls. Let us put ourselves in the presence of the Lord so that someday we will be able to enter His Kingdom.
Holy Week reflections.
"Wait for the Lord with courage; be stouthearted, and wait for the Lord." (Psalm 27:14)
Waiting is likely one of the most challenging aspects of the human condition. No one enjoys waiting, in traffic, in the waiting room at a doctor's office, for an important phone call, or a long-awaited visit with a long-lost friend or relative. We despise waiting, whether it be for dreaded news or something joyful. We'd rather know right away what's going to happen and when.
Waiting for God is a different matter, however. God often asks us to wait for painfully extended periods without reprieve. Holy Week reminds us that waiting is part of our own passion experience. We wait for death, but ultimately, we wait for what comes after death: new life. To become a new creation in Christ, we must undergo many trials that we'd instead bypass altogether. These are necessary, vital components to entering the joy of eternal bliss.
We can wait for God with courage and fidelity, regardless of how long He asks us to hold off on taking action. This week especially, we can use our time meditating on Jesus' Passion for growing in patience and anticipating the joy of resurrection with hope that lingers while suffering.
"You are my hope, O Lord; my trust, O God, from my youth. On you I depend from birth; from my mother's womb you are my strength." (Psalm 71:5)
It's an incredibly humbling privilege and honor to bear a child in your womb, especially when you know that it is truly God who ordained this little soul to be formed from a tiny seed.
If we consider that our beginnings were fashioned in our mothers' wombs, we might realize that life itself would be impossible for us without God sustaining us. There are so many statistical reasons why our lives are a miracle from the very beginning, one of which is that the formation of a tiny baby is incredibly fragile and prone to death. God has given us strength from our mother's womb, from the beginning of our lives.
Knowing this, then, we should not falter in trusting God. He ordained our lives for a specific purpose. We are called to something that only we can do, and we must cleave to the hope that He will fulfill the work He has begun in us.
My appointed time draws near." (Matthew 26:18)
Jesus was born so that He would die for us. That is the sole reason the Father sent Him to earth. We always think of Lent as the most appropriate time to meditate about Jesus' Passion, but we seldom give it much thought throughout the rest of the liturgical calendar.
It seems fitting that we should, in some way, celebrate Lent all year long. It should be very much a part of our everyday prayer to recall with fond appreciation and immense love that Jesus was born so that we might be delivered to eternal life. And life has a high price. As the "appointed time draws near" for entering into Jesus' death, we might do well to ask Him how we can console His Heart every day from this point onward. It is our gift of gratitude for the price of love.
Holy Week is a solemn week of extra prayer and fasting. It involves the Triduum: Holy Thursday, Good Friday, and the Easter Vigil. During those three days, we recall, and through our prayer participate in, Jesus' Last Supper with his disciples, his arrest, trial, and execution, the long day of silence (Holy Saturday) while his body rested in the grave, and his Resurrection on Easter. The many readings of Scripture surrounding the Passion, Death, and Resurrection of Christ give us a lot of material for reflection and prayer.