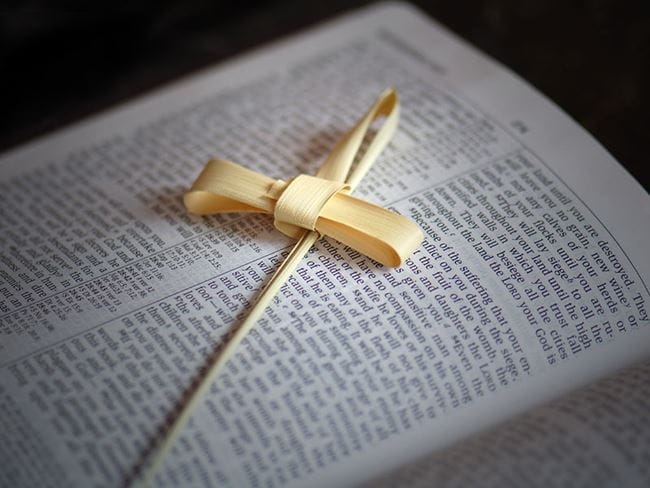 Shutterstock.com
The pleasures of the early spring season. Fluffy bunnies, Godiva chocolates and pastel eggs offer reminders of childhood.
It also means it is the Lent and Easter season. We all forget sometimes that this is a time of year to reflect on Christ. The Lent season is here and it is observed from Ash Wednesday to Easter, where people from all over the world fast and abstain from worldly pleasures. People also toss bad habits like cursing or smoking or sacrifice beloved foods for a short time.
The reason that we honor this time is to follow Jesus' fast, according to Mathew 4. This is when Jesus was tested in the wilderness and fasted for 40 days. "Then Jesus was led by the Spirit into the wilderness to be tempted [a] by the devil. After fasting forty days and 40 nights, He was hungry." There is nothing wrong with colorful eggs, chocolates and bunnies, but the purpose of the Lent season and the Easter season is to help us prioritize our lives and to think of the ultimate sacrifice of Jesus Christ. Here are reminders for all of us to think upon during this special time.
It's about sacrifice.
Sacrificing and being selfless like Christ can be an everyday experience. It may not be selling everything you own. "God showed His great love for us by sending Christ to die for us while we were still sinners," Romans explained. It can be giving up buying an item in order to help someone who is struggling. It could be giving up your time after a long day to help a single mom. Jesus' entire life was about sacrifice. This is something we all need to be reminded of.
It's about miracles.
God raised his Son from the dead over 2,000 years ago and it is more than an isolated incident. God is doing miracles every day as the story of Christ continues to live and breathe through generations. Another miracle we can look forward to is Christ returning to the earth. The Lent season and the Easter season is a reminder that we have a big God who conquered death through His amazing Son.
It's about purification.
While we experience Lent and prepare for Easter, we can think of plenty of ways to trim the fat off our lives. To put it in perspective, we need to get rid of the things that are preventing us from growing closer to God. We deny ourselves so we can have a deeper relationship with Him. We don't do it to prove our love for Him--we do it as an act of praise and worship. Think of it as a soul cleansing and think of fasting a body and soul connection. Fasting gives us a more sensitive ear to God's voice and to the direction of the Holy Spirit.
It's about God's love for mankind.
God knew you before you were born. He knit you together in your mother's womb. You were planned way before you even existed. He sent His own Son to fast in the wilderness for 40 days and to take on the world's sin. This is a sobering thought as we read Roman 8:32. "He that spared not his own Son, but delivered him up for us all, how shall he not with him also freely give us all things?"
It's about forgiveness.
When it comes to really looking at the cross, it also means forgiveness. All of our sins were placed on Jesus and He cleansed us from all wickedness and saved us from hell. Jesus said as recorded in Luke 23:34, "Father, forgive them, for they don't know what they are doing." And the soldiers gambled for his clothes by throwing dice." As much as Jesus was tortured, He forgave all of those who punished Him as an innocent man.
It's about prayer.
Lent and Easter is a time for prayer. Make a time to pray and to reconnect with God. This can be done in the morning or when everyone is asleep at night. Pay special attention to all the small blessings around you and start thanking God for this. Putting prayer back on your agenda is worth it no matter how you pray. "If my people, who are called by my name, will humble themselves and pray and seek my face and turn from their wicked ways, then I will hear from heaven, and I will forgive their sin and will heal their land," 2 Chronicles 7:14 said. Don't think of prayer as a chore or as another burden to do during this special season. Make it a lifestyle.
It is about redirecting your focus.
Be honest with yourself. Do you spend more posting on Facebook or Instagram than with God? Find a devotional that you can study and spend time in the Word that way. This is a great technique to distract yourself from electronic devices and social media when you feel tempted. Your church might have devotionals that you can follow through Lent and through the Easter.
Find time to worship.
When Jesus was tempted by the devil in the wildness He said, "Worship the Lord your God and serve him only." This was not something to be taken lightly--it was a command. Worshiping does something for your soul and for your life. When we are always fretting about time, we usually skip worship at church or skip worship at home. However, when we look at worship this way, we miss its value. Worshiping God should be a daily event like praying. Use this time to worship Him in your thoughts and in your activities. Remember, worship is the tells the condition of your heart.

Spring is a time of renewal, hope and fun. But we can't forget that the Lent season and the Easter season reminds us of Christ's forgiveness, His sacrifice, His love and His hope. Without it, we would not have a basis to the season outside the festivities.