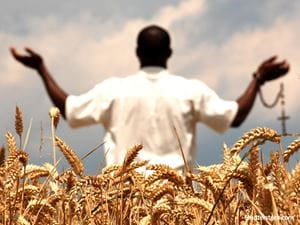 Why say a "thank you" prayer?
The Bible tells us "Do not be afraid; do not be discouraged, for the LORD your God will be with you wherever you go" (Joshua 1:9). It's important to have faith in God when you can't see the way but how can you offer God praise when you're dealing with hardship and pain? The choices you make in these moments are so important. They can propel you toward God or away from Him. You can find God in the hard times by choosing to trust and hope when we can't see the way. This will help us turn to praise and glorify God better.
According to Scripture, praise is an act of our will that flows out of us through reverence of God. Our God is worthy of praise. Revelations 5:11-14 speaks of a voice of a thousand angels around God's throne, singing in a mighty chorus "Worthy is the Lamb who was slain – to receive powers and riches and wisdom and strength and honor and glory and blessing". When we give glory to God, it opens us up to a more intimate relationship with Him.
God is present come rain or shine. He is even present when we fail to realize it. It's important that we not only turn our focus back to praise when we begin to lose hope but also that we turn to praise in times of abundance. Many of us are quick to question God when things go wrong, but slow to honor Him when things go well. One of the biggest challenges here is turning every blessing He pours into our lives back into praise. One way we can do this is through gratitude. Thanksgiving is a great way for us as Christians to take steps into worship. Psalm 100 exhorts this and us: "Enter His gates with thanksgiving and His spirits with praise; give thanks to Him and praise His name" (Psalm 100: 4-5). In order to have a heart of gratitude, we must acknowledge God. Here are six prayers to thank God.
Thank You For Loving Me
Heavenly Father, thank You for loving me. Thank You for forgiving me. Thank You for showing me my worthiness and for pursuing me. I am in awe of You Lord! I submit my heart to you Lord. May Your Holy Spirit transform me and make me like You. In Jesus' name, Amen.
Thank You For My Countless Blessings
Heavenly Father, I want to thank You for my countless blessings. I thank You not only for the food I have to eat, lovingly prepared for me, but also for spiritual gifts, in particular the loved ones I cherish dearly, a comfortable place to live, the beauty that surrounds me, health, and spiritual wealth to name a few. I acknowledge you for the countless blessings You've provided. I thank You for giving us clear direction through Your Holy Word. Through good and bad times, help me to see that we are blessed beyond measure. Amen.
Thank You For Waking Me Up
Heavenly Father, on this day I give You thanks for waking me up this morning and starting me on my way. Today, I ask that I recognize how blessed I am – that I may be spiritually transformed. Help me to not wake up with a complaining spirit, an attitude and dwelling on yesterday's problems. Instead, I ask that You change our complaining to thanksgiving, our attitude to love and that I turn all my problems and stress over to You. In Your Holy name I pray. Amen.
Thank You For Every Good and Perfect Gift
Heavenly Father, I humbly come before You with a grateful heart, praising You with all my being, for I know that every good and perfect gift comes from You –The One who never changes. I recognize those good things, both large and small, with which You have blessed me. As I lift up this prayer, I also recognize our forgetfulness in giving You thanks each and every day. Forgive me. May I learn to thank You for the good; And may I trust the evil to be made good by You. For You alone are worthy of our praise and thanksgiving. Amen.
Thank You For Those I Love and Those in Need
Heavenly Father, I want to thank you for blessing me. Today, I pray not only for my loved ones, but also for those around me in positions of need. When I have food, help me to remember the hungry; When I have work, help me to remember the jobless; When I have a home, help me to remember those who have no home at all; When I am without pain, help me to remember those who suffer, And remembering, help me to destroy my complacency; help me to have compassion for those around me, and be concerned enough to help; By word and deed, those who cry out for what we take for granted. Amen.
Thank You For Your Grace and Generosity
Heavenly Father, Creator of all and source of all goodness and love, please look kindly upon me and receive my heartfelt gratitude in this time of giving thanks. I acknowledge You for all gifts and blessings You have bestowed upon us: food and shelter, health, love we have for one another, my family and friends. I thank you for Your infinite generosity. Please grant me continued Grace and blessings throughout the coming year. In Your Holy Name we pray. Amen.
When we focus our minds in the direction of God and proclaim His goodness, we reflect His glory. When we do this, we are filled with peace and contentment. This can help shift our outlook related to our circumstances. Finding God in the hard times can be particularly difficult. That's why it's so important to choose trust and hope when you can't see the way.
God has blessed us with so much. We can't acknowledge what we have without thanking God, our Heavenly Father, who gave us the gift of life and from whom all blessings flow. Praise God for He is good and His mercy endures forever.