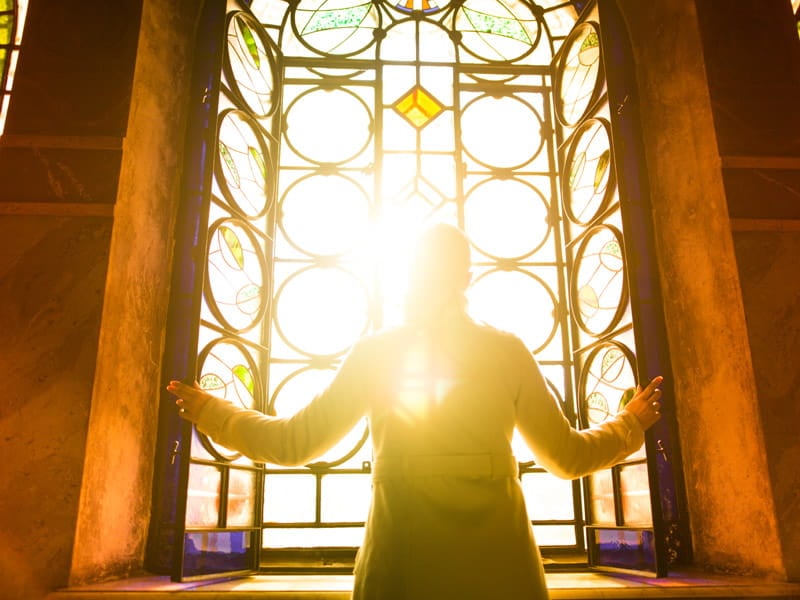 The Bible tells us, "You do not have, because you do not ask" (James 4:2). How much enjoyment of God's presence and breakthrough power are we missing out on because we do not ask God for it? Jesus also says we do not have because we ask with such little faith (Matthew 17:19-20). How much enjoyment and breakthrough power are we missing out on because our expectation is so small that prayer will result in anything? There are many times in life where we operate on our own strength. When we do this, we step out of the remarkable power God has for us. This may not be done deliberately, but we are still operating out of self-reliance which fuels doubt and fear. In these moments, we are telling God that we don't need Him or His power. God's power comes to us when we are surrendered, dependent, trusting and putting our faith in Him, above all things. One of the ways this happens is through the power of prayer. Are you ready to unleash God's power in your life and discover a world you've never known before? Turn to these seven points and prayers for a supernatural breakthrough:
Prayer is a powerful tool for communicating with our Heavenly Father. It is an opportunity to become one with the Creator and Giver of all things. Prayer helps us to find strength for today and hope for our future. We should actively pray and trust in its power to change our circumstances for good. Your faith life directly correlates to the quality of your prayer life. Prayer has the power to change not only the people and things around you. Prayer also has the power to change you from the inside out. When you're in need of strength, remember that God is the number one healer and can guide you in endless ways. If your heart and life are centered on God, His Word and His Holy Spirit, you can rest assured that He will direct your path: Heavenly Father, today I pray for a supernatural breakthrough for those who are standing in faith. May you suddenly see what you've been praying for.
Many of us are facing impossible situations where we need a breakthrough in our lives. Yet, most of us sit and wait for God to make it happen, and then we wonder why it is that we don't experience breakthrough as often or as fast as we'd like. What we need to know is that breakthrough is not something we sit around and wait for. Breakthrough is God waiting on us to respond in obedience to what He has already commanded and already promised. Breakthrough happens when we take the first step against barriers in our life. Breakthrough happens when we say that we are going to trust that God is going to supernaturally do what is impossible. God does the breakthrough, but He's waiting for us to take that first step of faith. We have to believe in God's goodness, that God has already willed the breakthrough for our life: Heavenly Father, I pray that I remember today that nothing is impossible for me because I am in Christ, and through Him, I can do all things. Amen.
If you want to tap into the supernatural power of God, you must earnestly desire and pursue your spiritual gifts with passion. We know from the New Testament that God gives spiritual gifts to empower the mission to evangelize to the world. The most familiar list of these gifts is in Romans 12, 1 Corinthians 12 and Ephesians 4. But the Corinthians list includes the most controversial gifts of the Spirit: healing, miracles, prophecy, tongues and their interpretation (1 Corinthians 12:9-10). The most fundamental reason we should desire these gifts is the Bible commands us to: "earnestly desire the spiritual gifts." Paul says this in the same sentence he says, "pursue love" (1 Corinthians 14:10. Both are Holy Spirit-inspired essentials. Pursuing love and desiring spiritual gifts are not disconnected. These gifts are given to the church to help us love one another: Dear Lord, let Your Spirit lead me to unlimited success and favor, in the name of Jesus. Amen.
Love is so important. It is the foundation for everything we do. Without it, power can lead to pride and self-inflation. Love is the greatest manifestation of God's power. It was because of love that the power of sin and Satan were defeated. Love is what motivates our faith. Love is what causes us to live in the Spirit. Love is the greatest virtue of all. Without faith, you can't please God. But without love you can't know Him at all. Love filled with truth is the ultimate spiritual weapon again sin, temptation, offense, disunity, sickness, oppression, spiritual corruption and death. Remember, love conquers all. When you apply these principles to your life with God, you can expect to see His glorious power and anointing released in you and through you: Heavenly Father, God of creation, I pray for divine intervention to crush and dismantle Satan's stronghold. Whatever it be, whether sickness, a bad relationship, bad finances, unemployment, depression, secret sin or any other thing – today, I give you authority to break that stronghold down and set me free. I claim victory in the power of Jesus' name. Amen.