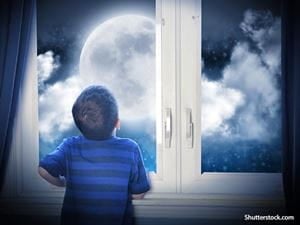 It's important that we pray at the end of the day with our children, thanking God for all that we've experienced, asking for peaceful rest and a fresh start for tomorrow.
"Some of the best prayers before sleep for children are simple prayers with rhyme and rhythm."
If you've ever found yourself wanting to come up with a great prayer before sleep for your children, but are just too exhausted to find the words, you are not alone. If you are looking for original prayers, it's not always easy coming up with the right words that are not only creative, but also are unique to your child's personal experience. Some of the best prayers before sleep for children are simple prayers with rhyme and rhythm. Other times, coming up with our own words, even as you go, can be just as impactful. Here are a few great prayers before sleep for children.
A Child's Bedtime Prayer
Now I lay me down to sleep. I pray the Lord my soul to keep. If I should die before I wake, I pray to God my soul to take. If I should live for other days, I pray the Lord to guide my ways. Father, unto thee I pray, thou has guarded me all day; safe I am while in thy sight. Safely let me sleep tonight. Bless my friends, the whole world bless; Help me to learn helpfulness. Keep me ever in thy sight, so to all I say good night. Amen.
If you're looking for a simple prayer to recite with your younger child, you can turn to A Child's Bedtime Prayer. It's very easy to recite and can get your child into the rhythm of saying prayer. Some people may find this one a little too heavy for little children; however, it is probably one of the best-known prayers for children to say at night, particularly the first few sentences. If you are looking for an adaptation that's a little more toned down, your child can simply say: Now I lay me down to sleep, I pray the Lord my soul to keep; may God guard me through the night and wake me with the morning light. Amen.
The Lord's Prayer
Our Father, who art in heaven, hallowed be thy Name. Thy Kingdom come, thy will be done, on earth as it is in heaven. Give us this day our daily bread. And forgive us our trespasses, as we forgive those who trespass against us. Lead us not into temptation, but deliver us from evil. For thine is the kingdom, the power and the glory, forever and ever. Amen.
The Lord's Prayer is the kind of prayer that kids can learn at a young age. It's vital that your child doesn't just learn to recite this prayer but that it's taught to them in a meaningful way so that the act of prayer goes beyond simple recitation. You should consider the age of the child you're teaching this prayer to. For younger children, you may encourage them to recite the Lord's Prayer with you. With older ones, you may want to get them to think a little more about the meaning behind the words and see if they can write their own prayers to God based on one or more of the elements of the Lord's Prayer.
Good Night, Jesus
Jesus, You are good and wise. I will praise You when I rise. Jesus, hear this prayer I send. Bless my family and my friends. Jesus, help my eyes to see all the good You send to me. Jesus, help my ears to hear calls for help from far and near. Jesus, help my feet to go in the way that You will show. Jesus, help my hands to do all things loving, kind and true. Jesus, guard me through tomorrow in all I do and all I say. Amen.
This is a great prayer for your child to start their day with. There is nothing better than getting your child in a mode where they are acknowledging Jesus first when they begin their day. The great thing about this prayer is it isn't just focused on the self. It emphasizes love and concern for others. It's important that we get our children in the routine of not only praying for themselves but also praying for others.
Thank You for the Night
Father, we thank thee for the night, And for the pleasant morning light; For rest and food and loving care, and all that makes the day so fair. Help us to do the things we should, to be to others kind and good; In all we do, in work or play, to grow more loving every day. Amen.
Giving thanks to God is important. Feeling and expressing appreciation is good for us. Like any wise father, God wants us to learn to be thankful for all the gifts He has given us. It is in our best interest that we remind our children that everything we have is a gift from Him and we should acknowledge Him every day for these gifts.
A Child's Prayer for Protection
I won't fret and I won't worry. Instead I'll hurry to pray. I'll turn my problems into petitions and lift my hands in praise. I'll say goodbye to all my fears. His presence sets me free although I may not understand I feel God's peace in me. Amen.
Just like mealtime prayers, bedtime prayers can be short and sweet and you can say them right before you tuck your child in at night. You can use traditional blessings or make one up and cater it to your child's life, requests and personal needs. You can also take turns saying one thing each of you is thankful for and one person or thing each of you wants to pray for. Getting your child in an active routine of prayer is crucial to building up their foundation in Christ.