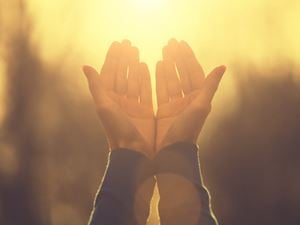 Shutterstock.com
We are pulled in different directions, and hardly any of the popular notions we are tempted to entertain on a daily basis would have us following Jesus as God intends. But prayer is powerful. Through our waving, the Holy Spirit translates and our Heavenly Father hears. God gives us a special promise in Psalm 30:5: "Weeping may endure for a night, but joy comes in the morning." If you're in need and searching for God, you can rest assure that He is on the way. Here are seven prayers for those searching for God:
Help Me to See You
In today's world, it's easy for us to think that we suffer alone. But if you have wondered where God is, so has someone else. We think the experiences we're going through are bigger than us, but we forget that those situations are so small in comparison to God and who He is. If you want to see God better, pray this prayer: Heavenly Father, let me see you. Draw me closer to You through this experience so that I can see Your face in a way I never have before. Remind me that You are in charge and that was seems so huge to me is small to You.
Show Me What You Want Me to See
God will direct your path. God is the pilot of our lives. We just have to trust the direction He's taking us in and He will make our paths straight. If you're ready for God to show you what He wants you to see, pray this prayer: Heavenly Father, show me what You want me to learn from this experience. Just as a darkened room hides the things that distract us, cut through the distractions in my life that keep me from spending time with You. Through these dark places that I'm in now, shine a light on what You want me to learn. Amen.
Direct Me
When you're searching for God and in need of strength, remember that God is the number one healer and can guide you in endless ways. If your heart and life are centered on God, His Word and His Holy Spirit, you can rest assured that He will direct your path. God's primary means for giving us guidance is in the Bible. "Jesus answered, 'I tell you the truth, no one can enter the kingdom of God unless he is born of water and spirit.'" (John 3:5). If you're ready to trust in God's ability to direct your life, pray this prayer: Heavenly Father, as I arise today, I pray that Your strength pilot me, Your power uphold me, and Your wisdom guide me. May Your eye look before me, Your hand protect me and Your shield defend me. Amen.
Strengthen Me
Our God has worked in history to defeat sin and Satan and hell and death. He did this through the Gospel of Jesus Christ. If you're searching for God, know that He has the ability to strengthen your mind, body and spirit if you allow Him to be at work in your life. If you're ready for God to step in and transform you from the inside out, pray this prayer: Heavenly Father, I ask you to strengthen my mind, body and spirit today. When I'm weary, may I be refreshed. When I'm worn, may I be renewed. When I'm broken, may I be restored. When I'm fearful, may I become faithful. I pray that I walk in complete confidence today knowing that the Lord Almighty is with me. Amen.
Surrender to Him
If you want God to direct you in a way that you've never known before, God demands that you allow the Lord to become the ruler of your life. We can only do this when we surrender to Him. If you're ready to fully let go and let God, pray this prayer: Heavenly Father, I surrender every area of my mind, will and emotions to You. I choose to dwell in Your goodness and faithfulness so that the good seeds You've planted in my life will take root. Keep me close to You and direct my steps down the good path You have prepared for me. In Jesus' name. Amen.
Thank You For Your Protection and Direction
When you're in need of strength, one of the best things you can do is call on God for protection and direction. He will direct Your paths for good. If you're ready for His guidance and protection, pray this prayer: Heavenly Father, I come to You today giving thanks. Thank You for keeping and protecting me. Thank You for Your guidance and direction. Thank You for picking me up when I was at my lowest. You are an awesome God and it is because of You I choose to live and walk in Your favor. In Your name I pray. Amen.
Help Me to Know the Power of My Words
We know from Scripture that our words have real power. God spoke the world into being by the power of His words (Hebrews 11:3) and we are in His image in part because of the power we have with words. Words do more than convey information or deliver a message. The power of our words can actually destroy one's spirit, even stir up hatred and violence if we're not careful. If you're ready for your words to bring positivity in your life and the life of others, pray this prayer: Heavenly Father, help me to change my negative words and intentionally transform them into ones that bring life no matter what challenges are placed before me. Words of faith, strength, courage, success confidence, trust, peace, happiness and joy are just some of the positive attributes I want to reign in on my life. Guide me to recognize the power of my words, that they might give glory to You, and also give me strength. In Your name, I pray. Amen.
Power in My Powerlessness
God has the power to equip you with strength as you face your biggest challenges. Philippians 2:13 says "For it is God who works in you to will and to act in order to fulfill His good purpose." He gives strength to the weary and increases the power of the weak. His power can renew your strength. If you are in a state of powerlessness today, know that God is present. If you're searching, don't be afraid to call on Him. If you are ready for God to change the space you're in, pray this prayer: Heavenly Father, I pray for Your strength to be renewed in me, a boost of faith to overcome my fears and a splurge of power in my state of powerlessness. Help me to get back on my feet once again and to run the race that is set before me. Amen
God is available every moment of our lives, but somehow when we're going through hard times – those darkroom experiences – we see His face much more clearly. We see Him for who He is – our comforter, our provider and our confidant. Those hard times in our lives aren't fun, but we experience God's presence during those dark moments in ways we would never otherwise.