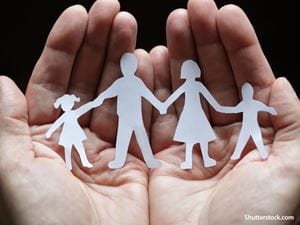 If you turn on your television or scroll down your social media feed right now, you are bound to run into a story that will leave you heartbroken, devastated and fearful. Because we live in dark times and our lives are so unpredictable, it can leave us scared, especially for our family. This is why it's imperative that we call on God for His protection. We know that there is evil around us and the only person we can turn to our Father in Heaven. Here are eight prayer for the protection of family.
A Prayer When You're Uncertain
We all struggle with fear and uncertainty. With all the evil and troubles in the world today, it's hard to not be overcome anxiety, especially when it comes to our family. We're concerned about our spouse when they leave for work and our children when they go off to school. It's hard not to swim in a sea of worry. We say that we trust God's Will but when it comes down to it, we have difficulty letting go. We should call on God when we're uncertain: Dear God, I know that You have a special plan for my family, but I struggle with fear, doubt and the need to be in control. Help me to let go of my fears and trust in Your plan for my family. Amen.
A Prayer For Grace
One of the greatest thing each member of your family should understand is what God has given you in His Son, Jesus Christ. Understanding His grace will change you, and as it changes you, it will change the way you relate to others in the family. A great way to understand grace is through this principle: God never calls you to a task without giving you what you need to do it. He never sends you without going with you. Grace reaches you in your darkest parenting moments. It touches you when you feel like you're at the end of your wisdom. Grace reaches you when your child is throwing a tantrum, or being hard-headed or hearted. It even touches you in moments of deep parental regret. God doesn't expect you to be perfect. In fact, He knows you won't be. He isn't working so your family will be free from struggle. He calls you to do the impossible so that in your search for help, you would find more than help – you would find Him: Dear God, help me to recognize the love and grace You've bestowed upon my family. Protect us today. Help us to understand that we may not know how everything will work out but we can rest in the assurance of Your grace.
A Prayer For Clear Calling
A great way to understand your parental calling is through this principle: Nothing is more important in your life than being one of God's tools to form a human soul. It is one of the most significant callings that could ever be laid in the lap of a human being. A great passage to reflect on when considering your calling as a parent is Matthew 6:19-34 which deals with our treasures in heaven. Jesus uses the word "treasure" to capture the fact that that we all live in pursuit of what we've named or deemed important. It really comes down to this: parenting is either a thing of the highest treasure to you, and that's demonstrated in your choices, words, and actions every day, or it's not: Dear God, please guide and protect my family today. Help us to know that we are on Your path for our lives. When we become too confident and lose sight of You, remind us that there is nothing we can accomplish without You. Amen.
A Prayer to Stay Away From False Gods
What rules our heart will control our behavior. That's why it's important that each member of the family stay focused on God. There are three key questions each member of the family need to ask themselves: First, why do we think the way they do? Second, how does change take place in our hearts and lives? Third, how can we be a tool for change in the hearts and lives of each other? The answer to these three questions is found in one single word: worship. Everything you, your spouse and your children do is rooted in worship. It's important that your family worship is focused on God, not false gods: Dear God, protect my family from false gods. Help them to see You and reflect You in all that they do today. Amen.
A Prayer For Mercy
Mercy is tenderheartedness and compassion toward someone in need. It's important that you remember this principle when it comes to mercy: No parent gives mercy better than one who is convinced that he desperately needs it himself. Too often Christian parents allow themselves to forget the daily mercies they receive from God. When you forget, it becomes easier for you not to parent your children with mercy. Our children are needy. Your primary calling as a parent is not first to represent God's judgment but rather to constantly deliver His mercy. It's important that we are God's ambassadors in the lives of our children: Dear God, I pray for You to bestow Your mercy and protection on my family. We are in desperate need of Your compassion and forgiveness. Help us to walk better in your light. Amen.
A Prayer For Clear Identity
Identity is a struggle we all experience especially as we grow in our marriage and as we seek to raise our children. This is why our spouses and our children have a profound ability to hurt us. It also defines why they can make us so angry. Our children have the ability to make you hugely proud or deeply embarrassed. These examples are not love struggles; they are identity struggles. A great way to understand identity is through this principle: If you are not resting in your identity in Christ, you will look for identity in other places. Once you fully grasp this, it will change how you see yourself as a spouse and as a parent. It will also change how you interact daily with those in your family: Dear God, help us to find our identity in You, not in the world. We know that when we look to You, we live better. Amen.
Prayer to Recognize God's Law
We are all born with the desperate need for God's law, but you cannot ask the law to do what only grace can accomplish. Think about law through the words of the apostle Paul: "What shall we then say that the law is sin? By no means! Yet I it had not been for the law, I would not have known sin. For I would not have known what it is to covet if the law had not said, 'You shall not covet'" (Romans 7:7). We come into the world not knowing what is true or what is false, what is good and what is bad, or what is right and what is wrong. That's why our children need the grace of wisdom that God's law alone can give. God's law is the ultimate human measuring system. As Christians, we may be cognizant of that law, but it is good for our children to be exposed to it: Dear God, help me, my spouse and my children to recognize that Your law is perfect. We want to continue to grow in the obedience of faith and we can only do that through You. Amen.
Prayer to Build Character
Building good character in your child's life is a key part of parenting. It's also imperative that we exhibit strong character as leaders of the family so that we can be a great example to those around us, especially the children. A great way to understand character is through this principle: Not all the wrong your children do is a direct rebellion to authority; much of the wrong is the result of a lack of character. You will miss God-given opportunities again and again if you don't understand this.
For example, much of our struggle as parents is rooted in the fact that God is still working to mold new character in our hearts. If we didn't have grace, we'd be left with dysfunction and coldness in our hearts. When you take the time to confess that when it comes to character problems, you are more like your children than not, then you deal with situations with character problems with patience, kindness and grace:
Dear God, protect us from the evil forces around us that want to break down our character. Help us to exemplify the kind of character in our lives that can be a great example to others. Amen.
It's so important that the Gospel lives in your heart and shapes how each member of the family relates to each other. When each person in the family lives by these principles, they can better love each other. Parents can parent better according to God's plan. If you are looking for more Gospel-principles that will radically change the way you think about what it means to raise your child, turn to Scripture.