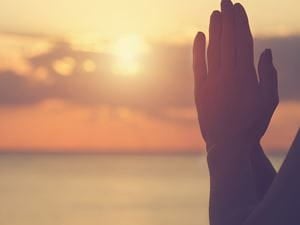 Shutterstock.com
Morning prayer is a perfect way to focus your time and attention on seeking Gods' plan for the day ahead. Read on for eight powerful morning prayers to kick-start your day.
In this article:
There is hardly a better time to pray than in the morning. Starting the day off with morning prayer was always important to the early Christians and their prayers often invoked the presence of the Trinity – Father, Son and Spirit – to be with them through their often hard toil on the land. When you wake up, your mind and heart can feel really heavy, especially when you're focusing on all the things you have to tackle and all the stress that comes with those tasks. A powerful morning prayer can center you and bring your focus to the place where it needs to be. Here are eight powerful morning prayers that you can use daily.
A prayer for today can refresh and recharge your soul as you get ready to take on the day with help from the best place possible: Our Creator. We should treat morning prayers like prayer itself, as a time to get closer to God by expressing our love for Him, thanking Him for His blessings and offering Him everything good and bad in our day in doing His will. Begin your day with this prayer for the morning:
Dear Lord, You have brought me to the beginning of a new day. As the world is renewed fresh and clean, so I ask You to renew my heart with Your strength and purpose. Forgive me the errors of yesterday and bless me to walk closer in Your way today. This is the day I begin my life anew; shine through me so that every person I meet may feel Your presence in me. Take my hand, precious Lord for I cannot make it by myself. Amen.
God loves when you pray for strength. And He promises to answer you: "Fear not, for I am with you; be not dismayed, for I am Your God; I will strengthen you, I will help you, I will uphold you with My righteous right hand" (Isaiah 41:10). Pray with confidence. Pray for the strength that God supplies and keep your eyes open for His answers. They may not look like your expectations. But you can be assured that He is working to strengthen your understanding, faith and hope in Him. Begin your day with this prayer for strength:
Dear Lord, this morning, I pray that You give me strength today, to be strong for You in this world full of temptations. You know that there are struggles that I will go through today. I pray that You be with me as I go through them. Carry me when I am too weak. Amen.
We should be thankful because God is worthy of our thanksgiving. It is only right to credit Him for "every good and perfect gift" He gives (James 1:17). When we are thankful, our focus moves off selfish desires and off the pain of current circumstances. It also helps us to remember that God is ultimately in control. Beginning each morning with gratitude will provide you with a great foundation. Prayer is one of the intentional ways you can cultivate a grateful heart for yourself. Start your day off with this prayer for gratitude:
Dear God, I thank you for waking me up today. You have given me another sunrise to enjoy. Thank you for the wonderful sounds of nature and the cool breeze brushing through the trees making the birds sing beautiful melodies. I praise You, Father, for allowing me to live another beautiful day in Your Kingdom. Amen.
One of the Bible's greatest truths is that God wants to guide us. He loves us and because He loves us, He wants what is best for us and is willing to show it to us. As your day progresses, it can be difficult to identify these blessings. Begin your day with this morning prayer for guidance:
Dear Lord, I don't know who or what will cross my path today. But I do know that You are my rock and my fortress. You are my shield and my strong tower. Help me to anchor myself to You today. Teach me how to stand strong in You and choose only Your way today. Help me walk by Your truth and not my feelings. Help me to embrace anything that comes my way as an opportunity to see You at work and as opportunity to point others to You. Amen.
Begin each day with a powerful morning prayer session with your family. Reciting these words and identifying our schedules early on, will provide a great deal of perspective for you and your family. Entrust each individual to God. Wherever they are in their relationship with God, pray that He draws them even closer. Think of morning prayer as exercise for each member's spirit and soul. Working out these elements will help everyone plan for what is to come and better equip them with the tools to take on the new day. Start your day off with this prayer for family:
Dear God, thank you for the gift of family and friends. Holding them in my heart is one of the most precious things I can never get tired of. Bless everyone, for they deserve all goodness You have given to me. If I may do something wrong today, please forgive me. Amen.
Allow God to define your priorities as defined by Christ and the apostles, including the workplace. Have you submitted your career to God, including how you do your job? Do you ask God every day for His leadership and power to do your job while depending on Him? You should talk with God daily about His will concerning your career choices. Before you begin your day and embark on your duties, start your day off with this prayer for your career:
Dear God, I thank you for my job. You have provided me with steady income and I'm so thankful. I pray that You watch over me today at work and I pray that there are no accidents, so that everyone can go back to their homes. I thank you that my job has provided an income to support me and my family. I thank you for the provisions that You have given me. I pray for safe travels to and from work and I pray that You will use me as You see fit today for Your glory. Amen.
Our Heavenly Father has filled our lives with incredible opportunities. It's important that we are always ready so that we can hear God's voice when He is calling us. We don't miss these opportunities when they come to us. Start your day off with this morning prayer for opportunity:
Dear Lord, I pray today that I will yield my spirit completely to You, that You may use me as You please. I pray that You will provide me opportunities to show people how much You mean to me. Give me discretion to know what to say and how to say it. Make me bold enough that I may proclaim salvation cheerfully and joyfully. I pray that the seeds You allow me to plant will grow and mature. I am forever grateful for the cross; may I proclaim it in a contagious way today. Amen.
Contentment is a simple grace. It is certainly reasonable and logical. It is our Father's world, so we should rest in His care. While many of us desire to be content, it is not easily attained or kept. For, no sooner than we begin to enjoy the grace of contentment, it is gone and dissatisfaction returns. Start your day off with the prayer for contentment:
Dear God, I pray that I will stay focused on You today. I pray that You will constantly remind me to be content in all of my circumstances. I pray that You will fill me up that I may be joyful all day, even if stress creeps in. I know that through my contentment, You will be glorified. I want to honor You, Father, in all that I do. Amen.
The morning is one of the best times to have an encounter with God. Pray the moment you wake up if you aren't already doing so. When you wake up with God, His presence is carried with you wherever you go. May you be blessed on your journey today.