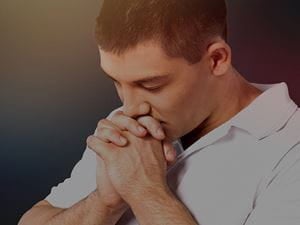 Shutterstock.com
Most of us will struggle with debt at some point in our lives. For many of us, debt can be an ongoing struggle. When we're at our lowest financial points, the only way that we can get out of the pit is by taking action and trusting in God for miracle breakthrough. For Christians, a miracle is a surprising event that is considered to be the work of God. When we talk about miracles, we are referring to events that are not normal. They truly defy the laws of nature. The truth is, all things are possible with God, including God bringing us financial peace and stability. Are you ready for financial miracles to start happening in your life? You have the ability to be restored when you trust in God's power and the decisions He is making in your life. Once you do this, the feelings of pain and despair will float away. Jesus can remove debt from your life through miracle power and those miracles start with us lifting up prayers for financial breakthrough. Here are six prayers for help with finances.
Channel God's Hope
Miracle power testifies that God's touch is always a heartbeat away. It's important that we are conscious of God at work in our lives daily. Miracle power can happen in your life when you have faith and trust that miracles can really happen. This includes financial miracles and ultimate breakthrough. If you don't see a way out of your situation, channel into God's hope with this prayer: God, we come to You today, needing a miracle in my finances. Although we may see no way out of this situation, Your Word says that You will provide for every need. Even in times of anxiety over the bills we face, help us to trust You and wait on Your blessing! In Jesus' name, Amen!
Turn Your Debt Over to Jesus
It's important to realize that your debt problems will never get any better until you change a few things. To achieve a financial breakthrough, you can't just keep doing what you've been doing, because you'll keep getting what you've been getting. That's the when you have to snap out of it and turn your trust over to Jesus. If you are ready to turn over your debt to our Savior, start with this prayer: Lord Jesus, we surrender our finances to You. Father, please help us through this period of unemployment, underemployment, disability, or any other issue that hinders our ability to be gainfully employed. Amen.
Trust in God's Financial Blessings
If you desire a financial breakthrough in your life and are ready to release God's miraculous power on your financial situation, you have to begin by believing in the power of God and the ability to achieve His financial blessings. If you trust in the blessings God has laid out before us, lift up this prayer: Father, we thank You that we are heirs to the blessing. We choose life today. We choose to be a conduit for what You want to do in this world. Thank You for Your Word and the many blessings that are ours. In Jesus' name, Amen.
Remove Debt From Your Heart
If you want to remove debt not only from your life, but also your heart, you have to trust in Jesus. You have to talk to Him directly with full acknowledgment that something has to change. You have to decide that being in debt is no longer an option. It's time to do what it takes to leave that lifestyle behind for good. No breakthrough can happen without action on your end. If you trust in God to remove stress from your heart and debt from your life, begin with this prayer: We praise You, oh Mighty King, we bless Your Holy Name. Thank you for providing all our needs, according to Your riches in Glory. You never fail us, even in these difficult times, when finances are low and worry invades our minds. Help us to be at peace, Father, confident in Your blessed assurance that You will supply all our needs. Amen.
Remove My Spirit of Financial Worry
Anyone struggling with debt is likely also struggling with worry. This can lead to anxiety, depression and separation from God. In order to remove a spirit of worry, it's important to pray for God to move it from your heart. If you are drowning in a sea of debt and ready to unleash God's healing over your situation, pray this prayer: Heavenly Father, we feel as though we are drowning in debt and the anxiety knocks us down like a wave, with each phone call from debt collectors, we dread going to the mailbox or looking at that ever increasing pile of unpaid bills. We desire to do better in our lives than just barely keeping afloat. We long for the day when we will be the leader and not the borrower; when we can be in a position to bless others financially. I pray today that You will remove a spirit of worry from my heart, and release a spirit of courage. Help me to see that all things are possible with You. Amen.
Trust Jesus Over the Enemy
Jesus performed many miracles during His earthly ministry. These miracles were just a snapshot into the incredible power He can have over our lives. These miracles help us to understand that Jesus was more than just a man. They also show us what God is like – what He cares about and what He chooses to do for His people which includes us. If you trust in Jesus' mighty hand over the enemy's to achieve financial breakthrough, begin with this prayer: The name of Jesus Christ commands Satan to release your grip from our finances along with all those evil spirits and all spirits not of the Holy Spirit! Get your hands off our finances along with all those evil spirits and all spirits not of the Holy Spirit! Get your hands off of our finances, our income and our possessions, this day and every day to come, in the Name of Christ Jesus. Amen.
When we pray for miracles, it's important that we understand that we too are miraculous beings. It's important that we also remember that we have the power to achieve miracle financial breakthrough when we trust in God's healing power. We wouldn't be here without the power of God's hand and His miraculous power being at work. When we believe in this power, all things are possible, including a breakthrough when it comes to your finances. Trust that when you're ready to turn your financial situation around, Jesus has the power to eliminate debt from your life and make all things new.