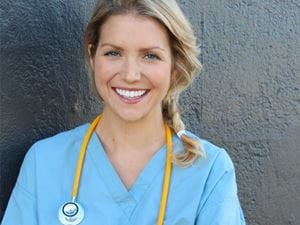 Shutterstock.com
Nurses play an essential role in our everyday lives. While many Americans are sheltering in place due to stay-at-home orders, nurses and other healthcare professionals head to work each day to care for patients. Nurses also have their worries at home – loss of jobs for their spouses, perhaps kids with no childcare, bringing COVID-19 and other illnesses home to their families. They put their lives on the line each day because that is what they are called to do. Often, nurses do not get the recognition they deserve. These frontline workers must be acknowledged for a job well done and for all their work. Whether they are your friends or part of a medical team, nurses should be included on your prayer lists. Here are five prayers in honor of nurses.
Prayer for Nurses in Training
We must pray for those who are already working on the front lines and pray for those who are preparing to go into the field. One of the reasons this is so important is because Jesus commands us. By praying for others, we are imitating Jesus Christ, who intercedes with God the Father on our behalf and the Spirit of God who intercedes for us, even when we cannot find the words. One of the reasons we pray for nurses specifically is because they care for the people we love and us. Nurses must be properly trained so that they properly serve those in need. Here is a powerful prayer for nurses in training:
Lord, I thank You for those who have given of themselves to be nurses and provide health care to those who are sick. I pray for each nurse in training and provide them with the wisdom to give the best care and service to the sick in the hospital. Teach them that nursing goes beyond what they are learning because it is a call You have given them to fulfill according to Your Will.
Give them an excellent spirit (Daniel 6:3) to be nurses of honor who value life and treat it with care and tenderness. Give them a teachable heart and help them understand all they are learning in nursing school.
May they be attentive in class and every practical lesson. Remind nurses they will be working for You and not human employers and will be accountable to You for their work. Fill their hearts with compassion for every patient they encounter. In Jesus' name I pray. Amen.
Prayer For Nurses to Be Witnesses of Christ's Healing Mercy
A considerable portion of Christ's time was dedicated to healing the sick and the downtrodden. If you have any question of His healing power, you can turn to Scripture. There is no record in the Bible of Jesus turning away anyone who came to Him for healing. We should pray that nurses channel Christ's healing and be witnesses of His healing mercy:
Loving God, we pray for nurses and all those who minister to the sick, dying, and all who require care. May they be witnesses of Christ's healing mercy. May we follow their many examples of competence and compassion. Grant nurses the strength and courage to face each day's challenges and to remain faithful in their ministry of service. We ask this in Jesus' name, Amen.
Prayers For Nurses in Every Hospital
Galatians 5:13 tells us, "serve one another humbly in love." There is no question that caring for others can be hard. Even more so for those who have chosen to become nurses. As believers of Christ and the power of healing, we can call on God to bless nurses in every hospital. We can pray that they walk with Your spirit when they work with each patient and know that they do not have to face the day's challenges without You. Here is a powerful prayer for nurses everywhere:
Lord, I praise You for You are a compassionate Father and have called nurses to extend Your heart to those who are sick in the hospital. Bless each nurse who has given their lives to caring for others.
Give each nurse everything they need to do the work You have called them to do. Let their focus be on their patients, and know their daily ministry is one that reflects You. Position their hearts to seek You every day concerning their work, and every patient the hospital has assigned to them. Help them cooperate with the doctors they must work with each day. May they give of themselves wholeheartedly and seek strength from You when they are feeling weary and tired.
Remind them to speak Your word into each patient's life under their care and to proclaim Your healing to them (1 Peter 2:24). In Jesus' name, I pray. Amen.
Prayers For Nurses to Lift Up at the Beginning of the Day
With all the things nurses must do, many feel exhausted, stressed out, and frustrated. While taking a break can help many nurses recharge, it is not always possible for them to take a few days off, especially when their work does not call for it. Many nurses turn to prayer to get them through their weeks. This prayer is one that nurses can lift as they start their day to get through the day:
Holy One, as we begin this day, I ask for Your guidance. With your divine hand, Inspire, lead, and give Your wisdom. Throughout this day, may Your grace be ever-present in this healing place. Bless our team, our hospital, our unit, as we gather to help those in need.
Let not Your help be far away. We seek Your strength and ask that You give Your spirit as we make decisions for good. God of love teach us to provide our best, to speak with respect, and act with courage. May we be good stewards of all the gifts You have given. In Jesus' name, I pray. Amen.
Prayer For the Strength of Nurses
Praying for our brothers and sisters in Christ who serve in the medical profession is one way to share one another's burdens. For fellow believers, we pray for their physical needs, growth, and encouragement. We can pray for nurses' strength so that they perform their tasks in a way that glorifies God:
Heavenly Father, I pray that You give strength to every nurse You have called to the profession. May their hands are ever stable and their stomach always strong. May their legs not grow weary when the day has been too long. May they retain all their knowledge to do the greatest good. May their heart be kind and tender, so they treat others as they should. In Jesus' name, I pray, Amen.
Being a nurse is one of the most challenging things in the world. Too often, nurses are burned out from working long hours but push through because they care about the people they help each day. Many nurses find that praying can offer just what they need to keep going. We, too, can lift up our nurses by praying for them often.