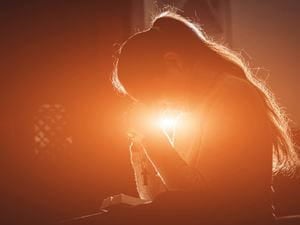 Shutterstock.com
An unfortunate part of life is feeling defeated. There are going to be days where situations seem entirely out of your control, and life gets a little too hard. The challenges in front of you will feel so overwhelming that you cannot find a way out. You might struggle to lift your head to say, "I can get my life back on track."
When you feel this kind of great defeat, your first reaction might be to retreat within yourself. You will not want to talk about what you are feeling with others. God, though, is ready and waiting to hear your pain when you are prepared to speak with Him. He can give you guidance on what to do next and take some of the weight off your shoulders. These prayers will help you get started when you are ready to open a conversation with Him.
Prayer to Request God's Help
This prayer is an ideal starting point when you are not sure what to say. It covers a wide range of feelings and emotions that you can reflect on. It also encourages you to ask God for His direct help, so you can start healing.
Lord, I am feeling defeated. I do not know if there is anything I can do to fix the situation I am in. The obstacles in front of me seem unconquerable. I have failed and let others down. The weight is placing a burden on my heart. In Psalm 46:1, you say: "God is our refuge and strength, a very present help in trouble". Help me to accept and remember this truth as I try and pick my life back up. I am laying out my feelings before you so that you can help restore me. Please comfort me and mend my heart. I pray that these defeated feelings will not stop me, and I can rise again. I pray in the name of Jesus Christ, amen!
Prayer When You're Overwhelmed
When our to-do list does not stop piling up, we might feel we are drowning in work with no end in sight. It can leave us feeling overwhelmed because we cannot do it all. This prayer will help you relieve some of that stress and remind you that all things are possible with God.
God, I do not like feeling so inadequate, unorganized, and overwhelmed. I think that I tried my hardest, and yet, it still was not good enough. I feel I have let myself down. Please help me not to be so hard on myself and understand that I am only one person. As much as I may want to, I cannot do everything on my own. With you, though, all things are conquerable! Philippians 4:13 says, "I can do all things through Him who strengthens me". Lord, I request your helping hand as I continue to move forward. Help lift some of this weight off my shoulders so that I can have a clear mind to get things done. I will not be defeated. Amen!
Prayer For What to Do Next
When you feel defeated, you might not know the next step to take. God can help guide you, so you make the right move. Trust in His plan for you, and you will not have to second guess yourself. This prayer will help you decipher His goal.
My heavenly father, I have come to a standstill. I am feeling defeated about my situation, and I have no idea what to do next. No plan I come up with seems to sense. Lord, I know you have a much larger plan for me that I cannot see. Please help guide me so that I start making the right choices. Ensure that each action I take is one that glorifies You. Remind me of your promise in Jeremiah 29:11 that says, "For I know the plans I have for you, declares the Lord, plans for welfare and not for evil, to give you a future and a hope.". God, I will turn my trust over to you. Amen!
Prayer For God's Forgiveness
You may be feeling defeated because you put yourself in an unfortunate situation. You leaned on your own desires and plan rather than trusting in what the Lord wanted for you. While you may think God is mad at you, He is not. Share this prayer of forgiveness.
Lord, help me to release my grip on my life and instead defer to you. I have held on to the comfortable feeling of control, and it got me further away from my goals. It took me away from Your plan for me. I have pushed out any space for Your guidance, and for that, I apologize. I should have never assumed my ways would be better than yours. Psalm 147:5 reminds me that "Great is our Lord, and abundant in power; His understanding is beyond measure". Help me transfer my control over to you and lead my actions so that they glorify You. I surrender myself to you, Lord. Amen!
When you are feeling defeated, know that God can give you strength. Even if you do not know what to say, God can peek into your heart and understand the pain you are going through. He will guide you, but you have to open your mind up to Him.