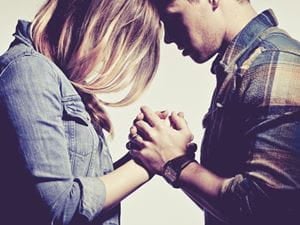 Lightstock.com
Marriage is beautiful. After finding the love of your life and having an extravagant wedding, you will get to go home together and have the perfect marriage with your spouse. You picture yourselves growing old together without any care in the world, because you are just so in love. It's like a true fairy tale.
Right? Wrong!
Marriage is hard work. There is no such thing as the perfect couple, and anyone that says otherwise is hiding dirty laundry. Each union is going to hit roadblocks at some point. Breakdowns in communication, differences in opinion on how to raise the kids and infidelity are all real situations the average marriage could face. The person you fell in love with may change as you grow older and that can be difficult for some marriages to go through.
The great thing is, though, that you don't have to walk through your marriage troubles alone. God should always be at the center of your marriage so that you can call on Him in your time of need. He will be there to navigate you through the difficult waters that lie ahead.
Here are some prayers to get you started.
A Prayer For Beginners
If you haven't talked to God recently about your marriage, or about much at all, this is a great place to start. This prayer from Holy Land Prayer gives a great foundation to start your conversation with God. You can add in specific examples if you would like to, or say it as it. Either way, God will hear your cry for help.
Lord, I come before You today with a heavy heart; my marriage is in grave trouble, and I need Your help and closeness. Please make changes in my spouse's heart. Make us compatible again, and bring us closer together as we were before. Fill us with Your love and give us the strength to love one another, care for one another, and fulfill Your life long wishes for us. Show us the harm caused by careless, uncalled for words, and the pain caused by emotional distance. Heal the division between the two of us. Make us one again. In Your precious name I pray, amen.
A Prayer For Healing
Many times when marriages are crumbling, negative emotions get the best of both parties. We say things we don't mean and take actions that we once thought we never would. In order to make your marriage whole again, you have to learn how to forgive each other. Through this prayer by Charging Life, you can ask for God's help on the healing process.
Lord, I know that my spouse and I have not been living up to Your expectations of our marriage. Jesus, I plead that we will put away all bitterness, wrath, anger, clamor, and slander, along with every form of malice. In the place of this, I pray that we would be kind to one another, tenderhearted, forgiving each other. Father, I pray that You would rekindle passion and desire between myself and my spouse, and heal any emotional wounds we may have caused one another. Please let us let go of the pain and work together to build a better marriage. It is with Your help that we can be healed. Amen.
A Prayer for the Conflicted Spouse
Maybe you are the one who is causing some of the tear in your marriage. You might be feeling confused about your union or feel that you aren't in love like you once were. Whatever it is, this prayer adapted from Sincerely Mrs. Mommy will help get you started in a conversation with God about finding the right direction.
Lord, I am having trouble and can't make up my mind. I pray that You will bring me direction. And when You bring that direction, I pray that my eyes, heart, and soul will be in the position to receive that clear direction and respond to it. Respond to it without fear of what I might look like, without fear of what others may say, and without fear of how I might stay or move on. I hope I believe that I will feel empowered to make the right move and know that You are by my side with whatever step I take. I pray that You will rebuild my confidence in myself and that I will see myself as You see me. Amen!
A Prayer For Love to Return
When things get really sour at home, it can feel like you barely love your spouse at all anymore. You may even feel that they no longer love you either. In these moments, instead of running away from your spouse ask God to help you find love again..
Dear Lord, with each passing day I feel the love between my spouse and me growing further and further apart. I do not feel that fire in our love that I once did, and I will admit that it's scaring me. I pray that You inspire my mind and heart to find that love again. I ask for You to give me the strength, desire, and guidance to make my marriage whole. Let me feel engaged in our relationship! While I may not be in the best mindset right now, I do know that my spouse deserves the best version of me and it is my duty to You, Lord, to give them that. Ephesians 5:25 reminds us that we should love our spouses as we You have loved the church. Please help us find the love we once had. Amen.
Colossians 3:14 says, "And over all these virtues put on love, which binds them all together in perfect unity." Marriage is not easy, and it certainly isn't easy when love starts to fade away. Thankfully, we have our Almighty God to help us through these dark periods. Through His guidance, we can come out on the other side with our spouse feeling stronger than ever. Use these prayers to help get you started.