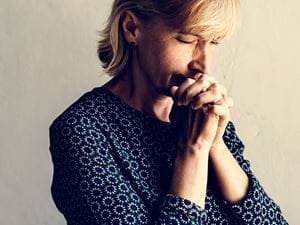 Shutterstock.com
No one can undermine the importance of praying. Even if we may not be in the habit of regular praying, we have prayed at some point in our lives. You will hardly come across a Christian who says or feels they do not value the significance of prayers.
Christ and Paul set up valuable examples for praying as they prayed religiously. Believers pray to seek His compassion and blessings. We pray in church services, Bible study groups, or prayer meetings at specific times or whenever and wherever we wish to.
The Reality of Prayer
We, as believers, feel and say we understand the value of prayers. Most people also feel they do not pray as much as they should. There are apprehensions and doubts about why we should offer our prayers as God already knows our requirements.
On some occasions when we may also think to introduce some form of a controlled experiment while praying. Perhaps, it can make us aware of how prayer makes a significant difference in our life. We should also agree that it makes sense to pray, and we should do it religiously.
The reality of prayer can be quite varied from the human perspective. While some may feel prayer is a mundane activity, it can be a beautiful exercise. There are many situations when we look forward to praying. There is an immense enjoyment when we communicate and converse with our Lord and see Him answering our prayers.
Prayer is Not an Obligation, is a Privilege
There are many such occasions when you may feel prayer is boring and not so inspiring. It is also unusual to get distracted while praying from time to time. Do you think prayer is an obligation at times? You are not alone, as many others also feel that way. However, you should not pray just because somebody else told you to do so.
We should not forget prayer is a chance to be closer to our Lord and is a privilege. Prayers help us to develop a closer bond with Him. Prayer is a precious gift when our Lord wants to strengthen the bond and spend some time with us.
Hence, you should not look at prayer as your daily chore. Rather, consider it as a chance to spend time with God and converse with Him. There is no one who loves you more than God. If you look at prayer as a special privilege instead of an obligation, you will want to pray more.
Prayer is Sacred
Prayer is a beautiful mystical expression and is the manifestation of human desire to contact or converse with the sacred or holy. A short and simple prayer maybe also incredibly powerful and has to potential to change us. It can guide us on the route to healing us and the world.
Additionally, prayer is a comprehensive solution to connect to God. Prayer helps believers to relate to and interact with the Almighty. Use prayers to enjoy divine access to Him. Whenever we pray, we can access the throne room of heaven.
You Do Not Have to Schedule Your Prayers
It is not mandatory to reserve your prayers for early morning or bedtime. You do not have to pray at formal, specific times but can pray anywhere, anytime. Incorporate prayer into your regular routines to stay engaged with Him throughout the day.
However, if you are beginning to develop the habit of daily praying, it is better to have some consistency in life. It may come in handy if you can schedule time on the calendar. Doing so can reserve some separate time on the schedule and help you to pray as a priority.
Praying Does Not Have to Be a Formal Affair
You should not nurture any high expectations about how to pray. There is no compulsion to add fancy words in your prayer. Also, you do not need to maintain a specific prayer posture or say "church-y" words while praying.
You have to be honest with God and let Him know what is bothering you. Once you start praying more, your prayer language will automatically expand. You will also find different prayer postures to enhance your prayer experience. However, as you get started, it is most important to engage our Lord in conversation.
You Don't Have to Follow Any Rules While Offering Prayer
There is no rulebook for praying. So, you should not feel that you have to adhere to specific guidelines to get it right. Just open the conversation after entering into prayer. Any other rule you may come across is optional and meant to assist you in developing proper consistency while praying.
However, that becomes organic as you start developing a strong bond with God and start looking at prayer, not as an obligation but a privilege. You desire to spend time with our Lord in prayer because you hold the relationship in high esteem. As praying becomes a habit, you will want to know more about prayer. Thus, you can enhance your prayer styles and language.
Always remember that a meaningful prayer opens a conversation with God. It is not about complying with a prescriptive rulebook. Prayer is not just a task on your to-do list. It is an opportunity to spend time with God as he loves you the most.
Also, you do not have to adhere to a prescriptive outline or format for your prayer. It also means there is no need to cover all the topics in each prayer. Share your burdens, concerns, failures, questions, and hoys with Him.
We, at The Salvation Garden, are a dedicated prayer community. Our goal is to open the gates of the Holy Land for believers from all over the world. We aim to connect Christians from different parts of the planet to the holy sites of Jerusalem.
Our team members deliver your prayer requests to the most sacred religious sites. All prayers come with digital documentation to connect to the Holy Land. Thus, we help you to pray at Jerusalem from the comfort of your homes.