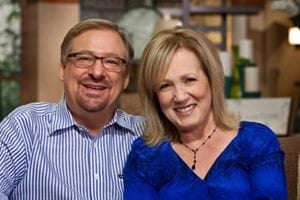 On Saturday, July 27, Dr. Rick Warren, pastor of Saddleback Church and author of the best-selling book, "The Purpose Driven Life," delivered his first sermon since the April 5 passing of his son Matthew, who struggled with mental illness. Pastor Warren's wife Kay joined him in sharing a message titled "How to Get Through What You're Going Through."
More than 10,000 attended two Saturday evening worship services at the Saddleback Church Lake Forest, Calif., campus to hear the Warrens, with an additional 6,500 watching live online. It was the first time Pastor Warren had preached in 16 weeks, the longest he has ever been away from the pulpit. The congregation greeted the Warrens to a standing ovation. Pastor Warren opened the service with a word of thanks to his staff, local pastors and his family for their love and support over the last few months.
"We intend to spend the rest of our lives comforting others with the comfort we've been given," he said.
Pastor Warren then continued by sharing the three things that gave he and Kay stability during their grief. First, life doesn't make sense, but we can have peace because God is with us and loves us. Secondly, everything on earth is broken, but we can have joy because we know God has a greater plan. And third, we know that life is a battle, but we can have hope because we know there is more to the story.
"For 27 years I prayed every day of my life for God to heal my son's mental illness ... it didn't make sense why this prayer wasn't being answered," said Pastor Warren. "When you go through a difficult time, you automatically start to try and find an answer. But explanations never comfort. You don't need explanations; you need the presence of God."
Kay Warren also shared about her struggle with continuing to choose joy even in grief, a topic of which she wrote about in her book, "Choose Joy," released in 2012. "What do you do when hope doesn't turn out the way you think it will? You rebuild your hope," she said. Pastor Warren concluded the service by committing to remove the stigma of mental illness.
"Any other part of the body, you can have it hurt and there is no shame in it," Pastor Warren said. "If your brain doesn't work right, why do you have stigma? It's just another organ in your body."

The Warrens, who have worked the last decade to remove the stigma of HIV/AIDS, said they are now called to remove the stigma of mental illness.
"If you struggle with a broken brain, you should be no more ashamed than someone with a broken arm," said Pastor Warren. "It's not a sin to take meds. It's not a sin to get help. You don't need to be ashamed."
Over the next six weeks, Pastor Warren will continue the "How to Get Through What You're Going Through" sermon series by focusing on the six stages of grief - shock, sorrow, struggle, surrender, sanctification and service. Founded in 1980 by the Warrens, Saddleback Church is located in Orange County, Calif. With an average weekly attendance of 22,000, it is one of the largest churches in America. For more information, visit http://www.saddleback.com.

© 2013. A Larry Ross communications all rights reserved.