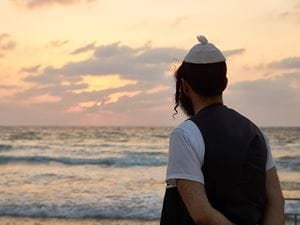 shutterstock.com
Tish B'Av is often referenced as the saddest day of the Jewish calendar. Many historians have condemned the day for unstoppable tragedy. A number of disasters occurred in Jewish history, specifically the destruction of both the First Temple by the Babylonians and the Second Temple by the Romans in Jerusalem.
Given the massive amount of sadness and despair, it seems only fitting to recite and embody the most powerful prayers for Israel on Tisha B-Av.
Psalm 91 Says:
King of Heaven and Earth, would you extend the shadow of your wing (prayer shawl) over Israel and the Jews worldwide this 9th day of Av, as in your immutable Word of Psalm 91. Do not allow the enemy to kill, steal or destroy your ancient covenant people. Save us "from the fowler's snare...the terror of night...the arrow that flies by day…and… please command [Your] angels concerning [us] to guard [us] in all our ways."
Psalm 91 reminds Israel that their people are not forgotten. Unfortunately, there will always be evil in the world; however, the purpose of our angels is to protect and guard us from the enemy. When you're feeling low and experiencing tragic times, call out to the angels for reinforcement. They are God's warriors against the destruction.
Lamentations 3:40; 2:21-22 Says:
O Shield of Israel, release Your weighty love and conviction on the book of Lamentations that Jews will read tomorrow on Tisha b'Av. Pour on us a spirit of grace and supplication (Zechariah 12:10) to turn to You. May Your Presence descend powerfully on your people. "Let us search out and examine our ways, and turn back to the Lord. Through the Lord's mercies we are not consumed, because His compassions fail not."
No matter what happens Lamentations reinforces the Lord's mercy and the undeniable compassion he has for his people. God's children mustn't allow the enemy to implant bitterness and hatred. Instead Jews must offer grace and supplication to everyone – no matter who they are. The gift of grace will be the difference between good and evil.
Prayer for the State of Israel Says:
Our father in heaven, rock and redeemer of Israel, bless the State of Israel, [that it may be] the first flowering of our redemption. Guard over it with your loving kindness, envelop it in your peace, and cast your light and truth upon its leaders, ministers and advisers, and bolster them with good counsel before you.
The expectations placed on those in office is truly exponentially unsurmountable. Often times, citizens forget the about the intense pressure their leaders, ministers, and advisers are under. Try to remember the work that these important people do on a daily basis and how their efforts are the real difference makers that keep everything together. The Prayer for the State of Israel is a great reminder to include this people in our daily prayers. While they provide protection and guidance for Israel, their citizens should also provide spiritual protection and guidance for the elected officials because, in the end, we're all in this world together. Always remember community is everything.
Psalm 68:5 Says:
Father, please extend special cover and compassion over the children in battle zones across the Middle East. Heal their traumatized souls, Jews and Arabs, and tenderize their spirits toward You. In Yeshua's name, we release the spirit of adoption over these little ones in the natural and supernatural realms. "A father for the fatherless….is God in His holy habitation."
Our children are the future and we must protect them. Psalm 68:5 encourages elders to pray for our little ones and not forget them despite the intense and tragic conditions. While the battle zones are present and active, that doesn't mean our children should be subjected to the pain and agony – and potentially become jaded.
From Gates of Prayer: The New Union Prayer Book:
Blessed is the match consumed in kindling flame. Blessed is the flame that burns in the heart's secret places. Blessed is the heart with strength to stop its beating for honor's sake. Blessed is the match consumed in kindling flame. Israel, born in pain, has lived in peril. We pray for the welfare of her people and their land. May they dwell in safety and live in peace and friendship with their neighbors. Pray for the peace of Jerusalem: may those who love you prosper! Let there be peace in your homes, safety within your borders. For the sake of my people, My friends, I pray you find peace. For the sake of the House of the Lord our God, I will seek your good.
If you're seeking a prayer that's not entirely scripture based, this prayer will provide you comfort and hope. Not only does this prayer provide protection for your personal circle, but it also protects others in Jerusalem. Prayer provides the blessings and peace the Jews need in order to persevere.
Matthew 6:10 Says:
We thank You, Creator God Most High, for the countless answers to our prayers in this war, the reports of miracles on the battleground, the salvations of souls, and most of all, how You are and will glorify Yourself in this blood moon season of war. Prince of Peace, Your kingdom come and your will be done on earth as it is in heaven.
Matthew 6:10 reveals one of the most well-known lines – your kingdom come and your will be done on earth as it is in heaven. The salvation of our souls and the glory that we pray upon is based on that important scripture. Not only does it remind us what has happened, but it encourages Jesus followers to be faithful despite the conditions.
Prayers are truly powerful. They're more than just words, they represent hope, gratitude and sacrifice. Prayers become influential and commanding when they are repeated consistently. The words provide a spiritual passage that isn't possible unless the follower truly embodies the life the words offer. During Tisha B'Av, allow these powerful prayers to provide deliverance to you and others from tragedy.