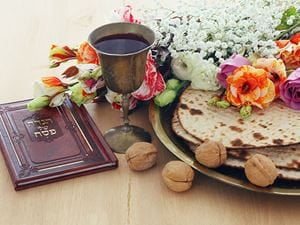 Shutterstock.com
Some families feel like they make the same recipes for Passover every year. As a result, some people start to get tired of what used to be special, once-a-year recipes. Here are eight great Passover recipes that spice up traditional dishes or bring a kosher version of popular dishes to the table.
Citrus French Toast With Whipped Cream
French Toast is not something anyone expects to be eating on Passover given that leavened bread is off limits. Passover French Toast, however, is made with Passover Citrus Sponge Cake instead of regular bread and so is kosher.
To make Passover Citrus Sponge Cake, separate 12 eggs. Whisk egg yolks with sugar, orange zest, lemon zest and orange juice. Then, sift together Passover approved kosher cake meal and potato starch. Be sure to check that these ingredients are not just kosher but approved for Passover. Add the egg yolk mix to the dry ingredients. Whip the egg whites until they are stiff and shiny, then gently fold the egg whites into the cake batter. Bake at 325 Fahrenheit until an inserted fork comes out clean–roughly one hour.
While cake cools, whisk heavy whipping cream and vanilla sugar or vanilla powder and sugar until stiff peaks form. Cut the cooled cake into one inch slices. Dip the slices in a mix of eggs, milk and either orange juice or cinnamon sugar. Place in greased pan and cook each side for approximately 4 minutes. Top with fresh oranges and whipped cream.
(
Sponge cake recipe
originally from Tori Avey)
Yemenite Matzo Ball Soup
Yemenite Soup ingredients will vary based on how strictly a family keeps kosher. Some spices may not be considered to be kosher for Passover by some Jews. In that case, simply alter the recipe and
substitute a kosher spice
.
To make Yemenite Soup, cook chicken and cut it into pieces. Boil the chicken in broth. Add turmeric, salt, black pepper, garlic, fresh cilantro and a halved onion to the pot. For those who do not eat garlic during Passover, omit the garlic. Bring the mix to a boil, reduce the heat and simmer for approximately 90 minutes stirring occasionally.
While the soup boils, mix matzo meal, kosher baking powder, salt, garlic powder and onion powder. Mix eggs, oil and cilantro. Add egg mix to matzo mix. Stir until just combined and let it rest in the refrigerator for 30 minutes. Add cumin, anise and cilantro. For those who do not eat anise during Passover, either omit the spice or substitute cloves. Add spice mix to a pot of water and bring to a boil
Form the chilled matzo mix into balls and place them in the spiced water. Cover and cook for 30 minutes. Place the matzo balls in a serving bowl and pour the chicken soup over the balls. Garnish with fresh cilantro.
(
Recipe
originally from Tori Avey)
Citrus Broccoli With Cashews
Nuts are often popular around Passover, and the buttery crunch of cashews is a great way to add a little excitement to healthy vegetables. To make citrus broccoli, steam fresh broccoli florets in a steamer or microwave. While the broccoli steams, cook cashews over medium heat for approximately eight minutes or until brown and fragrant. Set cashews aside and mix dates, coconut aminos, orange juice, ginger, garlic and cayenne pepper in a blender. For those who do not eat garlic or ginger on Passover, omit the spices and substitute an acceptable spice.
Pour the mix into a small saucepan and cook over medium heat until it thickens. Add broccoli and cashews to the sauce. Toss and serve hot.
(
Recipe
originally from Tori Avey)
West African Brisket
Brisket is a common meal at Passover which means some people get tired of it and want to find a way to spice it up a bit. West African spices add a great twist to a traditional meal. To make West African Brisket, mix together chopped onions and bell peppers. Sauté until onions are caramelized. Add diced tomatoes, brown sugar, horseradish, broth, bay leaves, thyme, ginger, paprika, cinnamon, chili powder and cayenne to the vegetables. Cook for five minutes, omitting ginger if necessary.
Rub the brisket with salt and pepper. Brown the meat in a Dutch oven. Add red onions, garlic and sauce mixture, cover and bake for five hours at 300 Fahrenheit. Let cool for 20 to 30 minutes. Reheat the sauce and pour back over sliced brisket. Serve immediately. Skip or substitute another spice for garlic if necessary.
(
Recipe
from Tori Avey)
Moroccan Paprika Fish
For a spicy, kosher seafood dish add cilantro, sliced bell peppers, garlic and chili peppers to a sauté pan or skillet with high sides. Omit garlic or use a substitution if necessary. Place fish on top of vegetables and spices. Sprinkle with salt, pepper and turmeric. Pour water on top of fish and vegetables and boil. Simmer for 15 minutes or until water is reduced by half.
Mix olive oil and paprika. Pour over fish fillet and simmer until liquid has reduced by half again, and fish is red. Serve fish and vegetables with a kosher starch such as potatoes. Pour red sauce over top of fish and garnish with fresh cilantro.
(
Recipe
originally from Tori Avey)
Zucchini Chicken Pinwheels
Not all Passover meals need to be terribly involved. For a quick dinner, cut fresh zucchini into thin strips using a mandolin or peeler. Whisk together oil, tomato sauce, basil, salt, pepper and garlic, omitting or substituting for garlic if necessary. Soak chicken strips in sauce for a few minutes or overnight, then roll together with zucchini strips. Bake for 25 minutes at 400 Fahrenheit, then broil the pinwheels for 5 minutes to brown the tops of the pinwheels. Serve hot.
(
Recipe
originally from Tori Avey)
Passover Apple Pie
Pie is not something that anyone would expect to eat during Passover given the restriction on leavening, but Passover Apple Pie uses matzo crackers to form the crust. To make this surprising Passover dessert, melt butter in a saucepan and add applesauce, white and brown sugar, vanilla powder, cinnamon, nutmeg and lemon juice. Stir to combine and bring to a boil. Reduce heat and add diced apples. Cover and cook for eight minutes. Remove from heat and set aside.
Cover crushed matzos with water and soak for 90 seconds. Drain. Beat eggs with salt and add matzos. Add apples and sauce. Combine and place in greased pie dish.
Melt butter and mix in brown sugar. Add chopped pecans and stir until candied. Sprinkle over the top of the apple mix. Bake pie for 45 minutes until top is golden brown, and the pie is cooked through. Serve hot with ice cream or whipped cream that is kosher for Passover.
(
Recipe
originally from Tori Avey)
Chocolate Chip Cookies
Chocolate chip cookies are a classic treat during most of the year, but they are not something that is usually eaten at Passover. Substituting matzo cake meal for flour, however, allows Jews to continue enjoying gooey chocolate chip cookies even during Passover.
Mix butter, brown sugar, honey, vanilla powder and salt. Add eggs and mix well. Stir in matzo cake meal and matzo meal, then add chocolate chips. Either roll into balls for a gooey cookie or drop and flatten the cookie dough for a cakier cookie. Bake on ungreased cookie sheets at 350 Fahrenheit for 15 minutes. Serve warm with milk.
(
Recipe
originally from Tori Avey)
Spice up Passover this year by giving traditional recipes a new twist or by trying something new. Surprise friends by unveiling kosher for Passover versions of classic recipes, and make this year's Seder something to remember.