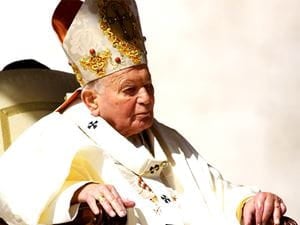 Los Angeles
-- The Simon Wiesenthal Center announced today that it would honor the beatification of the late Pope John Paul II by including highlights of his historic friendship and solidarity with the Jewish people as a part of the permanent exhibit of the Center's renowned Museum of Tolerance in Los Angeles.
This March, the Center honored John Paul II with its Medal of Valor at a ceremony in New York. At the behest of Pope Benedict XVI, Archbishop Pietro Sambi, the Papal Nuncio to the United States received the medal on behalf of the Vatican.
"Pope John Paul II will always have a special place of honor in the hearts of Jews everywhere. In our two private audiences with the Pope, we experienced firsthand the uniqueness of this great man; from the very beginning of his pontificate, the warmth of his interaction-- particularly how he engaged in conversation with each of the Holocaust survivors who were members of our delegation," recalled Rabbi Marvin Hier, Founder and Dean of the Simon Wiesenthal Center, who along with Larry A. Mizel, Chairman of the Board of Trustees, presented the Medal of Valor posthumously to the late Pontiff.
"We could see as early as 1983, that this Pope would go on to make history. John Paul II will be remembered for charting a new course in the often-troubled relationship between the Church and the Jewish people. He was the first Pope in the 2000-year history of the Church to pray in a synagogue, the first [to] visit a concentration camp, and the first to recognize the State of Israel," Rabbi Hier added. "We want these achievements to be part of the permanent installation of the Museum of Tolerance so that they may be a living testimony to his remarkable life and a source of inspiration for future generations," Rabbi Hier concluded.