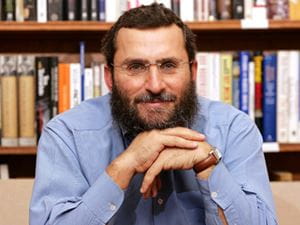 If I run for Congress in New Jersey's Ninth district, I will be squaring off against either Congressman Steve Rothman or Congressman Bill Pascrell, who have been squeezed into the same district and who are competing against each other for their party's nomination. Rothman and I have fought some tough, public battles against one another, primarily over the Libyan embassy, which is my immediate next-door neighbor in Englewood, New Jersey.
I have also been critical of his support for President Obama on Israel, even when the President's positions put unfair and unjust pressure on Israel. But today I am writing not to attack a potential political rival but to thank him. I have already declared that if I run I want to be the values voice in Congress. In Judaism gratitude for an act of kindness is among life's highest virtues.
So here I present a much-deserved thank you to Rothman that I am not running by any political advisors or consultants, who would presumably tell me is ill-conceived given my potential battle against him this autumn. Congressman Rothman recently nominated my son Mendy to West Point. To be sure, Mendy is an outstanding young man and earned the nomination through personal merit.
At just eighteen he is currently serving in his second year as a Chabad student emissary in Frankfurt, Germany, where he is helping to rebuild Jewish life after the devastation of the holocaust. He also began visiting with American service personnel stationed on bases in Germany to cater to their religious needs and, having been highly impressed with officer graduates of West Point, decided he wanted to serve his country and applied to The United States Military Academy. To be accepted you have to be nominated by your Congressman. This is where things could have gotten a little hairy. Congressman Rothman knew I might run against him.
But that did not stop him from rewarding my son's application with the nomination to West Point. Rothman's decision to put merit before political consideration showed character and integrity and I salute it. It also demonstrated a willingness to populate our officer corps with deserving men and women, whatever the political consequences. Having been nominated, Mendy may join his elder sister Chana who has now volunteered for two years of army service in Israel – training male soldiers for combat – to help an embattled democracy survive against brutal enemies. Mendy is now down to 4000 applicants from which 1500 will be chosen as cadets for the West Point Class of 2016.
He faces an uphill battle. Mendy has to be incredibly physically fit, even though his Yeshiva in Frankfurt has no gym facilities and he therefore has to daily improvise for all his physical activities, and this while having a grueling daily regimen of Torah study that begins at 7am, ends at 10pm, and is only interrupted for hours of spiritual work with the community. Still, he wants to serve his country and is convinced that the greatest force for good in today's world is the US military consisting of the bravest men and women who are prepared to fight for the freedom and rights of total strangers the world over. For recognizing Mendy's commitment and character, I am taking the opportunity to thank Congressman Rothman in writing. Even if Rothman and I end up later doing battle in the fall, it will never be as dangerous as any of the battles that our service men and women fight daily in hellish warzones against evil terrorists like the Taliban in Afghanistan.
I pray to G-d for the safety of all our service men and women, especially my children, who may be placed in harm's way. And I thank G-d for the opportunity they have been afforded to serve, and for the people through whom such service comes about.
Shmuley Boteach, whom Newsweek calls 'the most famous Rabbi in America,' is an award-winning national TV and radio host and international best-selling author of 27 books. He has just published Kosher Jesus. Follow him on Twitter @RabbiShmuley.