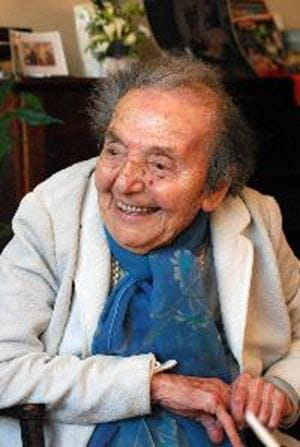 At 108 years old Alice Herz-Sommer is the world's oldest living Holocaust survivor and concert pianist. She lives on her own, practices piano three hours every day, inspires all who meet her to keep hope in their hearts and fluently speaks five languages. She is an eyewitness to the entire last century and the first decade of this one. She has seen it all, surviving the Theresienstadt concentration camp, attending the trial of Adolf Eichmann and along the way coming into contact with some of the most fascinating historical figures of our time, from Franz Kafka to Gustav Mahler, Leonard Bernstein and Golda Meir.
Despite her imprisonment in Theresienstadt and the murders of her mother, husband and friends by the Nazis, and much later the premature death of her only child, Alice has been victorious in her ability to live a life without bitterness. She credits the ability to acknowledge the humanity in each person, even her enemies as well as music as the key to her survival. Alice's life is the music as the key to her survival.
"A Century of Wisdom is the inspiring story of one woman's lifelong determination-in the face of some of the worst evils known to man- to find goodness in life," From the foreword by President Vaclav Havel.
Alice Herz-Sommer's life illustrates a deep ethical and spiritual strength. She has spent her life in untiring pursuit of knowledge and understanding of who we are as humans, as a community and as individuals. Through her suffering we recall our darkest hours. Through her example we rise to find the best in ourselves. Alice has said, "I never give up hope." This resonates strongly with me for I believe that hope is related to the very feeling that life has meaning and as long as we feel that it does, we have a reason to live. Alice's irrepressible optimism inspires me.
She has survived, I believe, so that the world may know her story, our story, of truth and beauty in the face of evil, lies and hate. Not only can we learn from Alice today, but future generations can take wisdom and hope from her richly textured life.
In Alice's Words:
"Gratitude is essential for happiness."
"Understanding of others can lead to peace."
"I am never tired because my mind is active."
"I am richer than the world's richest people, because I am a musician."
"We do not need things."
"Friends are precious."
"My optimism has helped me through my darkest days. It helps me now."
Watch the following video: http://www.youtube.com/watch?v=0KNlRGPs4mQ and post your thoughts on www.facebook.com/alicesfans.
You may also purchase A Century of Wisdom at Amazon.
About the author: Caroline Stoessinger is a pianist who has appeared on the stages of Carnegie Hall, Lincoln Center and The Metropolitan Museum of Art and from Sydney to Tokyo and Prague. She is president of The Mozart Academy, a music school that teaches children of immigrants and United Nations works tuition free and inspires the parents. Mayor Bloomberg recently presented her with the American Dreamer Award for her work with immigrants.
Excerpted from A CENTURY OF WISDOM by Caroline Stoessinger Copyright © 2012 by Teresa Carpenter. Excerpted by permission of Spiegel & Grau, a division of Random House, Inc. All rights reserved. No part of this excerpt may be reproduced or reprinted without permission in writing from the publisher.