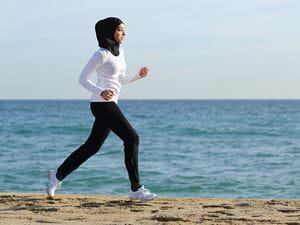 Shutterstock.com
It's been a couple of months since the completion of the 2016 Summer Olympic Games but we're still talking about the accomplishments of the athletes that participated. Among these remarkable athletes, it was the female Muslim Olympians that dominated headlines. Their achievements were stupefying but a lot of emphases were put on what they choose to wear (or not).
Let's go back to early August 2016 when an image of two beach volleyball players facing each other and volleying the ball midair went viral on the internet. This image captured the concentration and determination of both women. However, many people (read: the media) insisted that it depicted the massive cultural divide between the German and Egyptian beach volleyball teams solely based on the uniform they wore.
So why is there such a strong discussion over the hijab in sports? Some of this stems from a lack of understanding about Islamic views on women, especially when it comes to their participation in physical activities. This often leads people to see the hijab as an obstructive symbol when, in fact, it may just be an opportunity for a more open discussion.
Can Muslim women play sports?
There have been detailed occurrences that proved women had been physically active throughout the history of Islam, especially during the time of Prophet Muhammad (pbuh). There were many such instances, for example, where Prophet Muhammad (pbuh) would have races with his wife 'Aisha while they travelled; she had won some of these races against her husband. Then there was Safiyyah, Prophet Muhammad's aunt, who actively participated in the battlefield with other soldiers.
These women's physical and mental agility, prowess and endurance demonstrated that they must have routinely exercised or trained. Their participation in physically-demanding activities proved that Islam has never placed any restrictions against women from doing sports; on the contrary, it shows that Islam places strong emphasis towards the importance of healthy body and mind.
While the accomplishments of female Muslim Olympians like Majlinda Kelmendi, Sri Wahyuni Agustiani and Ibtihaj Muhammad have been astounding, they are hardly the first few Muslim women competing in the Olympics. In the 1984 Summer Olympic Games, Nawal El Moutawakel became the first Muslim and African female Olympic champion when she medalled gold in the inaugural women's 400m hurdles event.
For the longest time, the participation of women has been overlooked - this is especially true for those who are from paternalistic cultures, which often have rigid definitions of masculinity and femininity. This existing social construct views sport as the last option when it comes to interests and a possible career that should be pursued by women and girls.
Female athletes in hijab - what's the big deal?
Among the many female Muslims competed at this year's Summer Olympic Games, hijab-wearing women received the most media attention. While their accomplishments have been highlighted and applauded, the media loves focusing on the fact that these athletes chose to compete in the hijab; many have been positive but there is a small community who still thinks that the hijab and full Islamic sportswear are symbols of oppression.
While there are no restrictions towards women's participation in sport, there is a guideline that needs to be observed in order to create a balance between women's involvement in sports and the importance of keeping their modesty.
In the debate between hijab vs. non-hijab sporting attire, many people fail to see the "big deal". Sportswear matters because it improves the experience of the athlete. Therefore, when their choice of competitive attire has a direct impact on their ability to compete, many Muslim women often fall into a dilemma: should she leave her hijab behind to pursue her career in sport or should she abandon her passion for pleasing her Creator?
The issue of the hijab has long been debated by many governing sports bodies. For example, a ban on religious head coverings, the hijab included, have long been practised by the Internationale de Football Association (FIFA) and the International Basketball Federation (FIBA). It was not until 2014 that FIFA lifted this ban; the same cannot be said for FIBA, which continues to bad the hijab and other religious accessories.
While the main justification for these restrictions is often 'safety concerns', it is not a convincing argument. Many female Muslim athletes have been wearing the hijab as part of the sporting uniform long before they decide to go pro. For them, these "restrictive" attire makes them more comfortable competing in front of many audiences---competing is stressful enough without the worry about a possible embarrassing wardrobe malfunction.
So is the hijab an obstruction or opportunity?
Ibtihaj Muhammad, Hedaya Malak and Sara Ahmed, through their success, have readily proven that the hijab doesn't obstruct a Muslim woman from achieving success in their career and passion. Therefore, why is there still a negative connotation when it comes to the hijab? Why are we still debating about it and feel the need to highlight the garment when someone doing something positive happens to be wearing it?
Furthermore, if the hijab does not restrict one's sporting abilities, as these Olympic athletes have proven, then it is a question of personal choice. If a Muslim woman wishes to dress modestly in her life, why should her sporting career by any different?
Truthfully, the hijab provides an opportunity to encourage discussions surrounding Islam, women and balancing between now and the hereafter. Having these Muslim women visible in the media also provides Muslim girls positive role models to give them aspirations to pursue their passion and interest. It demonstrates that the hijab does not need to be a hindrance. Eventually, this will promote more religion tolerance and understanding so that barriers or stigma towards Muslim women in sports can be removed.