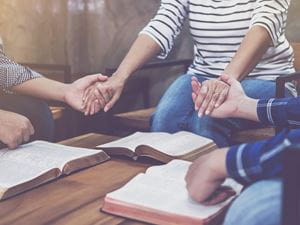 Shutterstock.com
Have you experienced effective prayer? The kind that changes lives? Have you encountered a dire situation and come through it with an even stronger faith, knowing that your God is far more significant and potent than any adversity? If that's what you would like, it's time to begin practicing life-changing prayer. It's time to direct your attention—your spirit and your mind—to the One who is able to "cause everything to work together for the good of those who love God" (Romans 8:28). It's only through Him that you'll experience the life change you so desperately desire.
We know prayer is good for us, a healthy habit we want to include in our lifestyle. But do you appreciate the incredible power of prayer? How can you deepen your prayer life and make it more vital and energized? These tips can help.
Move beyond just asking.
Of course, we should ask the Lord for what we need. He encourages, "Ask, and it will be given you" (Matthew 7:7). But suppose you had a friend who never spoke to you unless he asked you for something. Wouldn't that be a strange friendship? Incorporate praise into your prayers; read the Psalms aloud; thank God for his wisdom and guidance. And don't forget that prayer time is also for confession and forgiveness.
Learn to listen.
When Jesus visited Mary and Martha, Mary did Jesus the honor of simply sitting and listening to His matchless words. And He said Mary had "chosen that good part, which will not be taken away from her" (Luke 10:38-42). Remember: "Be still, and know that I am God" (Psalm 46:10). Find a quiet place and sit with your feet flat on the floor, your hands resting lightly in your lap. Breathe deeply and invite God to speak to you as you silence your thoughts.
Let God love you.
Spend part of your prayer time thinking only of how good and gracious the Lord is. "One thing have I desired of the Lord," said David, "… that I may dwell in the house of the Lord all the days of my life, to behold the beauty of the Lord" (Psalm 27:4). "God is love" (1 John 4:8). Even if you feel unlovable, know that your Heavenly Father loves you immensely. Ask Him to show you the many ways He has loved you in the past; trust Him to continue loving you.
Practice positive affirmation.
Bring your problems to God and leave them there. Don't keep mentally going over them. Instead, believe that he will provide the right solution. Picture a good outcome. Pray with David, "The Lord is my light and my salvation; whom shall I fear? The Lord is the strength of my life; of whom shall I be afraid?" (Psalm 27:1). Believe those good things are headed your way, and they will be. Your optimism and prayer will draw them to you.
Pray without ceasing.
In 1 Thessalonians 5:17, Paul encourages us to pray continually. While it is good to have a regular time and place for prayer, we can pray anywhere, at any time. Realize that God is always with you. The more you pray, the more you will want to pray. Live in the spirit of thankfulness, faith, affirmation, and praise, and you may discover that your whole life is one continuous, joyous prayer.
Say what you need.
In Jesus' time, bread was a staple — one of the most basic needs of life — and he did not hesitate to ask God to provide it. But we often hesitate to bother God with the little things we need, thinking he shouldn't be bothered. And when the big problems come, we try everything we can to solve the problem before we think to pray. The Bible says, "You do not have because you do not ask God." So never hesitate to ask God for what you need in 2022. Your Father in heaven delights in giving you good gifts.
Ask for forgiveness.
James 5:16 reminds us that if we want our prayers to be heard, our hearts need to be right with God and with one another. If you feel your prayers are bouncing off the ceiling, take some time to check your heart.
Thank Him.
A heartfelt thank you is always a great conversation starter. Like any parent, God loves to see that we have grateful hearts. But more importantly, as we take the time to praise God for all He has done in the past — the answered prayers, the impossible situations overcome, the healings and grace — our faith to believe for even greater answers to prayer grows stronger and more confident. Praise opens the gates of heaven and should always be part of our alone time with God.
Ask for God's will.
The Lord's Prayer is not the only place where Jesus role-modeled a heart of obedience and submission to the will of God over his desires and needs. In the Garden of Gethsemane, only hours before Jesus' crucifixion, he would again pray, "not my will, but yours be done." In a world where right and wrong are frequently confused, and the future is so uncertain, it can be hard to know how to pray or what to ask for when difficult circumstances arise. But the one thing we can know with absolute certainty is that God's plan for those who love him is good, and the safest place we can be is in the center of his divine will.
The life of Christ is intended to give us examples we can follow and learn from. So, even though He was God incarnate, Jesus didn't draw on his superpowers as the Son of God when it came to facing life's challenges. Instead, when He was exhausted or burdened or needed spiritual refreshment, He would "slip away" to pray, plugging into the power, perception, and purpose that can only be found in God's presence. Prayer is more than a habit; prayer is purpose and power. Start this very day to make it so in your life.