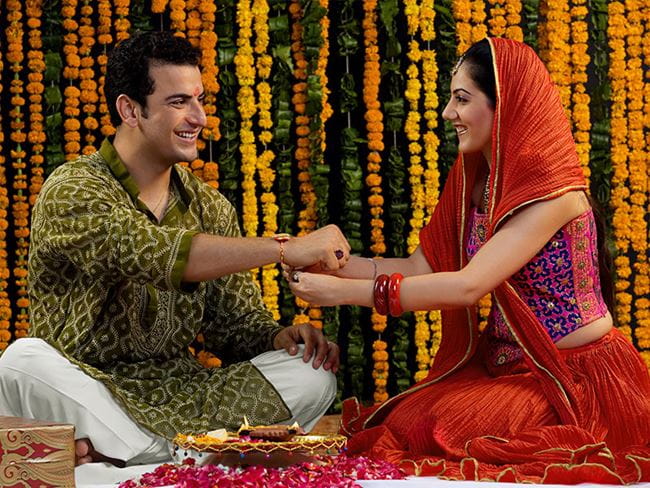 Shutterstock
Raksha Bandhan goes by a few different names – Rakhi, Saluno, Silono, and Rakri. The annual Hindu tradition is typically observed during the month of Shraavana, which is typically in August. Protection is offered by sisters to brothers, but also by priests to patrons, and sometimes by others who could potentially benefit from the traditional act. Citizens tie thread, sometimes along with a talisman or amulet, on a person's wrist as a form of ritual protection.
The tradition has changed over the years due to the traditional regions being influenced by technology, migration, filmography, social interaction and the promotion of Hindu politics and the nation's state. For example, the Indian tradition of Rakhi involves sacred grains. First, a priest ties charms around their patrons' wrists and receive gifts of money. Then, sisters place ears of sacred grains on the heads and behind the ears of their brother in celebration of the brother's role as their assigned protector. Other regions in West Bengal, Odisha and Maharashtra have larger celebrations displayed in public to pronounce this official relationship and kinship.
"Raksha Bandhan" translates to the bond of protection, obligation or care – and that is what the gift inevitably implies. When women and men are not related by blood, there is an additional transformed tradition that takes place. This new association has definitely helped cut down the divisions amongst Hindu and Muslim cultures. Some communities, associate and classify these women as matriarchs and/or a person in authority.
Nonetheless, there is a great deal of historical context associated with Raksha Bandhan that dates back thousands of years ago. From Alexander the Great to Emperor Humayun, there is a story association.
The ritual has created a lot of buzz amongst scholars. These researchers have found it incredibly interesting that many of these cultures and groups that, observe Raksha Bandhan, do not have a Father's or Mother's Day – or even an equivalent of Valentine's Day. However, there is a Sister's Day – which is Raksha Bandhan.
The modernity of the celebrations has definitely made the day more well-known and understood. Handmade shops, such as Etsy, sell one of a kind bracelet curations, that participants can purchase for a reasonable price. However, many people still enjoy creating their own work of art because they believe making the bracelet themselves adds a unique touch and symbolizes their divine connection.
To help you celebrate and recognize your community during Raksha Bandhan, we have compiled some concise inspirational and influential quotes that represent unity and wholeness.
For Brother:
"You have always stood by me, encouraged me with your inspiring words, and helped me overcome my failures."
"We get and then forget many things in life, but it is very sure that your trust in me will never be broken. I am there and I will always be there for you no matter."
"Dear brother, I wish this bond grows and grows as long as I live. The relationship that I share with my brother is the most perfect one. There is no scar same as there are no scars in the appearance of the moons."
For Sisters:
"A sister is someone who will care for you the most no matter what and she will always be the best companion of your life. I too have a sweet sister who feels all my agony and pain and helps me out to the fullest in fighting them."
"Sisters share the scent and smells…the feel of a common childhood." – Pam Brown
No celebration is complete without the delicious celebratory foods – and Raksha Bandhan is no different. Married or unmarried, a sister invites her brother (and friends) for a feast and usually prepares his favorite dishes, especially desserts. The cuisine does not have to be complicated or super involved. In fact, some of the most widely cooked dishes are quick and simple.
Here are our favorites:
The 3-Minute Chocolate Cake Recipe
This delightful treat is cooked in the microwave and includes a handful of very simplistic ingredients, that you probably already have on hand. Flour, powdered sugar, unsweetened cocoa, Oreo cookies, baking powder, salt, butter, vanilla extract and a splash of milk. Keep in mind, the timing is dependent upon your microwave cooking setting.
Date Rolls
This recipe only requires four ingredients: khajoor, condensed milk, dry mixed fruit and coconut. You can roll each date to your desired thickness and if you have leftovers, you can always put them in the freezer and thaw when you're ready to serve.
Churros
Who doesn't like churros? And this churro recipe, that's widely eaten during Raksha Bandhan involves chocolate sauce. The dish is so good, yet simple – your guests will wonder if you picked these treats up from a bakery.
All in all, Raksha Bandhan is a beautiful holiday that celebrates true unity and kinship amongst people. Not only are these individuals taking an oath to live a more unified life, they're also accepting the direction and additional support on their journey. The bracelet is more than just an article of jewelry, it's a symbol that represents the endless circle of support, gratitude and friendship that one person is giving to the other. Similar to a ring, the threaded bracelet represents a life time of commitment. Nonetheless, the world needs more unified fronts like the ones represented in Raksha Bandhan. Oftentimes, people throw each other away and forget about the bond shared because of petty drama – that can easily be worked through and mended.
Raksha Bandhan is a unification that should be acknowledged across all cultures. While people don't necessarily need to exchange Raksha bracelets, the pledging of friendship and devotion to each other is commendable and truly sacred. Community is a powerful word, platform and generality. When you feel like you have someone in your corner, you stand a little taller and talk with a little more confidence. It's not necessarily about the numbers you have supporting you, rather it's the quality of support you have on your side.