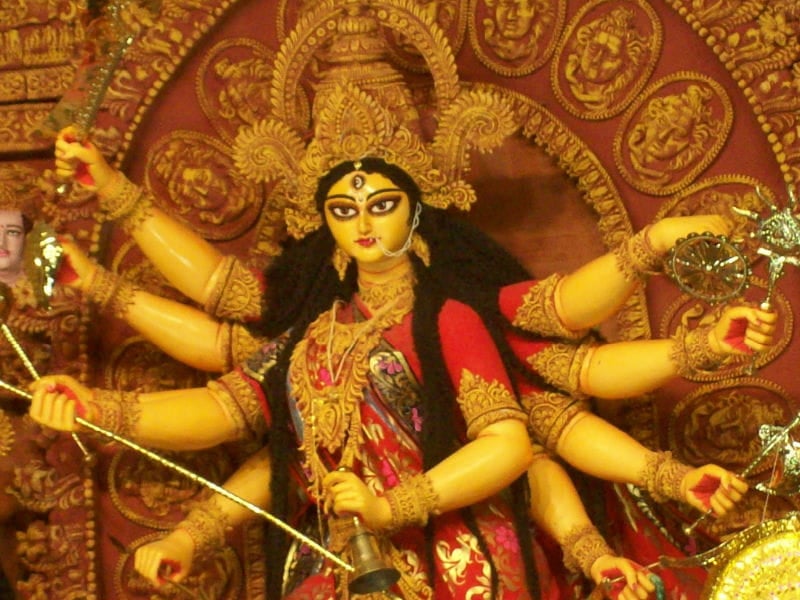 Sharad Navaratri is a nine day long Hindu festival of worship and dance. The festival is dedicated to worship the Hindu deity Durga. In Sanskrit, the word Navaratri literally translates to nine nights. During these nine nights, night forms of Shakti (power) are worshipped and each day is dedicated to a Goddess of important significance.
This Navaratri is celebrated during Sharad (beginning of winter, usually September to October) and is the most important of all the Navaratri celebrations. It celebrates the slaying of Mahishasura by the goddess Durga. The festival is observed in most parts of India, particularly in Northern India, Eastern India, and Western India.
During Navratri, people from villages and cities gather to perform 'puja' on small shrines representing different aspects of Goddess Durga, including Goddess Lakshmi and Goddess Saraswati. Chanting of mantras and renditions of bhajans and folk songs usually accompany the puja rituals for nine consecutive days of Navratri.
Navratri commences on the first day (pratipada) of the bright fortnight of the lunar month of Ashwin. The celebration takes place in the form of three sets of three days and each set is dedicated to a Goddess. The first three days are dedicated to Goddess Durga in order to cleanse worshippers of evil and impurities. The second set of days is dedicated to Goddess Lakshami who is the giver of spiritual wealth and prosperity. The last three days is dedicated to Goddess Sarawati, the Goddess of art and education.
The ninth day is known as Maha Navmi where a large ceremony is performed. The day starts by Kajak, where nine girl children are fed puri, halwa and chane. Before offering food, their feet are washed and cleaned as a symbol of respect for the Goddess Durga. During this, all the girl children are considered to be the form of Goddess Durga. After offering food they are given clothes, fruit or money.
Within each set of days, a particular goddess and her respective governing planet, iconography, and matra is celebrated are celebrated each day.
Day 1: Shailaputri
Shailaputri rides a bull, carrying a trishul (trident) in her right hand and a lotus flower in her left hand. Her governing planet is the moon and her mantra is Om Devi Shailaputryai Namah.
Day 2: Brahmacharini
Brahmacharini walks on bare feet, carrying a japa mala (prayer beads) in her right hand and a kamandalu (water pot) in her left hand. Her governing planet is Mars and her mantra is Om Devi Brahmacharinyai Namah.
Day 3: Chandraghanta
Goddess Chandraghanta wears a semi-circular moon (chandra) on her forehead that looks like a bell (ghanta), and hence her name. She is depicted with 10 hands, and carries trishul, gada, a sword and arrow. This form of Mother Goddess is ready for war to protect the peace and welfare of her devotees. Her governing planet is Venus and her mantra is Om Devi Chandraghantayai Namah.
Day 4: Kushmanda
Kushmanda has eight hands and rides on a lioness. She holds a kamandalu, dhanush, bada and kamal in her right hands. Her left hands hold amrit kalash (pot of nectar), japa mala, gada and chakra. She created the universe in the flash of her smile, and it is believed to bestow supernatural powers and wealth to her devotees. Her governing planet is the sun and her mantra is Om Devi Kushmandayai Namah.
Day 5: Skandamata
Goddess Skandamata carries baby Skanda and rides a lion. She has four hands, carrying two lotus flowers in her upper two hands, Skanda in her left hand and gives the abhayamudra (gesture of fearlessness) with her right hand. Her governing planet is Mercury and her mantra is Om Devi Skandamatayai Namah.
Day 6: Katyayini
Goddess Katyayani rides on a magnificent lion and is depicted with four hands. She carries a lotus flower and sword in her left hands respectively and keeps her right hands in abhayamudra and varadamudras. Her governing planet is Jupiter and her mantra is Om Devi Katyayanyai Namah.
Day 7: Kaalratri
Kaalratri's complexion is dark black and she rides on a donkey. She is depicted with four hands. Her right hands are in abhayamudra and varadamudra and she carries a sword and deadly iron hook in her left hands. Her governing planet is Saturn and her mantra is Om Devi Kalaratryai Namah.
Day 8: Mahagauri
Mahagauri rides the bull and has four arms. She holds a trishul in one of her right hands and depicts the abhayamudra with the other right hand. She carries a damaru in one left hand and depicts the varadamudra in her other left hand. Her planet is Rahu and her mantra is Om Devi Mahagauryai Namah.
Day 9: Siddhidaatri
Goddess Siddhidatri sits on Kamal and rides on the lion. She is depicted with four hands. She has gada in the one right hand, chakra in the other right hand, lotus flower in the left hand and shankh in the other left hand.
She bestows all types of siddhi (supernatural powers) to her devotees and hence is worshiped by humans, ghandarvas, asuras and devas alike. Her planet is Ketu and her mantra is
Om Devi Siddhidatryai Namah
.
Sharad Navaratri is an important Hindu holiday that is celebrated throughout the world. Each Goddess is honored in a special way during the nine nights and devotees are blessed with spiritual wealth.