God Will Carry You Through
You'll get through this. You think you won't. We all do. We fear that the depression will never lift, the yelling will never stop, the pain will never leave...We wonder: Will this gray sky ever brighten? This load ever lighten? We feel stuck, trapped, locked in. Will we ever exit this pit? Yes! Deliverance is to the bible what jazz music is to Mardi Gras - bold, brassy, and everywhere.
Does God guarantee the absence of struggle and the abundance of strength? Not in this life. But he does pledge to reweave your pain for a higher purpose. It won't be painless, it won't be quick, but God will use your mess for good.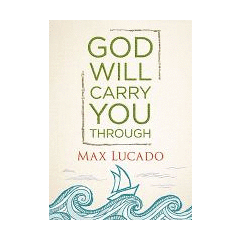 Excerpts from Max Lucado's novel, God Will Carry You Through. With over 100 million products in print and appearing regularly on the New York Times Best Seller List, Max Lucado is one of America's favorite writers. He serves the Oak Hills Church in San Antonio, Texas, where he lives with his wife, Denalyn, and a sweet, but misbehaving mutt Andy.