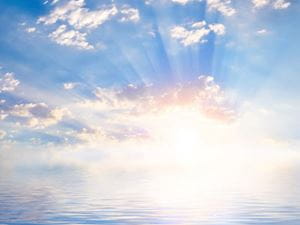 In this veil of tears where we are marked for death
My mother decided to be blessed.
She defied a melancholic bent and worry's pull
To find pure joy in so much great and small.
In the joy of children born, she was reborn
A dark-haired Madonna with babies holy
Wholly meant, she said, to live life fully
Warning, "Don't be buried at 80, but die at 40."
She wanted us to learn! to dance, to act, to paint
To play an instrument and sing the Gloria!
To see! the Hoover Dam, Glacier Park, the seals in Oregon
And the chain gangs on the roads in California.

Experience! The kilted pipers at a Scottish tattoo
Indian powwows and countless trips to the foreign land of Canada
Chase! After Ike's car in the Seattle night
Where she sang out like a girl, "Oh, he looks so pink and bright!"
I see her in a silent vigil all my life to quell our fear
Praying under her breath as I woke from surgery, aching
And smiling, beckoning us to come stand in the door jam
As she made light of the earth's violent quaking.
Never a stoic, she swooned over each perfect grandchild
Delighting in their cleverness and nerve
Their opinions and silliness
And in their unabashed love of her.
I was not alone to love them
She and Dad were my second bests
Other arms to hold them
Hands to applaud them, voices to laud them.
To ensure the surprise grandchild was as blessed as the first

She was the giver of the glorious English pram.
While praying special blessings on each one
She was their amazed admirer, their biggest fan!
Four times she cared for me a nursing mom
Bringing oysters and whole fresh salmon on the plane
Then conjured custards and pies and hearty stews
Washed sand-filled clothes, cleaned muddy shoes.

Acts I would repeat with my own children
Telling her how it felt so special to care for Meg and Aria and Evi
Even the cleaning and the endless mounds of tiny laundry
"Oh, yes," she said, "I always felt like the good fairy."
Good and magical, indeed!
Dear Mother may your joy increase
May you rest eternally in peace
Knowing you have truly won
For you dared to love and did become!
Amen