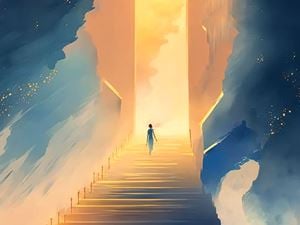 Lightstock
Have you ever wondered "what job will I have in heaven"? If you have, you're not alone. As believers, we want to know about heaven and what will take place there. Though most of us are fearful of death, we look forward to our lives in heaven and the future that will be ahead of us. The only things we know for certain about heaven is what is revealed to us in Scripture.
In one sense, we are assured that heaven will be a place of perfect peace and rest. Scripture tells us in Revelation 14:13, "They will rest from their labor." On the other hand, the Bible also tells us that we will have work to do in heaven. Revelation 22:3 says, "His servants will serve Him." For those of us who have spent a great amount of time working on earth, the idea of working in heaven may seem frustrating but it shouldn't be. We should rejoice and be glad in it. There are no shortage of tasks in heaven but the work we will be performing there will be to the glory of God.
The idea of working in heaven is foreign to many people. Yet, the Bible clearly teaches it. When God created Adam, He "took the man and put Him in the Garden of Eden to work it and take care of it" (Genesis 2:15). Work was part of the original Eden. It was part of the perfect human life. God Himself is a worker. He didn't create the world then retire. Jesus said, "My Father is always at His work to this very day, and I, too, am working" (John 5:17). Heaven too will be a place where we serve and work. Revelation mentions this several times; how we will be serving God. That is why God gave us work to do in the garden.
In a sermon titled, "Occupations in Heaven," Glenn Pease points out that heaven will be a place, not only of eternal enjoyment, but of eternal employment.
"When God made Adam, He made him a creature of creativity, with a desire to work. He gave him a job, to keep the garden of Eden, and to study the animal kingdom, so he could give all the animals names," Pease writes. "Adam was made a botanist and zoologist the day he was created. God made man to study and to have dominion over his environment. He gave him both physical and mental work, for both are vital to the joy of living."
We may not know specially what positions we will have in heaven from Scripture, but what we are assured of is that these jobs will be exciting and fulfilling. When we enter heaven, we will serve God in creative, joyful and satisfying ways.
One major difference between work on earth and work in heaven is that we won't grow tired or weary with our work in heaven. Work became a burden following Adam and Eve's rebellion against God but the minute we enter heaven, the curse is lifted. We will be delighted in our work there.
Jesus promised that He left the earth to go and prepare a place for those who would eventually follow Him to heaven. On that point, the Bible is unmistakably clear. As Christians, we are right to find comfort in that promise. We can trust in the promise that God is preparing a special place for us in heaven. There are a number of other things we can look forward to when we enter heaven.
The minute we enter heaven, the struggle with sin will finally be over. We know that in the kingdom of heaven "nothing unclean will ever enter it, nor anyone who does what is detestable or false, but only those who are written in the Lamb's book of life" (Revelation 21:27). This is only possible because of Jesus. We have no fear of being judged for our sin because it was already judged and taken away at the cross by Christ. We will have heavenly bodies, free from sin. We will no longer face the challenges and limitations we face one earth.
While we have a lot to look forward to when we enter heaven, it's important that we recognize that not everyone will enter heaven. Jesus said, "Not everyone who says to me, 'Lord, Lord, will enter the kingdom of heaven, but the one who does the will of my Father who is in heave. On that day many will say to me, 'Lord, Lord, did we not prophesy in Your name, and cast out demons in Your name, and do many might works in Your name?' And then will I declare to them, 'I never knew you; depart from me, you workers of lawlessness.'" (Matthew 7: 21-23). We are taught in the Bible that in eternity many people will seek to enter heaven, but will be stopped and turned into hell instead. Most religious people die with an expectation of God letting them into heaven, but it doesn't work that way. You have to enter into heaven God's way, which is through Jesus Christ.
On the night before Jesus was crucified, He said, "Do not let your hearts be troubled. Trust in God, trust also in Me. In My Father's house are many rooms; if it were not so, I would have told you. I am going there to prepare a place for you. And if I go and prepare a place for you, I will come back and take you to be with Me that you also may be where I am" (John 14:3). We can find great joy in this assurance. We can also assume that these tasks we will fulfill in heaven will be things we will be delighted in doing. There truly is no greater place that we have to look forward to.