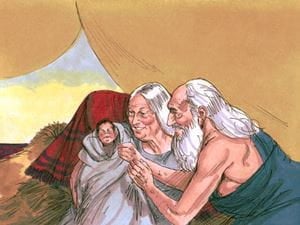 James Padgett/WikiCommons
Sarah, the wife of Abraham in the Bible was a woman in the Bible who discovered that God was in the miracle working business. She left her home willingly, alongside Abraham and endured a great deal to try to provide an heir for her husband. She also did everything in her power to keep her husband safe in dangerous territories. Ultimately, her faith would produce their promised heir, Isaac, though there were some trials along the way. Here are five incredible lessons we can learn from Sarah's story.
Trust in the Lord's promises.
When God told Sarah and Abraham that they would have a child in their old age, they both laughed. Their laughter at God's plan showed their disbelief that He could do what He said He would do. The Bible tells us, "Then the LORD said to Abraham, 'Why did Sarah laugh and say, 'Will I really have a child, not that I am old?' Is there anything too hard for the LORD? I will return to you at the appointed time next year and Sarah will have a son.' Sarah was afraid, so she lied and said, 'I did not laugh.' But he said, 'Yes, you did laugh.'"(Genesis 18: 13-15). We would like to think Abraham and Sarah believed God at once without any doubt, but this is not the case. They find God's Word nearly impossible to believe. After all, Sarah is well past the age of childbearing. However, their response to the Lord does not display total disbelief in the covenant promise. Abraham falls on his face, symbolic of submission, trust and worship. Their lives show us that real confidence in God doesn't rule out times when His incredible promises are hard for us to see.
We shouldn't always take matters into our own hands.
God promised Sarah and Abraham children (Genesis 15:5; 22:17). Yet, when this didn't take place as quickly as they thought it should, they became impatient with God and took matters into their own control. Sarah was still childless, so she told Abraham to sleep with her handmaid, so that they might get a child from the union. A son was born from this union; his name was Ishmael. However, this was not God's plan. God's promise was for the offspring of Sarah and Abraham's union (Genesis 15:3-4). Isaac was the name of the son that came from the union of Sarah and Abraham; it would be through Isaac that the nations would be blessed. We learn through Sarah and Abraham's actions that the plan we have for ourselves isn't always the plan that God has for us. We need to trust in God's plans and He will make our paths straight.
Infertility is not a punishment from God.
One great lesson we can learn from Sarah's story is that infertility isn't a punishment. Many women struggle with infertility and wonder why they are having issues conceiving. This can lead to feelings of longing and desperation. Some women even wonder if they are being punished by God. The truth is, God isn't punishing you if you're having trouble or unable to conceive. While we may not understand God's plan for us, just like Sarah, His plans are not for us to question. God may be waiting for you to conceive a child for a time that He determines is a better fit. He also may be calling you to adopt or foster a child. He may also be protecting you from something or simply drawing you closer to Him.
God loves us, even when we mess up.
Remember us mentioning that Abraham and Sarah laughed at God when they told them they would conceive a child in their old age. They laughed at the thought, so much so that they took matters into their own hands. Even though Sarah and Abraham both laughed at God's promise and tried to take control of their situation, God doesn't hold that against them. God loves you tremendously. No action you make and no sin that you commit can make Him love you any less. The Bible tells us, "See what great love the Father has lavished on us, that we should be called children of God! And that is what we are! The reason the world does not know us is that it did not know Him" (1 John 3:1). Just as God loved Sarah and Abraham, He loves us too, no matter how many mistakes we make or how many times we are angry with His timing. God doesn't love us superficially. His love is endless.
Don't let your ego get in the way.
You may not think your life or your action's parallel Sarah's in any way, but you probably have more in common with Sarah than you think. Sarah had a vision for her life just like so many of us do. Many of us get caught up in trying to figure out what our lives are supposed to look like, but not according to God's Will, but our will for our lives. Even if you don't have a formal plan, you have a life plan in your head. We all do. We have an imagined future in our heads.
Planning isn't always a bad thing. Without plans, little of enduring value gets accomplished. However, there are many times God's plan is not in line with our personal life plan. There are many times when God intentionally messes up your life plan, for good just like He did with Sarah. A big sign that your ego is getting in the way of God's plan is when you feel you must have everything figured out before you make a move. When you do this, you're moving according to your plan, not God's plan. Sometimes, we have to put our ego away to let God do His work.
Sarah was human. She made mistakes, just like we all do. She tried to take matters into her own hands and handle His business on her own, not realizing that her decision to send her handmade Hagar to Abraham would ignite a feud that has lasted for 4,000 years. Yet, she was still an incredible example of what having faith looks like. Hebrews 11:11 says, "And by faith even Sarah, who was past childbearing age, was enabled to bear children because she considered him faithful who had made the promise." We may not know the path we're on but when we have faith, we discover that all things are possible.