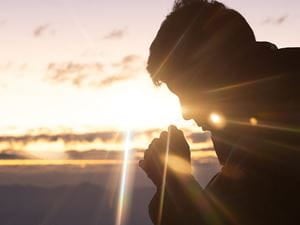 Shutterstock.com
We've all had times when we thought our fellowship with God dried up. Perhaps you felt this way during your youth or adult life. You believe that your prayers are falling on deaf ears. You start getting worried, wondering why God doesn't hear you. However, in these moments, we should ask ourselves: is there anything of Jesus I'm neglecting?
This question may become common during your fellowship with God: is there something you're avoiding or neglecting that you shouldn't? Often, this question exposes a way Jesus wants to help you and reveals a way you've forgotten or neglected to ask for help. This question is similar to what the psalmist prays: tell me my hidden sins, with self-reliance being the sin.
No one wants to handle life by themselves. Sadly, that's the unfortunate reality for many people. However, walking through Scripture can help alleviate these feelings. You start to think about other saints and how they tried to fix their problems independently.
Prayers For Avoiding God
God's leading in the lives of His people is genuine, and we can know it if we aren't neglecting to come before Him with anything to hide. Here are some examples of prayers for not avoiding or ignoring God in our lives.
Dear God, are there any ways I should be placing my burdens in Your hands, knowing that you're for me, but I'm not?
Jesus, are there circumstances that feel too hard for me, and I'm not trusting You with it? Please help me remember that with God, all things are possible.
Dear Lord, am I hiding my heart from you, even though I know you want it all? Please help me open my heart to you and allow me to see You.
Dear Heavenly Father, are there any people I do not love selflessly in my life? Please reveal them to me and change my heart so I can love as You love.
Jesus, I feel like my anxiety is keeping my genuine fears from You because I want to walk my path on my own. Please help me understand that you're my refuge, and I can trust you with all my problems.
Dear God, I urn to know you. To do so, I'm going to sit in stillness, knowing that you are God. Please lead me in your way because you are the way maker. Guide me into fellowship with You, so I can grow in my union with You.
God Hears You
Those were illustrations of how we can ask God to mold our hearts. It's good to search our hearts before God. It's also good to be known by God and understand that He's willing to probe us. In Psalms 139:23-24, the psalmist writes, "Search me, God, and know my heart; test me and know my anxious thoughts. See if there is any offensive way in me, and lead me in the way everlasting."
Maybe Jesus' silence isn't due to anything you've avoided or neglected. Perhaps you need fresh, daily remembrance of His love, grace, and mercy. It's also likely that the two needs go hand-in-hand. We need not overlook what Jesus wants to do in us while being assured of His character.
The great reality about Jesus is that we have a personal relationship with Him. He'll never leave or forsake us because He can't deny Himself. His grace saves those who believe in His sacrifice for our sins. Jesus says His character is to bring us closer. So perhaps we can look at our beliefs. What do we believe to be true? If we truly believe in Jesus and His character, then we know His heart; Luke 34:13 reminds us, "how often I have longed to gather your children together, as a hen gathers her chicks under her wings, and you were not willing."
If we believe in Jesus' character, then we have comfort. This belief is how He wants to be toward us, as a hen bringing her chicks near in protection and love. Jesus wants us to come to Him for help and ask that He build us up in our weaknesses. But will we humble ourselves and turn our hearts toward Him in the stillness so we can receive Him? It's all about what we believe. Therefore, if we think that Jesus isn't there, but you believe His Word, maybe he's prodding you to think on a deeper level so you can walk closer with Him.
Examine, believe, listen and follow Him. Trust that Jesus is with you, even when you question it. Look closer and see if you're avoiding Him instead of the other way around. Also, honor Him by believing the precious and great promises in Scripture. Jesus has trusted us with minds and hearts capable of belief, increasing faith, and making choices about who we are and what we want to be.
He is highly pleased when we choose to follow and trust Him, even in times when it feels like He's gone. He hasn't left or forsaken us, but He will pull us along the way so we can know Him better. When we draw near to God, He draws near to us. It can be challenging to feel like your relationship with God is suffering. In your mind, you think that God doesn't hear you, and your prayers aren't reaching Him. However, you must look at His "silence" from a different perspective.
There are numerous reasons why God goes silent. It could be that He's preparing you for what you're praying for, or He feels that you need to ask for something bigger. Maybe He's trying to redirect you to something more suitable. Whatever the reason for God's silence, not hearing from Him can feel like torture. You start to feel like God is ignoring you or that you're not good enough. However, the truth is God is always with you, even in His silence. When He's silent, we must understand that He still loves and cares for us. God is never gone; He may not come when you want Him, but He's always on time.