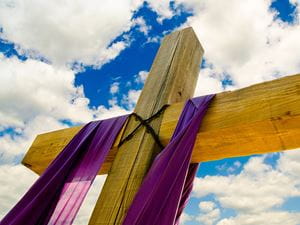 Shutterstock.com
Jesus' final hours on the cross lasted from approximately 9 a.m. to 3 p.m., a period about six hours. "The chief priests, the teachers of the law and the elders mocked Him. 'He saved other,' they said, 'but He can't save Himself! He's the king of Israel! Let Him come down now from the cross and we will believe in Him. He trusts in God. Let God rescue Him now if He wants Him, for He said, 'I am the Son of God'" (Matthew 27:41-43). As recorded in the Gospels of Matthew, Mark, Like and John, Jesus Christ was mocked, scorned and tortured in the praetorium. He carried His cross up the Via Dolorosa in Jerusalem to Calvary, was nailed to the Cross, and hung between two criminals. Jesus suffered and indescribable end, recalled by the Church on Good Friday. There were seven expressions of Jesus on the cross recorded in Scripture.
In Matthew 27:46, we are told that in the ninth hour Jesus cried with a loud voice, saying, "Eloi, Eloi, lama sabachthani?" which means, "My God, my God, why have you forsaken me?" Here, Jesus was expressing His feelings of abandonment as God placed the sins of the world on Him – and because of that, God had to "turn away" from Jesus. As Jesus was feeling the weight of sin, He was experiencing a separation from God for the only time in all eternity. This was also a fulfillment of the prophetic statement in Psalm 22:1 which says, "My God, my God, why have you forsaken me? Why are you so far from saving me, from the words of my groaning?"
The entirety of God's history comes to a single focal point when Jesus cries out, "Eloi, Eloi, lama sabachthani." From the moment of creation, God's story is a story of self-limitation and humility. He withdrew enough of Himself to allow the rest of creation to blossom and flourish. He allowed Israel freedom to succeed and fail – and He ultimately poured Himself into the flesh-and-bone, real life person, Jesus of Nazareth. God pursed every experience of finite humanity, including laughter and grief, joy and sorrow. In His final moments, He said these words because there was real forsakenness for our sake. He also said it to express desolation, not asking for an answer. Finally, He was amazingly fulfilling Scripture in the horror of it all and witnessing to the perfection of the plan of salvation.
Another statement that Jesus made on the cross was "Father, forgive them, for they do not know what they are doing" (Luke 23:34). Those who were not aware of the full scope of what they were doing because they did not recognize Him as the Messiah. While their ignorance of divine truth did not mean they deserved forgiveness, Christ's prayer in the midst of their mocking Him is an expression of the limitless passion of divine grace.
From Luke 23:43, we know that Jesus said, "I tell you the truth, today you will be with me in paradise" (Luke 23:43). In this passage, Jesus is assuring one of the criminals on the cross that when he died, he would be with Jesus in heaven. This was granted because even at the hour of his death, the criminal had expressed his faith in Jesus, recognizing Him for who He was. The Bible tells us that the man says, "Jesus, remember me when you come into Your Kingdom" (Luke 23:42).
When Jesus saw His mother standing near the cross with the Apostle John, whom He loved, He committed His mother's care into John's hands. Scripture tells us, "When Jesus saw his mother and the disciples whom He loved standing nearby, He said to His mother, 'Woman, behold, Your Son!' Then He said to the disciple, 'Behold, your mother!' And from the hour the disciple took her to his own home.' In this verse Jesus, ever the compassionate Son, is making sure His early mother is care for after His death.
Another statement Jesus made on the cross was "I am thirsty" (John 19:28). Jesus was here fulfilling the Messianic prophecy from Psalm 69:21: "They put gall in my food and gave me vinegar for my thirst." By saying He was thirsty, He prompted the Roman guards to give Him vinegar, which was customary at a crucifixion, thereby fulfilling the prophecy.
One of Jesus' final statements was 'It is finished!' (John 19:30). Jesus' last words meant that His suffering was over and the whole work His Father had given Him to do, which was to preach the Gospel, work miracles, and obtain eternal salvation for His people, was done, accomplished, fulfilled. The debt of sin was paid.
Jesus final words were "Father, into Your hands I commit my spirit" (Luke 23:46). Here, Jesus is willingly giving up His soul into the Father's hands, indicating that He was about to die – and that God had accepted His sacrifice. He "offered up Himself unblemished to God" (Hebrews 9:14).
Jesus was obedient to His Father to the end, and His final word before His death on the cross was a prayer to His Father, a true reflection of Jesus' character and relationship with God until the very end. One way to meditate on the Passion of Christ is to reflect and meditate on these words.