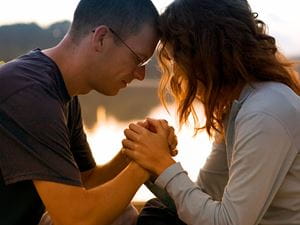 Shutterstock.com
The word submission means "to obey, put under, be subject to, submit to oneself unto, put in subjection under or to be under obedience or obedient to." The word is a wonderful definition of what our relationship with God should be. Submission means to arrange oneself under the command of divine viewpoint rather than to live according to one's old way of life based on our world's viewpoint. As Christians, we are called to surrender our own will to the Will of God.
We often here the topic of submission coming up in relation to marriage. It is one of the most difficult concepts in God's Word. The Bible commands, "Wives, submit yourselves to your husbands as you do to the Lord. For the husband is the head of the wife as Christ is the head of the church, His body, of which He is the Savior. Now as the church submits to Christ, so also wives should submit to their husbands in everything" (Ephesians 5:22-24). The biblical definition of submission if often misunderstood. In addition, there is great debate around the roles of husband and wife within marriage. In Ephesians we read the wife is to submit to her husband as unto the Lord and the husband is to love his wife. What does this really mean and what should it look like?
While submission is a word that many are troubled by, it is not a bad word. Contrary to popular belief, submission does not mean inferiority or lesser worth. The submission of the wife to the husband in Ephesians 5 doesn't allow the husband to be selfish or domineering. His command is to love and he is responsible before God to carry out this command. The husband is then called to exercise his authority with wisdom, grace and in fear of God.
A good example in the Bible of a wife showing submission to her husband is the relationship between Sarah and Abraham. Sarah showed Abraham submission when she allowed him to take leadership in the relationship and followed his lead (1 Peter 3:6). His position as leader is biblical. The Bible says, "But I want you to understand that Christ is the head of every man, and the man is the head of a woman, and God is the head of Christ" (1 Corinthians 11:3). Sarah is not viewed as a woman who is walked all over by her husband. In fact, Peter expresses that she wasn't afraid in life. Submission is often confused with a person being weak. In fact, submission from a biblical point of view is far from it.
We should also remember that Christ actively submitted Himself to the will of the Father without giving up any bit of His worth. Two great examples of this can be found in Luke 22:42 and John 5:30. Jesus says, "'…Father, if you are willing, remove this cup from me. Nevertheless, not my Will, but Yours be done" (Luke 22:42) Jesus also says, "I can do nothing on my own. As I hear, I judge, and my judgment is just, because I seek not my own Will but the Will of Him who sent me" (John 5:30). Jesus is not of lesser value than God. They are one. Jesus obeyed God's Will and His submission to God has nothing to do with value but with the structure ordained by God.
The Apostle Peter writes, "Young men, in the same way be submissive to those who are older. All of you, clothe yourselves with humility toward one another, because, 'God opposes the proud but gives grace to the humble'"(1 Peter 5:5). Here and in the passage from Ephesians, we see a common theme showing up: humility. A person can't submit to God without humility. Obedience requires us to humble ourselves to surrender to the authority of another. We are also told that God resists pride as it is the opposite of humility.
Salvation means deliverance or redemption from sin and its consequences. We are told in Romans 5:8 that God demonstrated His love for us through the death of His son, because of our sins. Ephesians 2:5 tells us "even though we were dead because of our sins, [God] gave us life when he raised Christ from the dead. It is only by God's grace that you have been saved." In order to receive salvation, we have to be born again. When we choose salvation, we are making the choice to have a humble and submissive heart before God. As born-again believers, we make the choice every day to submit ourselves before God. We let go of our old nature and accept God's grace.
Submitting to God is a choice and requires daily commitment. It starts at salvation and will show up each day of our life. One wonderful assurance is that we will be changed as a result of it. The Apostle Paul says, "But we all, with unveiled face beholding as in a mirror the glory of the Lord, are changed in the same image from the glory to glory, even as by the Spirit of the Lord" (2 Corinthians 3:18).