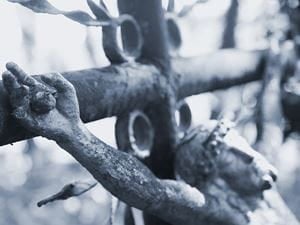 Shutterstock.com
Forgiveness is hard, especially when we have been hurt by someone deeply. When we hand on to anger and resentment, it only increases our suffering. When we're suffering, we can easily find ourselves in our mental prison. We need to be able to forgive others for our growth and happiness. When we hold on to our pain, we are harmed more than the offender. When we forgive, it allows us to move on without anger or contempt. There will be periods when we don't feel like forgiving after we've been hurt, and we feel like we are unable to forgive. Thankfully, Jesus shows us what radical forgiveness looks like.
The Bible tells us that Jesus Christ was crucified, buried and rose on the third day. The Bible also tells us that those alive at His Second Coming will be transformed and receive new, glorified bodies (1 Thessalonians 4:13-18). The death and resurrection of Jesus are critical as it proves who Jesus is and demonstrates His sacrifice for us. It also reminds us that believers will not remain dead but will be resurrected into eternal life. Jesus paid the price and offered us something greater than we could ever understand forgiveness. Not only are we saved, but we receive new life through radical forgiveness.
Jesus' death on the cross was an expression of divine grace. Forgiveness doesn't mean that we will continue relating to those who hurt us in the same way; however, it does remove a huge burden from our hearts that only God can correct. Forgiveness is a selfless act in line with God's will for us. Even when Jesus was being crucified, He turned to God and prayed that God would forgive those who had sinned against them. When Jesus was on the cross, He made the statement, "Father, forgive them, for they do not know what they are doing" (Luke 23:34). Those who witnessed Jesus on the cross were not aware of the full scope of what they were doing since they didn't recognize Him as the Messiah. Forgiveness opens our hearts and frees us from the pain that we are going through. While they did not deserve forgiveness, Christ's prayer was an incredible expression of divine grace when He was being mocked.
When we're having trouble forgiving, it will keep us stuck in the past and prevent us from moving forward. Many people waste years of their lives in resentment and bitterness because they are holding on to anger. If they had forgiven, they would have experienced joy. Jesus reminds us that forgiveness gives us hope for a different future. We know that the past is over and that what was previously holding us back does not have to stop us from living the lives God wants for us.
Inspired by love, God provided a space for our sins to be forgiven. He did this by sending Jesus to be our Savior. When we trust Jesus' sacrifice, we can receive the gift of forgiveness. God's desire for us is that as forgiven people, we will show mercy to those who have wronged us in the same way that God forgave us in Jesus. As Christians, we are offered forgiveness as a gift. Matthew 18:21-22 says, "Then Peter came to Him and said, 'Lord, how often shall my brother sin against me, and I forgive him? Up to seven times?' Jesus said to him, 'I do not say to you, up to seven times, but up to seventy times seven.' Ultimately, we are free to give and receive forgiveness."
One of our human conditions as sinful beings is to attach conditions when we are extending forgiveness and mercy to others. We believe that the only way we can forgive someone is if they apologize or fix the problem. If they don't respond in the way we want them to, we won't forgive them. We know this is not the way we should look at forgiveness because of Jesus' example. Romans 5:8 says, "But God demonstrates His own love toward us, in that while we were yet sinners, Christ died for us." Forgiveness isn't just something Jesus wants for us. It's something that He commands. Jesus died on the cross and was resurrected so that we would be forgiven. Scripture tells us, "And when you stand praying if you hold anything against anyone, forgive them, so that your Father in heaven may forgive you your sins" (Matthew 11:25). We should radically forgive those around us because that's what Jesus did for us, without conditions.
We should think of forgiveness as an empowering act. We often think that forgiveness gives power back to the person that wrongs us, but it's actually an act that gives us our power back. It unbinds us from the impact of that transgression against us and opens the door for Jesus to deal with the situation. The Bible says, "Now instead, you ought to forgive and comfort him so that he will not be overwhelmed by excessive sorrow" (2 Corinthians 2:7). When we hold on to resentment, and we don't forgive others, it can get in the way of our physical wellness. Forgiveness isn't about letting injustice reign in our lives. It's really about creating our justice. Forgiveness isn't about giving up all your power. It's about owning our destiny.
Holding on to anger against a person who has wronged us can feel like a dagger in our hearts. If you are having trouble finding forgiveness in your heart, turn to God who loved us so much He offered Jesus to save us. When we keep God in front of our minds and proclaim His goodness, He will help us pull through any areas where we're struggling to forgive and the storms we face in life. Forgiveness also helps us reflect God's glory. Forgiveness helps us shift to a space of contentment, far beyond what we can imagine. Forgiving others in difficult times can be tough, but trusting in Jesus can get us through.