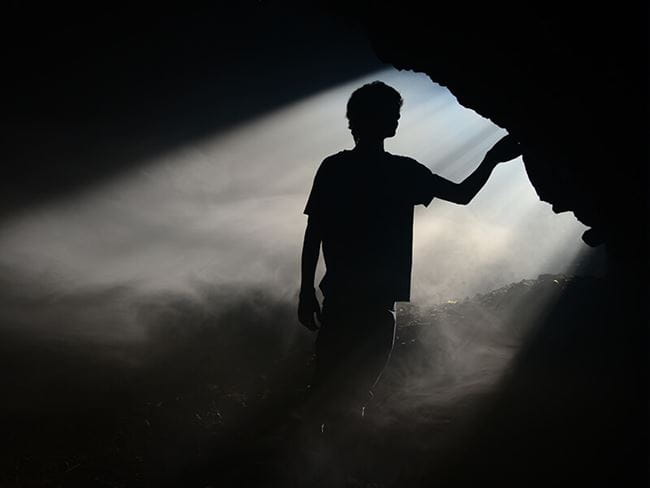 Shutterstock.com
Reincarnation is the philosophical or religious concept that an aspect of a living being commences a new life in a different physical body or another form after each biological death. This position of metempsychosis has propagated into religious beliefs, including Christianity. For example, in Hinduism, the cycle of rebirth is referred to as the wheel of karma. The wheel explains why some people have luck and some don't due to past deeds in another life. Tibetan Buddhism believes that there are a couple of ways that someone can take rebirth after death. This does not mean it's in a form of another human being, but as an existence in 1 of the 6 Gati called "Bhavachakra." For Christians, the life cycle is more linear with a beginning and an ending. The Bible explains that the body and the soul are intertwined and can't become separated, whereas, reincarnation, the soul is looking for a new body and a way to redeem itself. More Christians are becoming open to the idea Dr. Christopher Bache, author of Life Cycles: Reincarnation and the Web of Life suggested. Research taken in the mid-1970s and mid-80s show that approximately 24 percent of the American adult population believed in reincarnation. "This is a remarkable statistic, given that medical, academic and scientific institutions generally have not supported that position. I believe over 20 percent of the people who self-identify as Christians believe in reincarnation." Here are 4 things to contemplate if reincarnation is on your mind.
People are being deceived.
Many people credit Edgar Cayce as being the Father of the New Age evolution. Cayce's most active period of work began in 1925 when he moved to Virginia Beach, Va. after hearing a voice during one of his trances that directed him to do so. He received information that confirmed the existence of reincarnation and was fed information from the voice regarding how to heal. Cayce did over 16,000 life readings between 1901 until his death in 1945. He believed in past lives and came to accept occultic beliefs. Cayce would reference the Bible during his teachings, which misled people into believing it lined up with Scripture. His work greatly influenced many believers. Christians may agree with Cayce. Some believe that Jesus assured His disciples that John the Baptist really was Elijah who returned from the grave. "But I tell you, Elijah has come, and they have done to him everything they wished, just as it is written about him." Meaning, you won't come back in another form of consciousness. In Philippians 3:20-21, the believer is assured he will have his earthly body changed into a Heavenly body like the resurrected body of Jesus Christ. Hebrews 9:27 also explained: "And as it is appointed unto men once to die, but after this the judgment."
Reincarnation feeds an innate hunger.
Kabir Helminski is a Shaikh of the Mevlevi Order of Sufis, which traces its inspiration to Jelaluddin Rumi and could be considered New Age. He wrote "Many people of the contemporary secular world finger through the shards of meaning trying to imagine what the whole might have been like. But mostly they try to take care of themselves as best they can in the belief that they are insignificant microbes in an indifferent universe." Since people are so hungry for more, reincarnation fills a gap in their hearts that they get another shot at life in the future. Again, there is nothing in the Bible that supports this premise. "Who shall change our vile body, that it may be fashioned like unto his glorious body, according to the working whereby he is able even to subdue all things unto himself," Philippians 3:20-21 explained. No matter how you spin it, reincarnation is undeniably opposed according to the Word of God. People are always in search for meaning in their lives, and we found it in Christ, but as humans, we are continually looking to satisfy an insatiable appetite of the afterlife.
Reincarnation takes people away from God.
Isaiah 30:9-11 said, "These are rebellious people, deceitful children, children unwilling to listen to the Lord's instruction. They say to the seers, 'See no more visions!' and to the prophets, 'Give us no more visions of what is right! Tell us pleasant things, prophesy illusions. Leave this way, get off this path, and stop confronting us with the Holy One of Israel!'" Reincarnation never appears in the Bible. The Bible shows that being born again is a spiritual rebirth and this happens when we are alive, not dead. This rebirth comes from God, not from past actions. Jesus said: "Most truly I say to you unless anyone is born again, he cannot see the Kingdom of God. "
Reincarnation is a lie of the devil.
In the Book of John, we are told that the devil is a genius liar and cunning in his technique of disinformation. Reincarnation is part of his anecdote and is rooted in fear because people are not sure that they will get into Heaven, despite being saved. With this, reincarnation is the resolution for many. "For our struggle is not against flesh and blood, but against the rulers, against the authorities, against the powers of this world's darkness, and against the spiritual forces of evil in the heavenly realms," the Bible warned. The devil knows how much you are loved because he once had the love of the Father. "For God so loved the world that He gave His only begotten Son, that whoever believes in Him should not perish, but have eternal life," John 3:16 said.
Reincarnation is another falsehood that we need to be conscious of even if other theories suggest that it is credible. Be it New Age or any other movement, we only get one shot at life, so make it count.