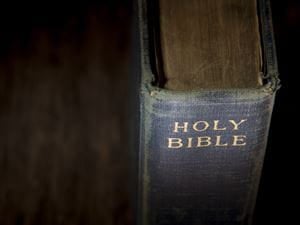 Shutterstock.com
Throughout the course of history, in the Bible, sacrifice is a consistent theme. A number of characters in the Bible are called to make sacrifices which altered the course of their lives and so many others. One of the biggest sacrifices in the Bible is within the story of Abraham.
Abraham is asked to sacrifice his son. Jesus Christ understands the sacrifice He makes to fulfill with will of His Father
Abraham and Sarah have a baby boy, just as the Lord promised them. The couple names their son Isaac. Genesis 17:9 memorializes this moment. "And God said unto Abraham, Thou shalt keep my covenant therefore, thou, and thy seed after thee in their generations." Like any parents, they love their son. They teach him to make the right choices and live an honest and faithful life; moreover they teach him to always trust the Lord.
Then, plot twist. The Lord goes to Abraham and tells him to take Isaac to Mount Moriah and offer Isaac as a sacrifice. Genesis 22:1-2 says, "And it came to pass after these things, that God did tempt Abraham, and said unto him, Abraham: and he said, Behold, here I am. And he said, Take now thy son, thine only son Isaac, who thou lovest, and get thee into the land of Moriah; and offer him there for a burnt offering upon one of the mountains which I will tell thee of."
Can you imagine Abraham and Sarah's heartbreak? They've been asked by the man they trust with their lives to sacrifice their only child. Despite the difficult decision, Isaac leads Isaac to the mountain. On Mount Moriah, Abraham builds an altar and places wood on it. As the Lord requested, Abraham asks Isaac to lie on the altar. Isaac trusted Abraham just like the Savior Jesus Christ trusted his Father.
Then an angel steps in. Genesis 22:11-12 said, "And the angel of the Lord called unto him out of heaven and said, Abraham, Abraham: and he said, Here am I. And he said, Lay not thine hand upon the lad, neither do thou any thing unto him: for now I know that thou fearest God, seeing thou hast not withheld thy son, thine only son from me." Abraham showed his faith in the Lord and he knew he would always follow the Lord. When Abraham looked up, he saw a ram that the Lord provided as a sacrifice. Genesis 22:13 confirms this, "And Abraham lifted up his eyes, and looked, and behold behind him a ram caught in a thicket by his horns: and Abraham went and took the ram, and offered him up for a burnt offering in the stead of his son."
The Lord Jesus Christ trusted Abraham because he obeyed his request, and Abraham trusted the Lord's promise that one day his family would grow. We learn that trust is a must.
The Law of Sacrifice Continues Today
The story of Abraham and the law of sacrifice is the ultimate test of faith. Their story teaches us the value of obedience and the importance of genuine faith and trust in the Lord. Through sacrifice an individual can grow closer to God and, ultimately, deeper in their faith.
God promised Abraham that he would make a great nation of him through Isaac. This information forced Abraham to trust God with everything. Abraham's trust is again tested when God asked him to sacrifice his only son. Despite being disappointed and heartbroken, Abraham still trusts the Lord and moves forward with sacrificing Isaac because he is totally committed; nonetheless, he recognizes that covenant blessings require total commitment and obedience to the Lord.
We Can Learn the Importance of Sacrifice, Obedience, and Blessings
God has a plan for everyone. He provides unconditional love for each of His children and asks them to trust Him even though no one really knows what the outcome will be. The substitutionary sacrifice does foreshadow Christ's crucifixion. God sacrifices his only son, Jesus Christ on the cross at the Calvary for the sins of the entire world. God's great love for His children required himself to do what he did not require Abraham to do. To further complicate things, oftentimes, when followers pray to the Lord and ask him for help, He doesn't always respond in the way we prayed or hoped for. Yet, we know and are confident that he's still beside us – no matter what – through thick and thin. So, we still pray continuously and hold onto hope because He tells us to. That is the ultimate lesson within Abraham and Isaac's story, we must follow the Lord . . . no matter what. He will always be by our side. He will always live within us through the Holy Spirit. He will always forgive us for our sins. He will never judge us, no matter what we do. He will always love us more than anyone else.
While we are on earth, we must be willing to sacrifice for the greater good – for the greater good of our lives and the lives of others. No one grows when they are comfortable. Change that fuel new beginnings don't happen when things are calm and calculated. There's no doubt that we learn more about ourselves in the valleys of grief versus the peaks of joy because we're forced to sacrifice. So, as hard and painful as it may seem . . . next time you're asked to present a sacrifice, think about how Jesus Christ died on the cross and ultimate sacrifice that He pledged for you.