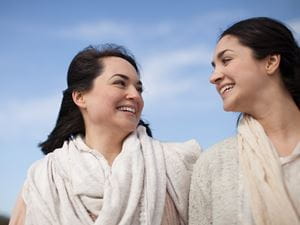 Lightstock
A saying you may be familiar with goes, "Behind every man is a great woman." Well, there's a case where two great women are behind a great man. The biblical character Timothy was encouraged and raised by two brilliant women, Lois and Eunice. But who were these two women, and what can we learn from them?
Genuine faith.
There's only one Bible verse that mentions Lois and Eunice. However, that lonely verse shows that these women are very significant. In Paul's letter to Timothy, he mentions Timothy's mother, Eunice, and his grandmother, Lois. 2 Timothy 1:5 says, "I am reminded of your sincere faith, which first lived in your grandmother Lois and in your mother Eunice, and I am persuaded, now lives in you also."
This letter brings up the genuine faith of Timothy, Lois, and Eunice. Timothy was known for his trust and confidence in the Lord. We see the good and bad of the people that we live with. However, while they were sinful women, they passed their faith to Timothy. Acts 16:1 tells us that Eunice converted to Christ on Paul's first missionary trip to Derbe and Lystra. In this verse, the Bible mentions her as "Jewish and a believer."
Godly parenting.
In Acts 16:1, we also learn that while Eunice was Jewish, Timothy's father was Greek. This reason is why it's so special that Pauls deems Timothy his son in faith at the beginning of the letter. 2 Timothy 1:1-2 says, "Paul, an apostle of Christ Jesus by the will of God, in keeping with the promise of life that is in Christ Jesus. To Timothy, my dear son, grace, mercy, and peace from God the Father and Christ Jesus our Lord."
Perhaps you could relate to this? Maybe you and your parents don't share your faith in Christ? Still, this verse in 2 Timothy reminds us that God delivers spiritual parents and grandparents to us in our lives. Maybe you're a single grandparent or parent raising the upcoming generation. Your hard work could manifest into the next Timothy. You could be raising a young woman or man who develops a genuine faith because they see your faithfulness every day.
Timothy's spiritual legacy.
Though we only have one Bible verse referencing Lois and Eunice, Timothy shares their story throughout his life. We're given a lot of information about his impact and service. Timothy was Lois and Eunice's legacy. He was so vital to the apostle Paul that he prayed for him day and night, as noted in 2 Timothy 1:3.
1 Timothy 4:12 is one of the most well-known passages in the first book of Timothy. This verse encouraged Timothy not to let other people belittle him because of his age but be an example to believers instead. This verse shows us that although Timothy was young, he had influence and became a church leader. Paul wrote 2 Timothy to inspire Timothy to remain faithful. When he wrote 2 Timothy, Paul was in Rome on his death bed. Paul took this opportunity to pour into Timothy and discuss his love for him as a ministry partner and spiritual son.
The power of scripture over a child.
Again, we see Lois and Eunice's spiritual impact on Timothy's life due to their dedication to leading him to the Lord. Lois and Eunice taught God's Word to Timothy from the time he was born, which shows there is power in sharing spiritual truths with children. The sooner you inspire them to sing, memorize and read scripture, the longer they'll hold on to the gospel. This solid foundation from Eunice and Lois led to Timothy's deliverance in Jesus.
The home influence.
When we read about the fantastic people and missions that Timothy directly impacted, we should realize that none of this would be possible without the foundation Lois and Eunice gave Timothy. Their mentorship and family created a solid start for Timothy's life. Even as a baby, these women spiritually invested and poured into him. Sharing spiritual truths with children can be valuable. Even Jesus shared His love and spent time with little ones, as noted in Matthew 19:14. We may not realize it, but there is great significance in investing in the upcoming generation. Lois and Eunice realized this impact and took on the responsibility of pouring into Timothy and taking care of him.
Even in a house that was spiritually divided, they wouldn't give up on sharing the power and truth in God's Word. This idea reveals that Lois and Eunice had their priorities straight. They knew the importance of putting God first and wanted to share this with Timothy. They purposely led him into becoming a man of integrity, mission, and respect.
If you're a stay-at-home parent or grandparent that serves in the children's ministry at your church, be inspired by the lives of Lois and Eunice. Much of their work isn't spelled out in scripture, but it's similar to the parenting work that rarely gets a "thank you." The truth remains that God works in the most ordinary places for His plan. You may not feel your efforts are significant when attempting to make disciples and spread the gospel to younger people. However, we should remember that Jesus was born in a manger, David grew from a shepherd boy to a king, and Esther was an orphan raised by her uncle, who became a queen.
In everyday life, the Lord calls out people in simple circumstances to do great things for His glory. Just like Eunice and Lois, your divine investments matter. We may not know much about Lois and Eunice, but we can learn so much from them. These inspirational taught us that when you spiritually invest in a child, they can go on to become a great spiritual leader. Timothy touched so many people's lives, all because of Lois and Eunice. We should honor and remember them as sincere and faithful women of God who we can emulate in today's world.