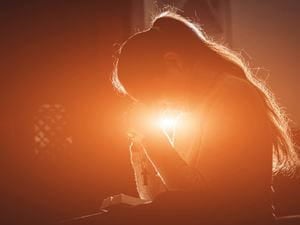 Shutterstock.com
In James 1:8 and James 4:8, the apostle James uses the term "double-minded" to warn Christians. Being double-minded is an issue that can damage Christians relationship with the Lord. It describes someone who is divided or confused about their interests and loyalties. Therefore, they are uncertain, wavering, and often time two-faced and half-hearted.
Even the godliest of men can fall victim to double-mindedness. John, who baptized Jesus Christ, saw the Holy Spirit say of Jesus, "You are My beloved Son, in you I am well pleased" (Luke 3:21-22). Yet, after ending up in prison, John questioned Christ. John sent men to Christ to ask, "Are you the coming one, or do we look for another?" (John 7:19-20).
John the Baptist, like us, was human. Humans are prone to letting doubt enter their minds and respond poorly in a crisis. Even though John fell short in that moment, Christ still described him as greater than any prophet before him (Luke 7:28). We can take comfort in knowing that even when we fail to believe in God, He still believes in us. He promises to restore our faith should we humbly seek out His will.
There are may areas where double-mindedness can occur. Here are a few that you need to watch out for.
Self-Centered Motives
The human heart often defaults to being selfish and manipulative. Philippians 2:3-4 says "Do nothing out of selfish gain or vain conceit. Rather, in humility, value others over yourselves, not looking to your own self interests, but each of you to the interests of others." We should not be following anything other than God's plan. We can prayerfully ask God to reveal His plan to us, so that we ensure we are not leaning on our own understanding. Our actions must align with the Word of God.
Praying With Doubt
James warns us that how we pray is an area prone to double-minded thinking. James describes those who use prayer incorrectly as "a double-minded man, unstable in all his ways" (James 1:5-8). When we have doubt in our hearts, it effects how we communicate with the Lord and breaks down our relationship with Him. Is what you are praying for in accordance to God's desires? Is your attitude and actions in tune with the Will of God? Are you motives God-centered? God will respond to us in His accordance, not ours.
Disobeying God's Will
John 14:15 says "If you love me, keep my commands." Disobeying God's plans for us in favor of our own path is a sin against Him. Double-minded Christians can love the Lord, but still doubt Him just enough to not fully give themselves over to Him. You must reflect God's love in your actions, not just in your words. We also cannot be selective about which rules or guidelines He gives us to follow. We must accept all the Ten Commandments in their fullest. To love God is to obey Him in a heartfelt way that trusts His plan for us completely.
Biased Worship
James further explained that churches and houses of worship can mirror our double-mindedness. Do you attend a church that favors certain genders, socio-economic statuses, or ethnicies? Do they receive special treatment of some kind? In some congregations in Biblical times, the rich were given the upmost respect while the poor were looked down upon. James said congregations must not show "partiality among yourselves" (James 2:4). James witnessed this hypocrisy firsthand, when Peter ate with the Gentiles in his fellowship, but then turned his back on the Jewish believers James sent to join them. Jesus sets the ultimate example of being a "respecter of persons" (Acts 10:34) and our churches should reflect that.
Faith Without Works
James wanted the readers of the Bible to know that faith means more than just saying you believe in God. It is also taking action, or "working", for the Lord (James 2:20). James challenges us to show tangible evidence of our beliefs in James 2:18: "Show me your faith without works, and I will show you my faith by my many works." James poses a question of Abraham's faith for every Christian: "Do you see that faith was working together with his works, and by works faith was made perfect?" (James 2:22). Through our deeds, our relationship with Christ can flourish.
Imperfect Speech
Everyone has tried to hold their tongue at some point but ended up saying something mean-spirited anyways. Inappropriate comments may pop out of your mouth from time to time, but frequently doing so is a sign of double-minded Christianity. James calls our tongues unruly, evil, and full of poison (James 3:1). The way we speak to one another can undermine the Word of God, prayer, our faith, and more. Before speaking out loud we should be asking ourselves if anything really needs to be said, if it would cause harm to others, or if you are sharing it with the right person. James 3:2 states, "For we often stumble and fall, all of us. If there is any one who never stumbles in speech, that man has reached maturity of character and is able to curb his whole nature."
When we let outside influences control our heart and mind we become double-minded Christians. Our faith should be unwavering in everything we say and do. Focus on how to be a single-minded Sheppard of Jesus Christ, so that you can draw closer to His Word.