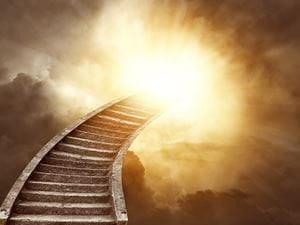 Shutterstock.com
Heaven is not just our far-off future home, but a place we can joyfully look forward to today. The Bible provides more than 600 references to heaven, which we can use to learn about the magical place. Scripture describes a lot about heaven but still, we don't know everything. As a Christian, you probably have many questions about what heaven will be like, and how you will get there. Here are the top questions about heaven, answered.
How will I get to heaven?
Only those who are written in the Lamb's Book of Life will go to heaven. Your name is written in the Lamb's Book of Life if you "confess with your mouth the Lord Jesus and believe in your heart that God raised Him from the dead" (Romans 10:9). Jesus said to His disciples, "do not rejoice in this, that the spirits are subject to you, but rather rejoice because your names are written in heaven" (Luke 10:20). If you are a dedicated Christian and choose to follow the Lord, you will be welcomed into heaven with open arms.
Will I see my loved ones in heaven?
Many Christians are afraid that they will not see their loved ones in heaven, or that they won't be able to recognize them. They typically believe this because of the verse Isaiah 65:17 which says: "Behold, I will create new heavens and a new earth. The former things will not be remembered, nor will they come to mind." But this verse has nothing to do with whether or not we will be reunited with our loved ones in heaven. Instead is shares with us the promise that someday all the sins and pains and failures of this world will be over, and we will be with Christ forever. More than that, God has promised that in heaven nothing—even the memory of this world's sin and pain—will cast a shadow over the joy He has in store for us there. We do not need to worry about being separated from our loved ones in heaven. All we need to know is that we will experience immeasurable joy from being with Jesus.
What do we do in heaven?
The concept of serving God in heaven reoccurs throughout the book of Revelation. For example, Revelation 7:15 says "Therefore they are before the throne of God, and serve Him day and night in His temple. And He who sits on the throne will dwell among them." When we get to heaven, we will continue to serve God with the gifts He has given us. We will not be just sitting around bored.
Will we have bodies in heaven?
Although the Bible tells us little about what it will be like in heaven, it seems that we will most likely have a physical body, although not in the same sense of "physical" that we have now. Philippians 3:20-21 tells us that Jesus Christ will transform our bodies to be like His. This tells us that we will possess a new body full of Christ's power and glory. We will have some sort of flesh, as mentioned in Jobs, but it might not be the same way we think of our flesh now.
Will I see God in heaven?
We will have the opportunity to finally see the Lord in heaven. Paul writes assuring Christians that when we past, we will be able to be with the Lord. Second Corinthians 5:8 states: "We are confident, I say, and would prefer to be away from the body and at home with the Lord." God also tells Moses that no one can see Him and live. (Exodus 33:20). While we won't see Him on this earth, we will in the afterlife. Finally, in the Sermon on the Mount Jesus says "Blessed are the pure in heart, for they will see God."
Will there be animals in heaven?
From the beginning of creation, God had a purpose for animals. While the Bible does not directly mention life after death for animals, Isaiah describes "the wolf and the lamb will feed together, and the lion will eat straw like the ox" (Isaiah 65:25). This description implies the peace of God's Kingdom and that animals will be around to be enjoyed. Furthermore, heaven is a place that is to be enjoyed by us all. Given animals can bring us so much happiness, it's theorized that there will be animals there to further boost this life with the Lord.
What does heaven look like?
We first need to understand that "no eye has seen, nor ear heard, nor the human heart conceived, what God has prepared for those who love Him" (1 Corinthians 2:9). This means that we don't really have any idea what heaven will look like, except the little glimpses that the Bible gives us. Revelation 4:3-8 tells us about God's throne saying: "And the one who sat there had the appearance of jasper and ruby. A rainbow that shone like an emerald encircled the throne." We also learn the streets are made with pure gold (Revelation 21:21) and the foundation and walls are made of dazzling, unimaginable jewels.
There are many ideas about what happens after we die. But the best place to find the truth about heaven is through reading the Bible. If you still have questions about the afterlife, talk with trusted Christian leaders or ask God yourself. The more you learn, the more comfort and peace you will be able to find when thinking about your life ending on earth.