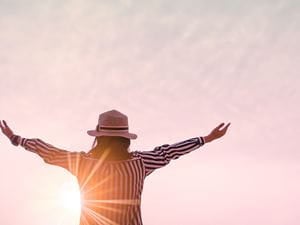 Shutterstock.com
If I could grant you one wish, what would it be?
Initially, many of us might choose wealth, fame, or love. And, these items can bring temporary happiness to our lives. However, even if we were to gain the greatest fortune, reach the pinnacle of success, or find the love of our life, we'd eventually find ourselves still wanting more.
What do we really desire? We want something secure, something that endures. We want joy. We hope for peace. We long for contentment.
Money, fame, relationships, health, and success—these things we chase after—are really just means to an end. We're hoping money can buy us some peace or relationships will bring us joy. However, life doesn't always work as we think it should. Stuff piles up all around us and fails to satisfy. The closest relationships can bring the greatest turmoil. So often these longed-for good desires—joy, peace, contentment—seem just beyond our reach.
In Paul's letter to the Philippians, we see a different pathway to joy. What brings Paul joy is surprising—it's not what we'd expect. He doesn't seek joy in money, fame, or personal fulfillment. His contentment is rooted in his relationship with Christ and flows from the joy of his salvation.
As the prophet Isaiah foretold:
"You will say in that day: "I will give thanks to you, O LORD, for though you were angry with me, your anger turned away, that you might comfort me. Behold, God is my salvation; I will trust, and will not be afraid; for the LORD GOD is my strength and my song, and he has become my salvation." With joy you will draw water from the wells of salvation."
(Isaiah 12:1-3)
In the book of Philippians, we see the well of salvation is deep and provides a rich source that allows Paul to experience joy in unexpected and surprising circumstances.
Joy in Partnership, Not Popularity
We live in social media world. It's tempting to base our worth on the number of Instagram likes we receive or the number of Facebook friends we have. Our deep longing for relationships is a good desire. The only "not good" in the garden of Eden was the fact that there wasn't a suitable partner for Adam. With Eve's entrance to the Garden, this "not good" was replaced with "It was very good."
Our desire for relationship is right, and it's a delight to experience enjoyment with others. However, one of the most satisfying reasons for relationships is one we often miss. Too often we seek relationships focused more on the notion of being friends than actually being about something greater than the friendship.
Paul's deep affection for the Philippians was about something more. He told them, "I thank my God in all my remembrance of you, always in every prayer of mine for you all making my prayer with joy, because of your partnership in the gospel from the first day until now" (Phil 1:3-5). Paul's joy in his friendship with the Philippians was rooted in their shared partnership in the gospel. The joy they shared in salvation, they longed to share with others. It wasn't simply mutual affection, it was a mutual mission. Gospel partnership unifies us with others in a way that increases our joy.
Joy in God's Will, Not Paul's Will
We often think that getting our own way is the key to happiness. However, Paul lived his life seeking God's will, not his own. He referred to himself as a servant of Christ and viewed it as the highest calling he could receive. He lived his life for the glory of Christ, as he explained to the Philippians:
"Yes, and I will rejoice, for I know that through your prayers and the help of the Spirit of Jesus Christ this will turn out for my deliverance, as it is my eager expectation and hope that I will not be at all ashamed, but that with full courage now as always Christ will be honored in my body, whether by life or by death. For to me to live is Christ, and to die is gain."
(Phil 1:18-21)
Paul didn't know whether he'd be released from prison or if he'd die a martyr's death. Whatever the outcome, Paul rejoiced, knowing Christ would be honored in either situation. Paul experienced a joyful life not by seeking to fulfill his own desires, but by seeking to glorify God in all things.
Joy in Humility, Not Fame
We live in a world of self-focus and it's tempting to make life all about ourselves. Like little children, we clamor for attention: "Look at me!" "Notice my greatness!" "See what I can do!" We may not say it as bluntly as that, but it's easy to seek our own fame and recognition in more subtle ways.
In contrast, Paul asked the Philippians to make his joy complete by living like Jesus:
"who, though he was in the form of God, did not count equality with God a thing to be grasped, but emptied himself, by taking the form of a servant, being born in the likeness of men. And being found in human form, he humbled himself by becoming obedient to the point of death, even death on a cross. Therefore, God has highly exalted him and bestowed on him the name that is above every name."
(Phil 2:6-9)
Paul recognized the upside-down nature of gospel-fueled living. We experience joy, not by puffing ourselves up, but by laying our lives down. To participate in the joy of Jesus, we take on the attitude of Jesus. We live humbly as servants of one another, considering others as more significant than ourselves. It may not look like the world's idea of success, but it's Paul's surprising pathway to joy.
Joy in Heaven, Not Earth
I love my home. It's the place where our life as a family happens—we eat together, we laugh together, we spend time together, and we invite friends to join us. It's a blessing to have a home, but I recognize it's a temporary joy. One day, we'll move on and someone else will call this place home. And, even during our time here, we're faced with the reality that our home is in constant need of repair. Moth and rust destroy and so we go from one home improvement project to the next, never quite satisfied.
Paul recognizes the temporary nature of this earthly home, so he points the Philippians heavenward: "But our citizenship is in heaven, and from it we await a Savior, the Lord Jesus Christ, who will transform our lowly body to be like his glorious body, by the power that enables him even to subject all things to himself" (Phil. 3:20-21). We live in temporary dwellings, but one day both heaven and earth will be made new. And, our bodies will be transformed. Our future hope gives us cause for rejoicing today: something glorious is coming! We can wait with all the joy-filled excitement of a child heading to Disney World. Our expectant belief in what is coming fuels our joy today.
Joy in the Lord, Not Circumstances
I often come before the Lord with circumstantial thanksgiving. And, it's good to be thankful for the blessings the Lord provides. However, Paul reminds the Philippians to, "Rejoice in the Lord always; again I will say, rejoice" (Phil. 4:4, italics added). Paul understands that the object of their rejoicing is the bedrock of their joy. There's no better cause for rejoicing than our eternal, all-powerful God.
Even though our lives are often filled with unwanted circumstances. Even though trials come and hardships burden. Even though loved ones may betray us. No matter what happens, we can rejoice in the character of our God. Our lives may change, but God never changes. He is always good, always right, always true, always gracious. When others fail us, the Lord is there to strengthen and protect us. His love never fails. So, no matter what happens—in all things—we can rejoice, because we have a God who is always worthy of our praise.
Paul didn't have an easy life, but he had a joyful one. He summarized some of the hardships he endured:
"Five times I received at the hands of the Jews the forty lashes less one. Three times I was beaten with rods. Once I was stoned. Three times I was shipwrecked; a night and a day I was adrift at sea; on frequent journeys, in danger from rivers, danger from robbers, danger from my own people, danger from Gentiles, danger in the city, danger in the wilderness, danger at sea, danger from false brothers; in toil and hardship, through many a sleepless night, in hunger and thirst, often without food, in cold and exposure. And, apart from other things, there is the daily pressure on me of my anxiety for all the churches."
(2 Cor. 11:24-28)
However, in the midst of these trials, he described himself as "sorrowful, yet always rejoicing" (2 Cor. 6:10) Paul's sorrow walked side by side with his joy. His circumstances were unfavorable, but his joy unshakeable. By the Spirit's power, we can share in Paul's joy—in all things.