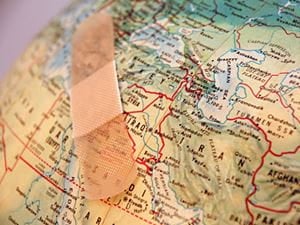 By Corine Gatti
What is it that a person, a Jewish believer in Yeshua, would uproot themselves to move to the Middle East? That could be easily answered, a passion for the Holy Land and belief that Israel is the place of the Messiah's return. There is another question; would these believers be embraced by the Jewish community?
"This is a very complicated question," said Paul Sherbow of Come to Zion Ministries Israel. His ministry feeds the poor, pays bills for the elderly, and operates an internet radio station running 24/7 with music and teachings in Kiryat Yam north of Haifa.
"There is a bias against Messianic believers here because of history. The Christians have been preaching to the Jews for 1900 years you can leave Torah behind and just believe in Jesus. Many, many Jews have been forced to convert or be killed over this time. The religious Jews see Messianic as people trying to derail Jews from Torah which is the Word of God. Even the State of Israel in a supreme court case said that a Jew who believes in Jesus is no longer a Jew in the eyes of the state and not entitled to immigrate to Israel under the law of return because that person has gone over to our "historical" enemy."
David Ortiz originally from Brooklyn, New York, a dental technician by trade, is the pastor of a congregation of 25 inside the Jewish settlement of Ariel, north of Jerusalem—he and his family are considered an enemy of the Jews, by extremist. Fliers of Ortiz said he was "Baptizing Jews into Christianity," which were wallpapered on bus depots, cars, and shopping centers in the area with images of the pastor and his address. Ortiz has been physically attacked at least on one occasion by Palestinians from a neighboring village handing out Bibles, The Jerusalem Post reported on March, 25, 2008. He also had Molotov cocktail thrown at his car.
The pastor found the lengths that an extremist would go through to delver a message, kill if they don't bend. In March 2008, there was an attempted murder on Ortiz's son Ami, who was then 15. Ami opened a Purim basket dropped off by suspect Jack Teitel who immigrated to Israel from the US. On the Ortiz's apartment surveillance video, Teitel allegedly delivered a package filled with candies and chocolate during the Purim holiday. When the youth picked out a chocolate, it triggered a bomb that blew out the apartment windows and blasting nails and other deadly objects into the boy's body. Doctors told the family that Ami was "anush," which means incurable.
After 14 operations and told by doctors that his son would never see again. Ami made a miraculous recovery and will be playing college basketball this fall. The hardship didn't end as the family sued police and paid to collect the video officials obtained as evidence. The video shows Teitel leaving a package after walking upstairs to the apartment. Ortiz said that Teitel could have been involved in the counter-missionary organization Yad L'Achim, which main focus is counter-missionary opposition to efforts to convert Jews to Christianity or to accepting Jesus as savior. The terrorist was suspected of recruiting other members and lived in a nearby settlement. According reports, Teitel was responsible for killing Palestinian taxi driver Samir Bablisi in 1997. Bablisi was found with a bullet to his head. He is linked to shooting a Palestinian shepherd Isa Jabarin that year. Israel's Secret Service said Teitel has confessed to most of his crimes.
"I heard you were going to leave?" teachers and neighbors asked Ortiz. "I said quite the opposite. I'm going to stay." Ami (center playing basketball) has forgiven his attacker," said Ortiz, whose son will need more plastic surgery. "He has been a wonder within my own eyes. How could anyone who went through so much be so peaceful?"
Ortiz is still under constant death threats, needing armed guards and the need to check daily for bombs under his car, especially during church meetings to protect the lives of others. He remains steadfast in preaching the Gospel and his congregation keeps growing that started with four members. Thousands of people, including Muslims have accepted Christ since the early 2000s.

"It's not the work of mankind," Ortiz said. "It's God himself."
Palestinians were inspired by the Ortiz family's forgiveness towards their attacker that they could forgive. Muslims called Ortiz offering blood for transfusions for Ami, according to reports and Compass Direct News. Orthodox Jews asked forgiveness for their hatred toward Messianic Jews. Other Messianic started to speak up after the attack, which also led to an important victory in Israeli court.
"This is yet another battle won in our war to establish equality in Israel for the Messianic Jewish community just like every other legitimate stream of faith within the Jewish world," said Calev Myers, founder and chief counsel of the Jerusalem Institute of Justice in a 2008 CBN interview.
It's been a long road for Ortiz who moved to Israel in 1985 with his wife Leah.
"You kept getting the third degree from police. "[Authorities asked] If you are Jewish, why did you become a Christian and why do you believe in Jesus?" Ortiz said. "We were the only group of people that were involved in a terrorist attack where a government official did not come to visit. You know when several mosques were burned down--that was condemned by the government. No one from the government condemned this act publicly. Somebody wrote an article saying the silence was deafening from the politicians concerning the Ortiz family."

A road to justice continues for the family pictured left. The Teitel defense decided to give up on the plea of not mentally fit to stand trial due to the accused lying, a judge ruled on Sept. 4. However, the defense team is expected to prove that Teitel was not responsible for his actions in the past when he committed his crimes. If that fails, they will claim that his initial interrogation when he was arrested was unfair. The extreme orthodox like Teitel, in their eyes, are protecting Jewish people from being pulled away from God's Israel.
"These extremist consider themselves warriors combating the Amalekites and Edomites. All through the Bible, when Israel strayed from the Torah and way of life the God of Israel outlines, Israel was punished by being sent into exile," Sherbow said. "When asked on an application if a person is of Jewish descent and are they Jewish, if they believe in Jesus but say they are Jewish the state says they lied on their immigration papers. Messianic Jews are not in danger and Jews in Israel who start to believe may or may not lose friends or be fired from a job. Many here own businesses so it is no problem to get a business license."
As for Ortiz, he and his wife show no signs of giving up his ministry or holding on to offense. His message to America is to pray for the Jews and to embrace forgiveness (a picture of Teitel after his arrest).
"[I hope] that America will get a burden for what takes place outside of America and how God feels about the Jewish people," Ortiz said. "We need to get the heart of God on how he loves the Jewish people. We love people that love us. In fact, people who love me are good people and people who don't love me are bad people. This is the way we think. Yeshua died for people who were against him. And although the Messianic Jews have trouble in this country—they [Jews] are still God's friends."
Fear is a reality to many in the Messianic community as they fear persecution or worse, rightfully so.
"Being a secret believer is that believers don't know the secret themselves or that they are themselves believers [anymore]," Ortiz said. "There is a lot of lukewarmness and a lot compromise because of fear."
Ortiz left me with this thought during our conversation. During a speaking engagement at a Messianic conference in London he told his audience "Sooner or later we have to bring out the cross," Ortiz said. "The cross is always going to be an offense."For an update on the Ami case follow http://amiortiz.com/home.cfm.