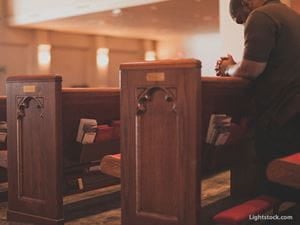 With God, anything is possible. Even a quick look at His works in the Bible reveals that He has healed the sick, granted wisdom, and even resurrected the dead. And because God does not change over time, we can still count on Him to do these things today. All we have to do is ask.
But sometimes, we just don't know how to pray to God for the things we most desperately need, and it can seem as if God is ignoring our pleas. If you're in need of divine intervention and just aren't sure how to ask, read on—we'll show how you, too, can experience a miracle in your life.
How to Prepare
God answers prayer—of this, there is no doubt. In Matthew 7:7, Christ tells us, "Ask, and it will be given to you; seek and you will find; knock, and it will be opened to you."
But before we knock, we must prepare ourselves to talk to God.
If you have unconfessed sin in your life, now is the time to ask forgiveness from God. In John 9:30, the blind man who was healed by Christ proclaims that "We know that God does not listen to sinners. He listens to the godly person who does His will."
Even more tellingly, In Isaiah 59:2, we find out that sin is a barrier between us and God. "But your iniquities have made a separation between you and your God, and your sins have hidden His face from you so that He does not hear."
So, before you pray for a miracle, pray for forgiveness. Examine your heart and give up whatever sin you find there, be it idolatry, hypocrisy, pride, a lack of faith, or anything else—these things warp your mindset so that you are incapable of asking God for a miracle.
Once you've prepared yourself through God's forgiveness, it's time to get praying for your miracle. Let's find out how to do it properly.
Know How to Pray
James 4:2 tells us that "You do not have because you do not ask." In order to receive a miracle, you must pray for it, but praying with the correct mindset is vital if you want God to answer.
Consider this. God always does what is best for us—even if, from our limited human perspective, it doesn't seem that way. When we pray from the wrong mindset—out of greed, for example—if God were to answer that prayer, it would feed that greed and bring ruin to us the long run.
And so praying from the correct mindset means we have to pray for things that are within God's will.
In Matthew 6:9-13, Jesus Christ shows us exactly how to do this, and it is here that we can begin to understand how to correctly ask for a miracle.
"Our Father in heaven, hallowed be your name, your kingdom come, your will be done, on earth as it is in heaven. Give us today our daily bread. And forgive us our debts, as we also have forgiven our debtors. And lead us not into temptation, but deliver us from the evil one."
Let's examine this perfect example of prayer. Here, Christ isn't saying we have to replicate the Lord's Prayer each time we pray. He's showing us how to think about prayer.
The Lord's Prayer begins with an acknowledgement that God's will is best, and that His will is what we want. That's incredibly important, as our selfish, human desires can sometimes cloud our judgment concerning what we pray for. When asking for a miracle, always ask for that which God would approve of.
Next, the prayer mentions "our daily bread." This simply means asking God to take care of you, and to supply you with what you need. Now, no one needs a new Mercedes or a six-digit bank account, or fame. What you need are things like food, water, shelter, good health, and love. God will supply these things, even miraculously. But if the miracle you're asking for is a brand-new four-story house, you may need to re-think the motivation behind your request.
The remaining portion of the Lord's Prayer is all about forgiveness and deliverance, and are a reminder, as you've now learned, that we must both be willing to forgive and to ask forgiveness regularly.
Follow God's own example of how to pray, and you can't go wrong in asking for a miracle.
Live Out Your Faith
Even after you pray for God's intervention in your life, your task is not finished—you must keep sincerely living out your faith as best you can.
You're not perfect. No one is. And God isn't going to remove His hand from your life because of your mistakes. But the key is this: keep trying. Don't give up.
Living out your beliefs is about more than just avoiding sin—Christianity is an active faith, and God calls each of us to aid the poor, to treat others with kindness and respect, and to serve God using whatever gifts He has given you.
God is here for you, but if you're not living out your faith, it is difficult to have the right mindset with which to ask for a miracle.
Do your best to live for Him, though, and He will answer your prayer.
Don't Give Up
If God seems silent, at first, don't give up. Continually keep yourself prepared, pray as Christ prayed, and live out your faith, and God will answer you.
Keep in mind, though, that the miracle you seek may not come in the form of fire from heaven or instantaneous healing. Your miracle may come in the form of a doctor's visit or a bonus at work or the arrival of a friend who is willing to help you. Your miracle may even be in the form of a renewed relationship with God as you pray for the miraculous on a daily basis.
Keep praying, and keep your eyes open for His work. If you follow these steps and pray with the right mindset, He'll answer.