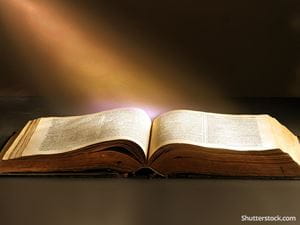 Life can be an emotional roller coaster ride. You never know what is going to happen as you ride it out. Nothing is guaranteed, not even tomorrow. Maybe you lost your way and feel like you are standing on shaky ground. The endless challenges at home, work and in your social life may never be perfect, but you can rise above the fray. Before Christ came to earth, people like King David experienced pain and wrote the Psalms to vent and to reflect on God's goodness. His writings were raw and you can see the ebbs and flows of his life. Just like today, we are no different from the shepherd boy and the first king of Israel. As we traverse through life, we can still experience victory. We want to help ignite a light in your spirit like never before. Here are my favorite Bible verses from the Psalms that will empower you to carry on.
God is always there for you. Psalms 66:17-20 encourages us that God will never leave your side, even though you feel like he is missing. "I cried to him with my mouth, and high praise was on my tongue. If I had cherished iniquity in my heart, the Lord would not have listened. But truly God has listened; He has attended to the voice of my prayer. Blessed be God, because He has not rejected my prayer or removed his steadfast love from me!" When doubt comes that God has forsaken you--immediately evict those lies and go this Psalm for a sense of comfort. Stay strong using God's power. Understand that you are strong in God. Why? Psalm 28:7 explained that He is your source of strength when you are facing hard moment. "The LORD is my strength and my shield. My heart trusts in Him and I am helped. Therefore my heart exults and with my song, I shall thank Him." When tough times hit, it makes it harder to run to God for strength as the natural tendency is to run away. Resist the urge hide by using prayer and meditating on Scripture. Doing this will build you back up. He will protect you. Seeing the hand of God consistently move on behalf of believers throughout time is a great reminder of God's faithfulness. In Psalm 3 David was struggling against those fighting against him. He cried: "Lord, how many are my foes! How many rises up against me! Many are saying of me, "God will not deliver him." But you, Lord, are a shield around me, my glory, the One who lifts my head high. I call out to the Lord, and he answers me from his holy mountain. I lie down and sleep; I wake again because the Lord sustains me." Wow! Take solace in this Scripture to empower you against your enemies both spiritual and physical. Find healing for your broken heart. Psalm 34:18 explained that God is close to those who are in mourning. "The Lord is close to the brokenhearted and saves those who are crushed in spirit." Maybe you lost someone close to you or someone broke your heart. As much as it hurts, you can't go back and change anything. Allow God to take the pain and allow Him to mend your heart. Be courageous. Trying to control the situation is exhausting and will keep you stagnant. Move forward by finding courage in the Word and learning that you can't control everything in life. God will be your covering as you move forward it said in Psalm 84:10-12. "Lord God is a sun and shield; the Lord bestows favor and honor; no good thing does he withhold from those whose walk is blameless. Lord Almighty, blessed is the one who trusts in you." Ask for forgiveness. When David committed adultery with Bathsheba and killed her husband Uriah--he suffered the consequences of his sin. His child died and he went into a deep depression, even playing music didn't cheer him up. We need to repent for our mistakes and ask God for forgiveness like David did in Psalms 51. "Have mercy on me, O God, according to your unfailing love; according to your great compassion blot out my transgressions. Wash away all my iniquity and cleanse me from my sin," he cried out. Believe for your breakthrough. Like David, Jesus went through temptations as well. When Jesus was in the wilderness, He was tempted to give up. He was tempted to give up on the cross, but He didn't. You need to hang on that God has a plan for your life Psalm 27:13-14 instructs. "I believe I shall see the goodness of the Lord in the land of the living. Wait for the Lord; be strong and let your heart take courage." Your thoughts and feeling will run wild, but stop them before they control your life. Boost your morale. One thing that is common during times of pressure is that your self-esteem takes a dive. Even if you fail 100 times, embrace your imperfections and understand that you are human. "You, Lord, are all I have, and you give me all I need--my future is in your hands. How wonderful are your gifts to me, how good they are!" You have the choice if you want something like your trials to define you. You are highly valued. If the world or everyone rejects you, remember that you are never alone! God knows you and will never forsake you Psalm 139:13-15 explained. "For you formed my inward parts; you knitted me together in my mother's womb. I praise you, for I am fearfully and wonderfully made. Wonderful are your works; my soul knows it very well." You will feel rejected by people and by the world, but know that the Creator will never leave you.

Compile several Scriptures from the Psalms today as a tool when you are struggling. Use them during prayer and when you need a quick reminder that you are not alone. Fix your eyes on Him for He cares for you on and off the roller coaster ride of life.