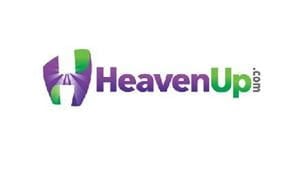 Five years in the making, HeavenUp is finally a reality. Founder and CEO Chris Burkhart said the project began as a God-given vision bringing together the ever-reaching power of social media and Christian community. "We want to enhance our user's experience by creating the most comprehensive, feature-rich social media site using the latest and greatest technology!" HeavenUp has already received an endorsement by the Dove Foundation – so yes, it's family friendly. Beliefnet caught up with Burkhart to talk more about the site launch.
Beliefnet: So what sets HeavenUp apart from the other social networks out there?
Creator Chris Burkhart: Number one it's a Christian community. That's the main thing that sets us apart. The second thing is the Christian content and all the site features. For example, we have a full video section and a full music section, which other social networking sites don't have. Christian artists and bands can really benefit from this. And that's only about 5% of all the site has to offer!
Beliefnet: What sparked this vision?
Chris Burkhart: Well about five years ago, I had a vision about a Christian online community harnessing the power of the Internet and the popularity of social networking – thus HeavenUp!
Beliefnet: That's a great deal of faith to exercise, to hold onto a vision for five years.
Chris Burkhart: Absolutely. The main reason I endured was because I saw this project as more of a ministry than a website.
Beliefnet: So what does "virtual fellowship" mean?
Chris Burkhart: "Virtual fellowship" is the ability to connect and foster relationships with other Christians that you normally wouldn't have contact with. This idea extends itself to your church, organization, your ministry, and any Christian community that communicates regularly. Christians from all across the world can meet, share ideas and stay connected. I mean it's the power of what we're all called to be, one body of Christ.
Beliefnet: What makes HeavenUp "seeker-friendly"?
Chris Burkhart: Non-Christians that are seeking Christ or want to know more about Our Creator can come to the site and be exposed to Christian content and through relationships experience the tangible love of Christ. HeavenUp is very much a ministry in that regard.

Beliefnet: Why should someone set up a HeavenUp account?
Chris Burkhart: Let's say I'm a church and I create a profile as a church. All of my congregation could create a profile and then they can connect to my church profile and then all of the congregation can all connect with each other as well. Heaven Up makes it easy to keep up with all of your friends at church and with the church family as a whole. The same could apply to any ministry, Christian organization, bands, individuals, youth group or school group. At HeavenUp we want to see all Christian entities unite together as one Body of Christ and start working together to further God's Kingdom.
Visit HeavenUp and create your new account today!