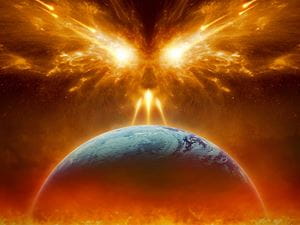 Shutterstock.com
As believers, we should always be on guard when it comes to satan and his advances. We should never underestimate his power. First Peter 5:8 says, "Be sober-minded; be watchful…your adversary, the devil, prowls like a roaring lion, seeking someone to devour." Yet, satan is not all-powerful. This distinction is God's alone. Since Jesus came into the world, the devil did everything in his power to keep Him from fulfilling God's will. While satan is actively at work to sabotage our lives, he is not nearly as strong as God. We should be aware of the work he is doing, so we are not tripped up on our faith walk.
We must be aware of certain satanic strongholds that imprison us each day. One of these strongholds, or power tools is discouragement. The devil uses discouragement to attack us. Doubt gives way to despair, and the devil uses discouragement more frequently than any other weapon to bring us to a place where we are lost, and we don't know which way to turn. How do you respond to those feelings of hopelessness and depression? Did you know that God has a plan to help you slay the stronghold of discouragement when it comes to destroying your joy? God brings hope amid despair.
Satan will do everything he can to destroy your blessings, to undermine your walk with God. He wants you to question God's goodness. He will make you jobless, steal your joy, try to shame you, destroy your children, all so that you will deny your God. There is no extent the enemy will not go to, to see your heart fail. That's why it's so important to remember your blessings. Count them one by one. God is wise. He often uses our natural settings and the people in them to move us along the path He has chosen for us. The road may be winding and steep, but it's never a path of defeat – only victory. Today's blessings are a result of God's masterful orchestration of people and events. So if you are facing difficult circumstances, take heart. The answers you are believing in for tomorrow are in God's hand today.
When you are discouraged, God speaks to your heart through His Word. The Bible tells us, "For the Word of God is living and powerful, and sharper than any two-edged sword, piercing even to the division of the soul and spirit, and of joints and marrow, and is a discerner of the thoughts and intents of the heart" (Hebrews 4:12). God's Word challenges us to overcome anxious thoughts. It also brings life, light, and the Holy Spirit into the situation. God views His Word as holy, to the point where He exalts His Word over His name. We all have mountains to face and battles to struggle in this world. We can get over them by praying the Word of God over them.
Another way to fight satan back against satan is to turn to God and give Him thanks in all circumstances. Right now, you have trouble, and that's ok. Jesus said that you would, and Jesus understands. The discouragement you're enduring has a purpose: in it, you are displaying the reality of Jesus to the world in a unique way. The Kingdom of God is most clearly shown to earth when Christians gratefully suffer present trouble because they see a future weight of glory coming that makes everything the world throws at them as "light momentary afflictions" in comparison (2 Corinthians 4:17). There is only one way to give thanks in all circumstances, and that is through Jesus. Look at the joy set before you. If the future joy Jesus promises is real, and you believe Him, no circumstance can steal your thanksgiving.
The evil one will most likely use the people you care about the most to discourage your heart. He will use those people to whom you love and respect to be insensitive towards you with words that will wound and leave you bleeding in your heart. He will use what you care about to break you down the most. If not for your leaders, he will use your own family or your dearest friend. All the devil wants to do is crush your heart's hope in God.
Satan wants to destroy your relationships with people. He does this by putting you around people whose words don't encourage and uplift, but discourage and break you down. Some people have the gift of hurting people. Yet, they may not say these things to hurt you. Most of the time, people are trying to communicate something and choose to be mean to get your attention. Be quick to learn what to accept and what to ignore.
By Jesus' death on the cross, He triumphed over the forces of evil. He who defeated the demonic spirits during His earthly ministry has broken satan's power and made sure of his ultimate doom. Jesus' victory gave us victory over the forces of evil that seek to destroy us. While the enemy uses every ounce of his power to break you down, God is working to lift you. Trust in God's power daily.