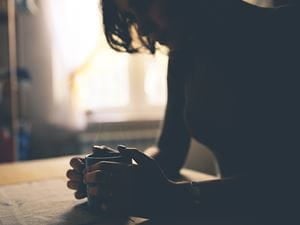 Shutterstock.com
Satan will use many weapons against you to weaken your faith. One of those weapons is temptation. Temptation is the desire to do something particularly wrong or unwise. As Christians, we battle with temptation daily. We are tempted to in self-gratifying ways so that we ultimately disobey God. Even Jesus wasn't immune to temptation. We see this in Matthew 4 when satan tempts Jesus. There are things the devil is committed to robbing you of. Often, we aren't even aware we are being tempted until we have already given into the sin. When this happens, our peace is stolen, and it also robs us of the blessings of God. Fortunately, Jesus is stronger than the devil and his will. Ultimately, He has the power to save us from temptation.
James 1:13 lets us know that God does not tempt us to sin. The verse says, "No one, when tempted, should say," I am being tempted by God'; for God cannot be tempted by evil and He Himself tempts no one." We also know this because it goes against His very nature. He is holy. The idea also goes against other commandments we read in scripture that tell us to flee temptation and avoid sin. In Matthew 6:9-13, where we are given the Lord's model prayer, He says, "Lead us not into temptation, but deliver us from the evil one." The fact that Jesus makes this request for God not to lead us into temptation shows us that avoiding temptation should be one of the main concerns on our Christian walk.
While temptation can show up in the form of desire, it can also refer to trials. First Corinthians 10:13 says, "No temptation has overtaken you except what is common to mankind. And God is faithful; He will not let you be tempted beyond what you can bear. But when you are tempted, He will also provide a way out so that you can endure it." This is a great reminder to us that we will not be tested beyond our abilities with Jesus. There will always be a way out. There will be times when God will subject us to trials that can expose us to the enemy's assaults for His purpose. We may not know it at the time, but we grow spiritually in these moments. Peter and Job are two great examples. It is ok to pray to Jesus that you are delivered from suffering and trials. What's important is that we submit ourselves to God's will, no matter what that will is.
No matter what temptation you are facing today, whether you are asking God to lead you from sin or a difficult trial, the goal should always be deliverance from the evil one. David offers a similar petition in Psalms 114:4, which says, "Do not let my heart be drawn to what is evil so that I take part in wicked deeds along with those who are evildoers; do not let me eat their delicacies." In every situation we face, in all of our circumstances, God is our deliverer. Seeking Jesus when are tempted is seeking God's power over sin.
Satan will do everything in his power to shift your focus away from God and onto him. In a society where we are taught to worship status, power, money and wealth, satan wants you to believe that obtaining this will complete you. The more you have, the happier you will be, right? Yet, the Bible tells us the opposite. Matthew 5:3 says, "Blessed are the poor in spirit: for theirs is the kingdom of heaven." We must be humble in spirit. In order to do this, we have to acknowledge our sin, along with our spiritual emptiness.
We will all struggle with temptation in our lives, some more than others. Many Christians claim that they will let go and trust Jesus in all circumstances, but they can't. One of the tools we are given to battle temptation is the Holy Spirit. The Holy Spirit is God's power in action. The Bible tells us, "If you are guided by the Spirit, you won't obey your selfish desires." When we trust in the Holy Spirit's power, He will lead us on straight paths. Micha 3:8 also says, "But as for me, I am filled with power, with the Spirit of the LORD, and with justice and might, to declare to Jacob his transgression, to Israel his sin." Luke 1:35 also reminds us, "The Holy Spirit will come on you, and the power of the Most High will overshadow you. So the Holy One to be born will be called the Son of God." When we look over these passages, we can clearly see that God sends out the Holy Spirit to accomplish the will of God.
James 1:12-15 says, "Blessed is anyone who endures temptation. Such a one has stood the test and will receive the crown of life that the Lord has promised to those who love him. No one, when tempted, should say, 'I am being tempted by God'; for God cannot be tempted by evil and He Himself tempts no one. But one is tempted by one's own desire, being lured and enticed by it; then, when that desire has conceived, it gives birth to sin, and that sin, when it is fully grown, gives birth to death." God is more powerful than the enemy and can guide us through any temptation we face.
Remember, satan is deceitful and will do everything in his power to destroy you emotionally, physically, mentally and spiritually. It's so easy to slip deeper into temptation and brokenness. Before you know it, you are completely separated from God. We must break free from temptation's chains and trust the bigger plan God has for our lives. We have a greater weapon to use against satan. We have Jesus, who is always on our side. There is no temptation He can't help us through.