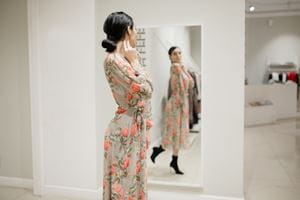 Shutterstock.com
It can feel like a mixed message when we hear, "Give God your best" in one ear and "come as you are" in another. The debate over formal versus casual church clothing is shrinking for at least two reasons: 1. the pro-formal party is shrinking, and 2. the pro-formal remnant is now so outnumbered it hardly seems worth the effort to argue.
Most folks who lament the casual trend came of age in an era where public dress, in general, was more formal. Like most people in every generation, they assumed their cultural norms. It wasn't "right" to wear casual clothes in certain places, especially in church.
Why should we dress modestly in church?
When you think about this question, the first thought that comes to mind is modesty. Yes, in the case of modesty, God cares what we wear to church. What you wear to church may look different from what you wear to the beach, but you are called to represent Christ and honor the Lord in both places. Why do you need to be modest at church? The Lord never gives us a command just for the sake of giving one. He always has a reason and a greater purpose in His instructions. How we present ourselves can be an act of worship and obedience or sin.
A scripture verse can easily confuse you, but it makes sense when looking deeper. 1 Corinthians 11 can be puzzling if one does not look at the cultural context. It shares that women were told to cover their heads in worship services. This might appear demeaning, but the women cover their heads in the church in other countries. It seemed unnecessary or even oppressive. However, to them, it was a joy and an honor. These young women covered their heads to take the focus off of themselves. This is the purpose of the modesty of men and women in worship services. Our goal is to humble ourselves and point to Jesus.
If we wear clothing that is sexually tempting or even just overly distracting, then we are missing the point of gathering. We come together to bring glory to the Lord. God is a jealous God, in the purest sense. He is not going to compete for our attention. He is the only one deserving of our praise. His jealousy is perfect, without sin. Penny Noyes from Christianity shares more about this concept of the holy jealousy of the Lord. She quotes, "Jealousy fears to lose what it has; envy is pained at seeing another have."
The Lord created us to worship Him. When we deprive Him of His worship, it is like a wife living in the house as if her husband were not present. The husband would be jealous of her to see Him and recognize him as her beloved. When we neglect modesty in what we wear, we say to the Lord that we want the glory, we want the attention, even if it is negative, and He is not who we are worshiping. We all, men and women alike, need to be aware of our clothing choices when we enter the house of God. We want to dress in a way that shows respect to the Lord and others.
There are some amazing Bible verses on modesty. One that stands out is 1 Corinthians 6:19-20, which says, "Do you not know that your bodies are temples of the Holy Spirit, who is in you, whom you have received from God? You are not your own; you were bought at a price. Therefore honor God with your bodies."
God doesn't care what brand of clothes you wear.
God is apparent in the scriptures that we are not to show favoritism to people. When it comes to financial or social standing, the Lord does not care what we wear to church. For example, if a homeless man wants to go to a church and there is a wealthy doctor in the same aisle, both should be able to worship the Lord freely and should be accepted and treated equally. If a teenage boy shows up in a hoody, welcome him. If an older woman shows up in a dress, embrace her. If a man wears a suit and tie, welcome him. If a woman is wearing blue jeans and cowgirl boots, welcome her. If a man comes in with tattoos everywhere, welcome him. We are not supposed to push away people from the gospel and the church community based on what they are wearing or their financial status. We are called to welcome them in. This would be an example of when God does not care what people wear.
James 2:1-4 says, "My brothers and sisters, believers in our glorious Lord Jesus Christ must not show favoritism. Suppose a man comes into your meeting wearing a gold ring and fine clothes, and a poor man in filthy old clothes also comes in. If you show special attention to the man wearing fine clothes and say, "Here's a good seat for you," but say to the poor man, "You stand there" or 'Sit on the floor by my feet,' have you not discriminated among yourselves and become judges with evil thoughts?"
Not in legalism.
If we are not careful in understanding the Bible, this is an area where we can take verses too literally and misinterpret scriptures. God does not care what we wear regarding mandated attire by church leadership. For example, if the leadership is saying that women must only wear dresses and they have to be down to their ankles with their hair in a bun, it is crucial to recognize that this is a standard of people, not of God. Or, if a church requires men to wear suits and dress shoes, please know that this is not God's requirement; this is man's standard. The Bible does not have these kinds of specific conditions. Jesus loved people where they were at. He called them to holiness but not typical attire.
However, a church could legitimately have clothing suggestions for more traditional type services. This is not necessarily wrong, but there should not be judgment if people choose to dress casually. Or let's take the opposite, say a man wants to wear a suit to a contemporary service where everyone wears blue jeans. God does not require blue jeans. We need to be cautious about what we say is from the Lord in His Word versus what is just an artificial rule or attire guideline. In other words, let's call a spade a spade.
1 Samuel 16:7 says, "But the LORD said to Samuel, 'Do not consider his appearance or his height, for I have rejected him. The LORD does not look at the things people look at. People look at the outward appearance, but the LORD looks at the heart.'"
When asking whether God cares what we wear to church, it is vital to know the context of that question. First and foremost, the Lord cares about our hearts. However, out of our souls come our words and actions. If the Holy Spirit seals our hearts, then we will have the direction of the Spirit to wear modest clothing and honor God with our bodies. We will also be able to discern, with the help of the Bible, if a church guideline is from God or created/interpreted by people. God does not support favoritism or legalism, and neither should we.
Next time you attend church, ask, "Does this honor God and point others to Him?" If not, change into something else. Ask the question, "Am I showing favoritism to others?" If so, how can you be impartial like Jesus? Ask the question, "Am I participating in legalism?" If so, consider talking with your leadership about where they support this rule in scripture and learn more. Always remember that God and His Word have the final authority on any question that may arise.