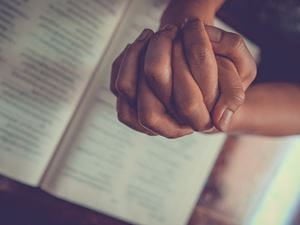 Shutterstock.com
The absolute worst advertisers for Christianity are the people who claim they are Christian, but aren't. The truth is that anyone nowadays can call themselves a Christian without repercussion. Scripture even warns us against these types of people, and called them wolves in sheep's clothing.
Have you ever thought, though, that you might be spreading around false ideas about Christianity? Could you be that wolf in sheep's clothing without even realizing it? Are you using verses out of context?
There are certain things that people simply should not do or say if they want to be seen as a Child of God. If you say these things, you might not be a real Christian.
"God will forgive anything I do."
God will forgive those who sin only if they truly repent for the wrongdoings they have committed. If you choose to live a non-Christian lifestyle because you think God will forgive you in the end, you are wrong. Jesus Christ did not die for us to go around committing sins freely. Scripture is clear that Christians can and will make mistakes, but it should never become a habit to willfully commit sins. 1 John 2:3-4 says "And we can be sure that we know him if we obey his commandments. If someone claims, 'I know God,' but doesn't obey God's commandments, that person is a liar and is not living in the truth."
"God needed another angel."
The loss of a loved one can be an incredibly difficult and painful time. It's a time when many Christians may become upset or angry with God, because they feel their loved one got ripped away from them. It's heartbreaking. Going up and telling someone that God "took away" their loved one so He could have another angel is not a helpful phrase. It gives the idea that God is looking down on earth, plucking away anyone and everyone as He pleases. Death is a part of life and can be hard to navigate. Don't make it more complicated by accusing God of stripping loved ones off of earth.
"God never gives us more than we can handle."
This so-called "Christian" phrase is never once found in the Bible, contrary to popular belief. It's a great idea to throw at people who are going through a rough time, because it can remind them that God is in their corner. However it's simply not true. Christians, like all humans, tend to be prideful and think that they can take on anything this world throws at them on their own. By God leading us to obstacles in our lives, we are humbled and reminded how much we do need His support, love and guidance. We cannot do this on our own. This is also a phrase that can really hurt Christians that are battling with suicidal thoughts or who have lost someone due to suicide. It gives the illusion that God wasn't there for them, when He was.
"I have done good deeds, and therefore can enter heaven."
You cannot call yourself a Christian simply because you did positive things for the world. Being a good person simply isn't enough. A person's "good works" has nothing to do with their eternal destiny. Isaiah 64:6 reminds us this by saying "We are all infected and impure with sin. When we display our righteous deeds, they are nothing but filthy rags. Like autumn leaves, we wither and fall, and our sins sweep us away like the wind." The reason that someone enters into heaven is because they were born again through Christ. It only happens by openly saying that you are a child of Jesus, and want salvation through Him. The way to receive this spiritual transformation is described in Romans 10:9-10 that states "If you openly declare that Jesus is Lord and believe in your heart that God raised him from the dead, you will be saved. For it is by believing in your heart that you are made right with God, and it is by openly declaring your faith that you are saved."
"The Bible is up to interpretation."
You cannot call yourself a Christian if you think that the Bible is not 100 percent God's ultimate truth. The Bible says it is the final Word. 2 Timothy 3:15-17 says "All Scripture is inspired by God and is useful to teach us what is true and to make us realize what is wrong in our lives. It corrects us when we are wrong and teaches us to do what is right. God uses it to prepare and equip His people to do every good work." While Scripture is meant to be authoritative and final, some think they can call themselves Christians, yet pick and choose what they want to believe and obey. You cannot try and twist the Word of God to fit the lifestyle you want to live.
"I am doing something right because God has blessed me."
Have you ever been around someone who has said that their random luck was instead due to God blessing them? For example, a friend wins some tickets off of a radio contest and exclaims it is because they are a "good" Christian in God's eyes. This is similar to believing that doing good works will get you into heaven. Of all the things going on in the world, God isn't worried about blessing someone with concert tickets for one small good act they did. God will not give favor to those who do good in the world, and that promotes the false idea that those who aren't blessed with as much aren't doing something right. There are many Christians who live in poor, struggling situations that are amazing human beings and spread the Word of God better than anyone who is blessed with material items. No one Christian is better than another.
Don't promote these false ideals. They are not based in Christian literature and instead promote the opposite of what God has intended. Before you proudly exclaim that you are a Christian, make sure that you are actually following the rules and guidelines that Jesus laid out before you.