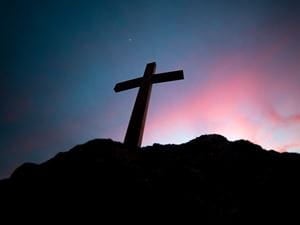 Lightstock
Many people are not sure whether a saved person can be lost again, or whether once saved they are eternally saved. As Christians, it's an unsettling thought that we could lose our salvation from God. Doubts and fears are bound to hinder that soul's peace and happiness, leaving us open to Satan's evil doings. Salvation is by grace alone, a gift from God. A gift, once given, is not usually taken away. Is it then possible to lose your salvation as a Christian?
First, the term Christian must be defined. A "Christian" is not a person who has said a prayer or walked down an aisle or been raised in a Christian family. While each of these things can be a part of the Christian experience, they are not what makes a Christian. A Christian is a person who has fully trusted in Jesus Christ as the only Savior and therefore possesses the Holy Spirit (John 3:16; Acts 16:31; Ephesians 2:8–9). A Christian is a new creation. "Therefore, if anyone is in Christ, he is a new creation; the old has gone, the new has come!" (2 Corinthians 5:17). A Christian is not simply an "improved" version of a person; a Christian is an entirely new creature. He is "in Christ." For a Christian to lose salvation, the new creation would have to be destroyed.
God's Gift of Salvation
Not one of us initiated our salvation. Ephesians 1:4-5 shows us that God initiated our salvation before we knew anything about salvation, before we were even born: "Even as He chose us in Him before the foundation of the world to be holy and without blemish before Him in love, predestinating us unto sonship through Jesus Christ to Himself, according to the good pleasure of His will."
Our salvation didn't start with us; it started with God. Romans 11:29 gives us this reassuring word: "For the gracious gifts and the calling of God are irrevocable." This means our God-initiated salvation is irreversible, permanent, final, and unalterable.
A Christian cannot lose salvation. Most, if not all, of what the Bible says happens to us when we receive Christ would be invalidated if salvation could be lost. Salvation is the gift of God, and God's gifts are permanent. A Christian cannot be un-newly created. Eternal life cannot be temporary. God cannot renege on His Word, and scripture says that God cannot lie (Titus 1:2).
Ephesians 1:13–14 tells u "You also were included in Christ when you heard the message of truth, the gospel of your salvation. When you believed, you were marked in Him with a seal, the promised Holy Spirit, who is a deposit guaranteeing our inheritance until the redemption of those who are God's possession—to the praise of His glory". At the moment of faith, the new Christian is marked and sealed with the Spirit, who was promised to act as a deposit to guarantee the heavenly inheritance. For a Christian to lose salvation, God would have to erase the mark, withdraw the Spirit, cancel the deposit, break His promise, revoke the guarantee, keep the inheritance, forego the praise, and lessen His glory.
John 10:28-29 tells us we're held in the strongest hands in the universe: "I give to them eternal life, and they shall by no means perish forever, and no one shall snatch them out of My hand. My Father, who has given them to Me, is greater than all, and no one can snatch them out of My Father's hand." No one, not even Satan, can snatch us away from these hands. Our salvation cannot be more secure.
God's Gift of Love
The Apostle Paul was a firm believer in God's everlasting salvation. "I know whom I have believed and am persuaded that He is able to keep what I have committed to Him until that Day" (2 Tim. 1:12, also Rom. 4:20-21). Chapter 8 of his epistle to the Romans is full of it. He opens the chapter with, "There is therefore now no condemnation to those who are in Christ Jesus" (v. 1), and closes with the equally emphatic declaration of no separation "from the love of God" (v. 39).
We may withhold our love from others if they don't love us in return, or we may have certain conditions we want others to meet to gain our love. However God doesn't do this. He loved us even when we were full of sin. First John 4:10 tells us, "Herein is love, not that we have loved God but that He loved us and sent His Son as a propitiation for our sins." Both His love and His grace to us are eternal. Just as we can't lose God's love or grace, we can't lose our salvation.
Many Christians are fearful that they will one day do something that will cause them to lose their salvation, but that is not the case. Colossians 2:6-7 says "As you therefore have received Christ Jesus the Lord, so walk in Him, rooted and built up in Him and established in the faith." Continue to live out your faith for Him, and be assured that you will one day be able to spend everlasting life in heaven.