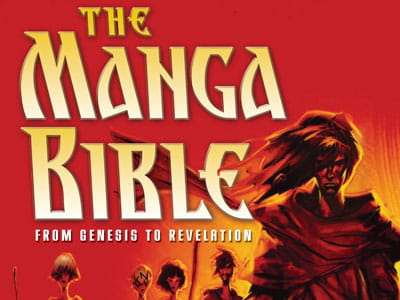 "The Manga Bible" is a collaboration between two anime-loving brothers: Siku and Akin. Siku conceptualized the anime illustrations while Akin shaped the modernized dialogue in the book. This is not your grandmothers'--or even your mother's--Bible; it is a Bible entirely possessed of a hip, contemporary, and edgy sensibility without losing any grounding in Scripture. Here, Beliefnet interviewed Akin Akinsiku about his role in creating "The Manga Bible."
---
Describe some of yours and Siku's illustration background and your Christian background.

I studied Fine Art at Yaba College of Technology in Nigeria and Animation in England. In between, I illustrated a strip for Sphinx magazine and wrote "Fever of the Gods" for Judge Dred Magazine. Siku also studied Design in Nigeria and went on to become one of the major artists working on 2000 AD. My Christian background is someone very mixed. I grew up in an Anglican household, switched to Roman Catholic as a child, then to Evangelical Pentecostal as a teenager, and now I am just a plain Christian. I like simplicity.

When were you and Siku first inspired with the idea of drawing a "Manga Bible"? Was there a particular moment or life event that made you guys know it was time to collaborate?

Well, "The Manga Bible" is really Siku's baby. I was just made godfather. I came into the project by divine default. Siku and I have worked together over many years on different projects. With "The Manga Bible," I came on board last-minute as a writer and, for me, it was a dream project in terms of merging two worlds that are of great interest to me. I have been a long-time fan of Japanese comics and animation. In fact, the first cartoon I got hooked on as a kid was "Gigantor." I absolutely loved that show. I really want to do an all-out Mecha-meets-Bible intergalactic fest. That would be fun!

How long did it take you and Siku to complete "The Manga Bible"?

"The Manga Bible" was a beast. I had my daytime job (as art direct for Nickelodeon) and a newborn baby. So in-between, I had to read and write the Bible. I used to write every day till 4 or 5 am for what seemed like a year. It was very spiritual. Kind of like 40 days and 40 nights in the wilderness. I like working early hours of the morning. I am a lot more perceptive at that time of the day.

When I was first reading this, I was surprised that "The Manga Bible" is mostly Old Testament, with some New Testament. How did you and Siku narrow down what to or not to illustrate?

The OT has like a million stories while the NT has like only two or three. Again, the OT needed a lot of room for all the holy men, despots, prophets, kings, and invaders to battle it out. With the NT, we mainly had Jesus, the Apostles, Paul, and Revelations.

Before writing "The Manga Bible," I had actually done all this research into characters like Herod and Pilate and the second temple. Much of that research ultimately ended up as recycled paper. I enjoyed writing Revelation. Writing it was like an episode of CSI. If you've tried to make sense of the sequence of events in Revelation, you'd understand.



I was also surprised by some of the sultry and—at times—gruesome images as well as the very edgy, modern dialogue. Since these features are part of the manga genre, were you or Siku worried about the response from conservative Christians? Or did you feel it was more important to reach a different--perhaps younger--audience?

To be honest with you, we just did it. We were very aware of what the possible reactions might be to certain depictions. Hodders, our publisher, was also sensitive to it. We figured we had to be true to the stories and, as artists, your only boss (apart from whoever is writing the cheques), should be the Truth. And we just obeyed the Truth. The genderless-ness of Satan's face is eerie and frightening. Why did you guys choose to make him have undefined features?

That was Siku's idea. Satan's face is the ultimate poker face. You can't ever tell what he is thinking.

You and Siku also incorporated contemporary elements into some of the sections in "The Manga Bible" such as the story of Job, the Parable of the Unforgiving Servant, and Jesus' temptation on the mountaintop. How did you and Siku decide on these certain contemporary elements?

Once we decided these strange "outsider stories" needed to be treated as manga sub-genes (super deformed characters), it was very easy for Siku to run away with them and just have fun. These stories are immortal. They are like folktales that don't belong to any time, place, and culture. Also, treating these stories as separate entities visually allowed us to break in and out of the main narratives without upsetting the flow and structure.