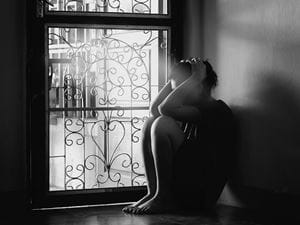 Shutterstock.com
There's a quote in Nicholas Sparks' book 'At First Sight' that speaks volumes about love. "The emotion that can break your heart is sometimes the very one that heals it…" Interesting, huh? The exact emotion that brings a smile to our face and warms our heart, can also be the very emotion that cuts us so deep that scars are left. Heartache is a feeling that everyone feels at some point in their life. Whether it's a broken heart from a failed relationship between partners or an emotional rollercoaster that leaves two family members estranged, brokenness is experienced by everyone – sometimes more times than one.
What do you do when you're left with a broken heart? How do you pick up the pieces that once fit together perfectly? The answer is prayer. Powerful prayers for healing a broken heart can truly be life changing – and ultimately the game changer to drive you into the direction towards a new chapter in life. In fact, those prayers can become the building blocks to the new foundation that you're faced with rebuilding.
One of the most powerful prayers for healing a broken heart comes from Psalms 147:3. The words brokenhearted are within the text and it reinforces the power the Lord has. The scripture is short, sweet, and to the point.
"He heals the brokenhearted and binds up their wounds."
Every day, the Lord hears our cries and prayers. From time to time, we may feel unheard or wonder if he is active in our day-to-day. The truth is he will never give us more than we can handle; moreover, he knows that plan of action and will guide us down the roads that our life is destined to travel. Psalms 147:3 reminds Christians that the Lord does hear your cries for help and he will heal the wounds that you are suffering from. As you deal with your broken heart, try to look at the bigger picture and come away from the situation with lessons learned and newfound wisdom. Not only will you be stronger because of the trials and tribulations, but one day you'll look back on this experience and discover profound hope.
Revelation 21:4 is another beautiful reminder of how powerful prayers for healing a broken heart are effective. When you're crying, you may think that you're alone – but, you're not! The Lord never leaves your side. Even though you can't see his physical shape, it's important to know that he is always by your side. This reminder is stated again and again throughout scripture.
"He will wipe away every tear from their eyes, and death shall be no more, neither shall there be mourning, nor crying, nor pain anymore, for the former things have passed away."
While you're in the moment of mourning, whether it's a failed relationship or the loss of a loved one, it's important to remember that the pain will eventually pass. The good, the bad, and the indifferent always passes and brings forth new experiences that help cultivate who we are meant to be. Don't allow your broken heart to darken your presence. Despite how difficult it may seem, try to walk forward, and take each day one step at a time. With that said, healing takes time – and that's important to remember.
When you talk to the Lord, try reciting this powerful prayer for a broken heart:
"Heavenly Father, there is a pain implanted in my heart that doesn't seem to go away. It has crushed me, it aches, I can no longer bear it. This pain of the past consumes my thoughts daily. It hurts so much, Father, these tears that fall long to see joy once again. Give me peace in my heart, please, I'm crying out to you: hear my prayer."
Not only does this prayer exude esteemed honesty, but it allows you to be vulnerable to the Lord. You're in pain and that's understandably normal and expected. Ask for peace and the desire to experience joy again. The Lord understands your struggle and wants to heal your broken heart. Be patient and give him the opportunity to help you. Be mindful of the time it takes to actually heal a broken heart and remember it is not an overnight fix. Your heart didn't become full and content in a day; therefore, it will not heal over the course of a day either. Use this experience to cultivate your present and future relationships. Try to discover ways you can better yourself from this experience and what lessons can be learned – everything happens for a defined reason.
Before we part ways friend, I want to leave you with one last powerful prayer for healing a broken heart. It's one that is centered on the theme of Psalm 46: 1-2 which says, "God is our refuge and strength, a very present help in trouble. Therefore we will not fear, though the earth be removed, and though the mountains be carried into the sea." This prayer demonstrates your trust in the Lord and recognizes the power Jesus Christ has.
"I'm not going to fight your hands for they are the ones that hold me at my weakest. I will be still as you work this situation out for me. I await you patiently. I trust You, You will heal me, Majestic King, and my suffering will end today. Help me to fully experience your love and Holy presence as you make all things work together for my good. In Jesus' Holy name, Amen!"
No matter how difficult a situation may seem, no matter how broken you are, and no matter how many pieces your heart is broken into the Lord will provide you with a solution. Be patient and have faith in the Lord that you worship. Use these powerful prayers as a resource to mend your broken heart. Lastly, remember that you're not alone. You are not the first, nor will you be the last, to suffer from a broken heart. Love has the power of bringing indescribable joy, but also can bring on unimaginable heartache. Happiness and sadness are important elements of life. Without heartache, we would not be able to fully appreciate the greatness that love brings into our lives. Experiencing sadness keeps our lives grounded and helps us, as human beings, appreciate how precious love truly is.