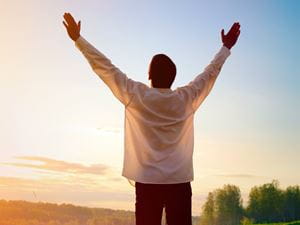 Shutterstock.com
In 2 Corinthians 13:5, the apostle Paul asks the Corinthian believers a question: "Or do you not realize about yourselves that Jesus Christ is in you?" Many of us have heard this phrase, "Jesus Christ is in you" but may not have grasped its significance. If you ask most people today, "What is the Gospel?" union with Christ is probably not what immediately comes to mind. For many, union with Christ feels vague and shadowy. However, nothing is more basic or central to knowing and enjoying God than union with Christ. It's what the Bible is all about and it's at the heart of the Christian faith. It's what makes the gospel good news. Union with Christ is central to our Christian lives. There is transformational power in this ancient doctrine that you are in Christ and Christ is within you.
When Paul said, "You are in Christ and Christ is in you," he wasn't saying it in a poetic or metaphorical sense. He meant that Jesus Christ is literally dwelling within believers. It's important that like the Corinthians, we too realize this fact about ourselves. Christ is not merely outside of us, only to help us in our times of need, but He is dwelling within us, living in and with us all the time. There are countless verses in the Bible that confirm that Jesus Christ resides within us. If you're wondering how Christ can live in us, the answer is extraordinary. After Jesus rose in victory from the dead, in His resurrection He became the life-giving Spirit. As the Spirit, Jesus is available to everyone and will enter anyone who believes into Him. When we pray to receive the Lord, God actually comes within us. When we really grasp the significance of this phrase, it changes how we approach every-day life and reframes out most basic questions related to identity, destiny and purpose.
Paul said, "I am crucified with Christ; and it is no longer I who live, but it is Christ who lives in me" (Galatians 2:20). Notice, Paul didn't say, "I live in a Christ-like way," or "I glorify Christ through my actions." No, he said "Christ…lives in me." The Christian walk is not about behaving like Christ but of allowing Christ to live through us. What all the scriptures on this subject reveal is that Jesus' life will be in us only as we seek to make His way of life our way of life – to walk as He walked and to live as He lived. We have to let go of our old life and embrace new life in Him.
"When Christ lives in our spirit, He becomes the source of our new life."
Faith is a central part of union with Christ and we make His home in our hearts through it (Ephesians 3:17). When we became Christians, Jesus came to live in our spirit, which is a core part of our being. But Christ wants to go even deeper in our inward being: He wants to make His home in our hearts and our souls. When Christ lives in our spirit, He becomes the source of our new life. However, our mind, emotion and will can still ignore Christ as a new source of life and we can live life as we did before. In this scenario, Christ is in us but He's limited in us. He cannot be fully expressed through us. While Jesus wants to make a home in our spirit, he really wants to make a home in all the parts of our soul. The health of your soul isn't just a matter being saved or unsaved. It's central to your life. It's the difference between deep, satisfied spirituality and a restless, dispassionate faith. In an age where so much is driven by materialism and consumerism that tries to buy happiness, many of our souls are starved, unhealthy and unsatisfied. Our soul's own brokenness leads us to wonder if there's more to life. Yet, when we are in union with Christ, our souls are healed and we can experience the life God wants for us.
Union with Christ is our engine that propels us forward. In Jesus' death on the cross, He cleansed us from the penalty and the power of sin. He not only declares us holy, but He also empowers us to be holy. As previously mentioned, the presence and power of Jesus now dwells within you by His Spirit. He's called the Holy Spirit because He is none other than the presence and power of the obedient Christ Himself. Just as Christ lived a completely holy life and was able to overcome temptation, because He is within us, He gives us a new disposition to live for Him.
The Christian life is based on full commitment to Jesus. The Bible tells us, "and [Jesus] for all, that those who live should live no longer for themselves, but for Him who died for them and rose again" (2 Corinthians 5:15). Jesus Christ gave Himself in order to be the ultimate sacrifice as a covering for our sins. This powerful act is one reason why we should live for the one who saved us. Jesus should be the focal point of everything we do. Union with Christ means that we are professing Christ in everything we do, and proclaiming the grace and peace we receive in Christ.
The Gospel or the Good News is that Jesus died for us, meaning that we can ask for His forgiveness and receive it. There is no magic request we must make in order to receive this. It is a matter of turning to God through Christ and through prayer, confessing that we have fallen short and expressing our desire to have Christ direct our lives for His glory, not ours. When we restore union with Christ, the real transformation in our spiritual lives begins.