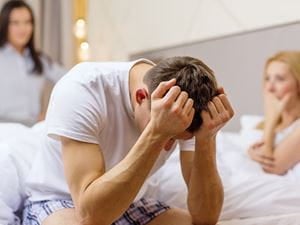 Shutterstock.com
Things happen in your life to teach you valuable lessons. Some of those things will be actions that you inflict on yourself and other elements will be out of your control. No matter if you committed a sin or not, it's imperative that you walk away from every circumstance with wisdom and an idea of how this situation can make you a better human being.
There is a lot of scripture that addresses sin and how Christians can rise above difficult times in life. 1 John 1:9 says, "If we confess our sins, he is faithful and just and will forgive us our sins and purify us from all unrighteousness." The notion that God forgives his children for their mistakes is even seen in Revelation 3:19 where it states, "Those whom I love I rebuke and discipline. So earnest and repent." Therefore, the key to finding peace and the energy to move forward is by admitting your sin – without any reservations or excuses.
Cheating is hurtful and can effect more than just the partners in a relationship. Children, family members on each side, and friends are deeply affected by infidelity. While there is no way to turn back time and choose to be faithful instead, there is one invaluable resource that can always be called upon – prayer. Inside you're broken and probably beating yourself up. Your whole life is being turned upside down and you're wondering 'How did I get to this point?' Ultimately, you'll need to figure this out. You'll need to undergo some serious soul searching to discover what choices or internal issues you have that caused you to be unfaithful. In order to begin the healing process, for you and your family, you'll need to discover a forgive me prayer for the cheating spouse.
During this period of your life you will need prayer and faith more than ever. You'll find that prayer will provide you with the hope for a new beginning and the reassurance that the end is not right around the corner. It's important to recognize what drove you to cheat and evaluate your spouse's feelings. A prayer to ask the Lord for forgiveness and to guide you and your spouse is crucial.
"I will exalt You, my God the King; I will praise Your name for ever and ever. Great is the LORD and most worthy of praise; His greatness no one can fathom. The LORD is near to me and I call on You, in truth. Hear my prayer, O Lord; let my cry for help come to You. Do not hide Your face from me when I am in distress. Turn Your ear to me; when I call, answer me quickly. You will fulfill the desires of those who fear You; You hear my cry and save me and my spouse.
Lord, I have faith in God, and You said, "If anyone says to this mountain, 'Go, throw yourself into the sea,' and does not doubt in his heart but believes that what he says will happen, it will be done for him. Lord, You know my mountain of circumstances in my marriage. So I am believing You, that whatever I ask for in prayer, that I believe that I have received it, and it will be mine. And when I stand praying, if I hold anything against anyone, I forgive them, so that my Father in heaven may forgive me of my sins. Lord, with man this is impossible, but not with God; all things are possible with God."
Give your spouse time to forgive. Be patient because there are many steps in the forgiveness process – one of those crucial steps is first forgiving yourself. Sometimes we can be our most difficult critic, and admitting that can help to move mountains. Put your faith in God and allow him to steer the course. He will provide the reassurance you'll need to move past the cheating and will instill the comfort your partner needs during this challenging time. Understand that matters are out of your control and in the hands of the Lord Jesus Christ. As you recite your prayers for forgiveness, invite your partner to join – odds are they need prayer and strength just as much as you do.
Another great forgive me prayer for the cheating spouse is:
"Lord of Miracles, We come before you and lay this marriage in your hands. We ask that you would revive this husband and this wife, and draw them toward happy matrimony.
We ask that you would renew their love and passion for one another. We ask that you would untangle the conflicts and strife, and heal the hurts.
We ask that you would bring understanding and tenderness of heart. May they both embrace the miracle that you desire to do for them and with them. In Jesus' name we pray, Amen."
This prayer, again, reinforces the idea of commitment – which is imperative in any relationship. As a follower of Jesus Christ, you must ask the Lord to renew your love and passion for each other. Even though there may be layers and layers of hurt and frustration, it's important to rediscover and reevaluate what brought the two of you together in the first place. Asking the Lord for guidance will equip you both with the strength to get through the infidelity. Moreover, prayer is the first step towards real forgiveness for yourself, partner, family, and friends. Acknowledging your affair and accepting the consequences that go along with your actions will allow you to move forward in your life.
The next few days, weeks, months, and years are going to be challenging. You'll be rebuilding trust, relationships, and essentially your life. Don't make excuses for your actions – instead accept and recognize the sins you have committed and make it your priority to be a better person. We are given one life – one chance to have the time of our lives. During this time, we are going to make mistakes. Some of those mistakes will be worse than others; however, it's important to gain perspective and wisdom from these situations. Learn from your mistakes, by utilizing these times as a stepping stone towards a renewed perspective of life.
Forgiveness isn't easy. Remember this story when you're struggling - the story about Peter asking Jesus how many times he should forgive someone who has sinned against him. Jesus first replies with what would seem to be a ridiculous number of times – "70 times 7". Then he follows with a parable about forgiveness known as Matthew 18:21-35. While 490 times is a lot of forgiving, the message is to never stop forgiving. Jesus makes that point abundantly clear – and reinforces the fact that an unfaithful partner must be able to forgive themselves before their Father in heaven will forgive.